Documents from the Madison City Clerk's office show now-write-in mayoral candidate Toriana Pettaway was told six days before the deadline for submitting nomination papers to get on the Feb. 19 primary ballot that she was 87 signatures short of the 200 she needed, and that the office tried to help her locate her 200th signature.
Pettaway, who is black, on Jan. 3 described the clerk's office decision to keep her off the ballot — made in accordance with ballot access-requirements spelled out in state law — as "some White Supremacy BS," and in one news report accused clerk's office employees of going about "their privileged lives" and "making stuff up as they go."
On Tuesday she said she didn't think the clerk's office was acting out of racial animus, noting other candidates of color are on the ballot, but "I think that because I work for the city I'm being mistreated." Pettaway was hired in 2015 as the city's first racial equity coordinator.
Records from the clerk's office show Pettaway filed nomination paper signatures at least six days before the Jan. 2 deadline, on Dec. 27. A clerk's office employee let her know that day she hadn't filed enough signatures, the records show, and included a link to a city website that lays out instructions for candidates. Candidates were allowed to start collecting signatures on Dec. 1.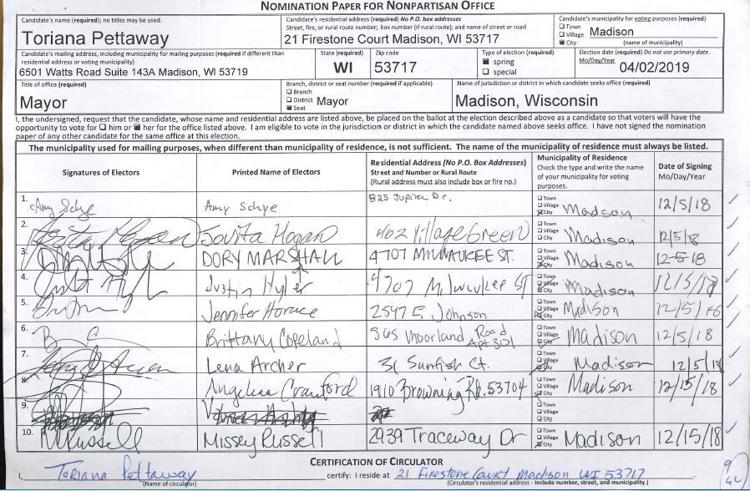 "Thank you for turning in your nomination papers, we find there to be 113 valid signatures on your forms," certified municipal clerk Eric Christianson wrote to Pettaway. "The number needed for Mayor is 200. The good news is that you have until Wednesday, January 2 to collect the remainder. Thanks!"
In the video, she asks the attendant: "We only needed a hundred, right?" and the attendant answers, "yes … We quit counting once we get to a hundred."
In a statement, City Clerk Maribeth Witzel-Behl said candidate information is posted online and "not only does our website say that 200 signatures are required for mayoral candidates, it also provides the relevant State Statute" and "none of the candidates for any office asked me about the number of signatures required for ballot access."
Pettaway completed filing her paperwork to run for mayor shortly before the 5 p.m. Jan. 2 deadline. At 5:30 p.m. that day, the clerk's office let her know that she was two signatures short but that one of them could be considered valid if she had the date added to it within the next three days.
Pettaway filed a Jan. 7 affidavit "for correction of nomination signatures," in which she said two signatures on her nominating petitions should be considered valid.
The clerk's office in its Jan. 8 response to Pettaway said that by certifying the date on one of the signatures, she had shown that signature was valid.
The other one, however, is crossed out and largely illegible on the petitions. Pettaway provided the name, but the clerk's office couldn't find it in internet searches or searches of the state's voter database and court records.
"Upon further scrutiny," Witzel-Behl wrote, her office determined that the signature belonged to a different person than the person Pettaway named, then located and contacted that person.
"After signing and writing her name on your nomination papers, she said she realized that as a Fitchburg resident, she is unable to vote for City of Madison mayor, so she crossed out her name and signature on your nomination papers," Witzel-Behl wrote. "We have verified that her address is in the City of Fitchburg."
Pettaway said that other mayoral candidates had problems with their nomination papers that were similar to hers, but that their signatures were counted. She declined to name the candidates. In a Jan. 5 article in the weekly Isthmus newspaper, she alleged that the clerk's office lost some of her signatures, but admitted she had no proof.
Witzel-Behl told the State Journal that "all of the nomination paper pages we received from (Pettaway) were in the e-mail attachment that I sent to you earlier today. We have double and triple-checked."
Candidates on the Feb. 19 ballot are: current mayor Paul Soglin; Ald. Mo Cheeks; former Ald. Satya Rhodes-Conway, who works for the UW-Madison think tank Center on Wisconsin Strategy; Raj Shukla, executive director of the conservation organization River Alliance of Wisconsin; and comedian Nick Hart. The top two vote-getters go on to the April 2 general election.
Pettaway said she is "absolutely" still in the race and "I'm not discouraged at all," but acknowledged it would be harder to win as a write-in candidate.