For the second time in a week, lawmakers on Monday heard testimony from dozens of opponents of the right-to-work bill that is speeding toward Gov. Scott Walker's desk.
The Assembly Labor Committee heard nearly 12 hours of testimony from 108 speakers on Assembly Bill 61, which would allow workers in a unionized workplace to refuse to financially support the union. There was no official breakdown on the number of speakers for or against, but the overwhelming majority spoke in opposition.
Despite the urging of its three Democratic members, the committee decided not to debate or vote on the bill. The Republican-run Assembly instead will take up the Senate version passed last week.
Committee member Rep. Cory Mason, D-Racine, first elected in 2006, said he had never seen a bill go straight from hearing to the floor without a committee vote or deliberation.
Labor committee chairman Rep. Andre Jacque, R-De Pere, said his caucus would consider Democrats' concerns as they prepare for Thursday's floor vote on right-to-work.
Among them was the bill's removal of language in a state statute calling for protecting the interests of the public, employees and employers, promoting "industrial peace" and "regular and adequate income for the employee." Democrats also raised questions about criminal penalties for anyone found violating the law.
Stephanie Bloomingdale, secretary-treasurer of the Wisconsin AFL-CIO, told the committee that wages have gone down and fatalities from on-the-job accidents have gone up in right-to-work states.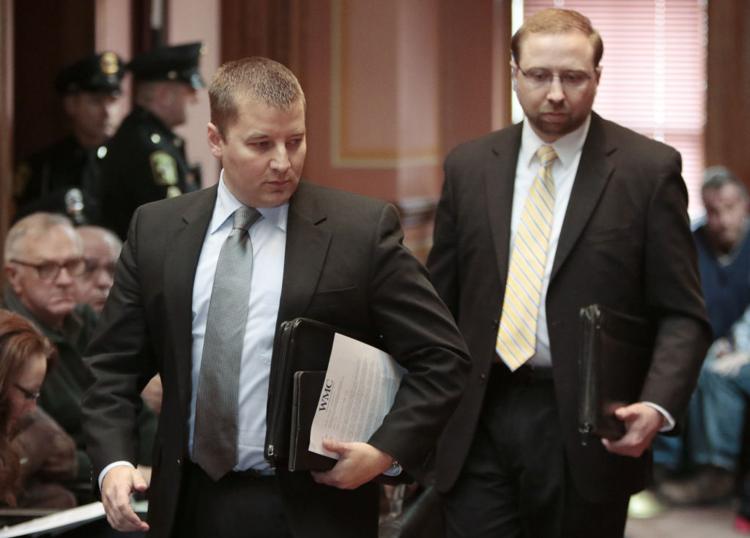 Chris Reader, director of health and human resources policy for Wisconsin Manufacturers and Commerce, said those states have lower lost-time injury rates. But he said the difference may be because those states have fewer jobs in industries that do hazardous work.
Proponents and opponents cited dueling studies making various claims about whether job growth, wages and the economy are more or less robust in the nation's 24 right-to-work states.
Other experts say it's difficult if not impossible to prove such laws are the cause of particular conditions.
"RTW does not eliminate existing unions, it does not void existing labor contracts, it does not prohibit collective bargaining, it does not impact worker training, it does not lower wages, and it does not prohibit workers from organizing a union," Reader said in written testimony.
Opponents of the bill said it was an effort by the Republicans who control state government to weaken labor organizations that tend to support Democratic candidates. They also charged that weakened unions will not be able to continue to divert an estimated $30 million a year in compensation toward training programs.
"I would like to ask the question ... what the motive is for this bill?" asked United Steelworkers member Heath Verbockel of Appleton.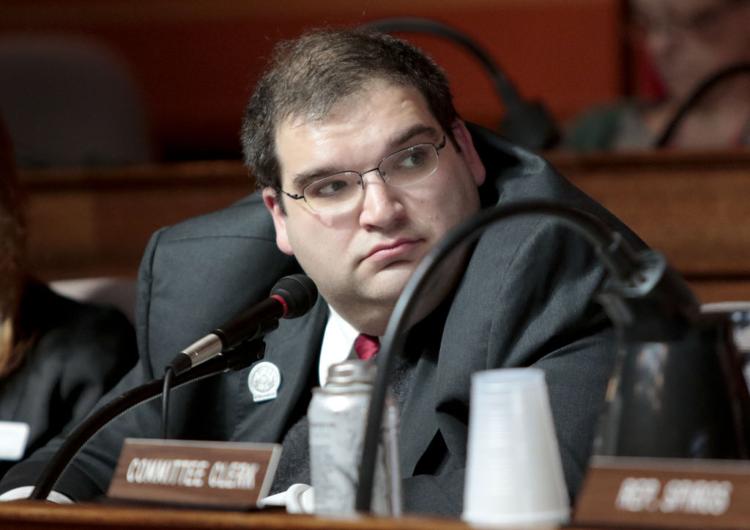 "This is not what the people of Wisconsin want or need," Verbockel said. "This is a politically motivated power grab."
You have free articles remaining.
Register for more free articles
Stay logged in to skip the surveys
But bill author Rep. Chris Kapenga, R-Delafield, said before the hearing that wasn't the case.
"This has nothing to do with being against unions," Kapenga said. "This is about giving workers freedom."
Workers in union shops already have the option to not be members of the union, but they must pay the "fair share" costs of representation they receive, said John Drew, a United Auto Workers representative from Milwaukee. Assembly Bill 61 would end that.
Among the dozens who testified Monday was Madison bankruptcy attorney James Murray, who made a satirical pitch in favor of the proposal, saying it would suppress wages and create more employment opportunities in his field.
"For the benefit of personal bankruptcy attorneys all across Wisconsin, I urge you to pass this bill," Murray said.
Kristi Lacroix told lawmakers that the current system, under which union members can opt out of the portion of union dues for political action, doesn't work.
Lacroix was a Kenosha school teacher who spoke out in favor of the 2011 state law that all but stripped public sector workers of most union rights.
She said it was very difficult for her to get a refund on her dues.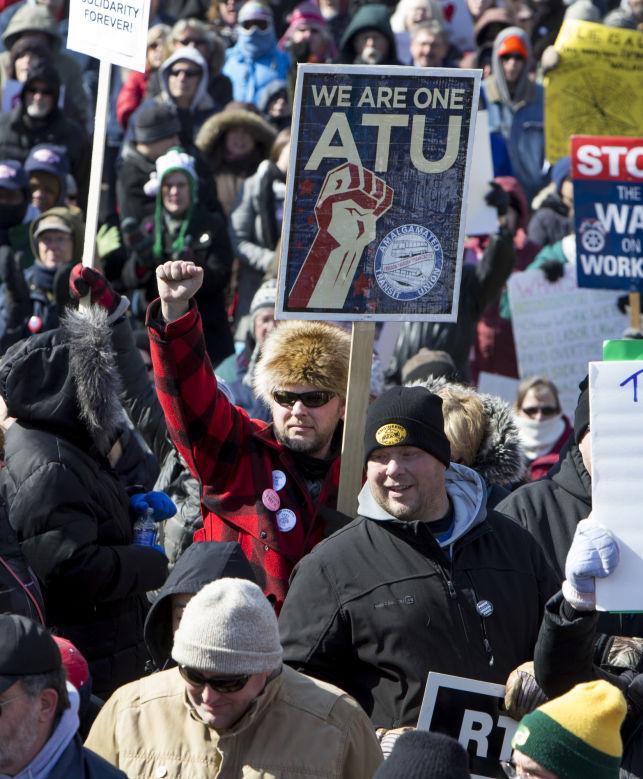 Lacroix obtained help from the National Right to Work Legal Foundation and other conservative groups to file a brief in federal court supporting the Wisconsin labor law against a union lawsuit.
The hearing was scheduled to last 10 hours, ending at 8 p.m. But Jacque allowed those who had signed up to speak, and the hearing ended just before 10.
A Senate committee last week abruptly ended its hearing about 30 minutes early after reports that opponents planned to disrupt the proceedings. About 1,750 people registered opposition to the Senate bill; 25 spoke or registered in favor.
Will Williams of Madison testified that lawmakers championing the union law were "vampires" who represented big business while doing nothing for the vast majority of the state.
Rep. Dan Knodl, R-Germantown, challenged that notion by asking Williams if he had received a reduction in taxes as the result of changes made by Republicans. Williams elicited laughter from the audience by telling Knodl he had received a $13 tax reduction.
Madison police Officer David Dexheimer said Republican lawmakers assured the public that Act 10, which stripped most bargaining rights from most public sector workers, would help the state's economy. But the state continues to lag behind most of the Midwest in job creation, he said.
"There is no evidence that there is anything in this bill that is about anything than an attempt to undermine workers' rights," Dexheimer said.