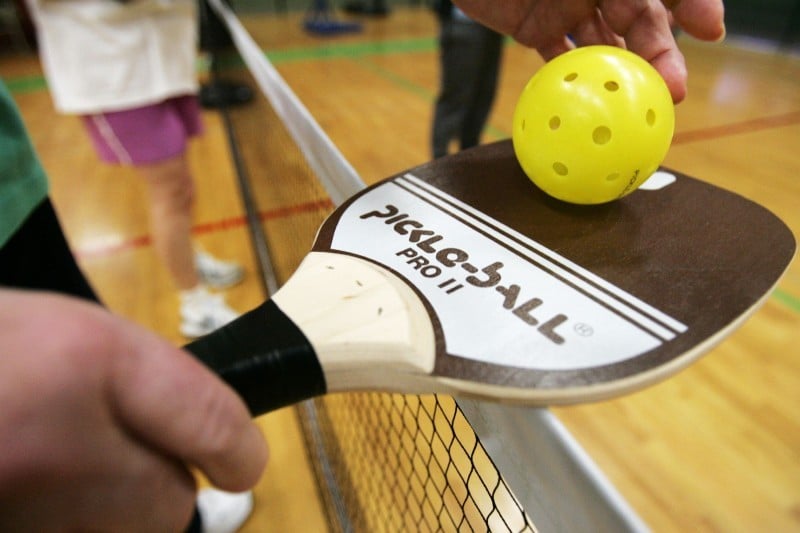 A sport growing in popularity is looking for a new home in Madison.
Pickleball, a game that is best described as a hybrid of tennis and ping-pong, is on the agenda for Wednesday night's parks commission meeting. William Dusso, 66, and his wife, Donna, 62, are asking the city to create pickleball courts in several Madison parks.
The Madison area has two places to play pickleball right now. The Salvation Army and Prairie Athletic Club set up temporary nets several days a week, but William Dusso would like to see a permanent home for pickleball in Madison parks. He says public pickleball courts would provide Madison's seniors more exercise options and also attract younger players. 
"If you go around the parks, there isn't always a great variety of things to do," William Dusso said. "It's a healthy activity for all ages, especially elderly people who can't get involved in other sports like basketball or running."
There is no historical consensus, but pickleball legend says the game in which players use paddles similar to those used in ping-pong and play on a small scale tennis court, was invented in the 1960s by former Washington Congressman Joel Pritchard and friends William Bell and Barney McCallum. Pickleball supposedly derives its name from a family dog who would often chase or steal the whiffle ball used in the competition.
The game is most popular in retirement communities in Florida, Arizona and California, but in Wisconsin, Cedarburg, Janesville, Manitowoc, Mequon and Ripon already have public pickleball courts, according to the USA Pickleball Association. Dusso doesn't specify which parks he'd like to see courts installed in but said he hoped the board would consider locations on both the East and West Side.
Norval Bernhardt, 71, started organizing pickleball at the Salvation Army's Darbo Drive location in January 2010. He learned the game while living in Florida during the winter and says it has provided a great alternative since a partial knee replacement forced him to give up tennis six years ago. "It's got a lot of back and forth motion, but without the twisting of tennis," Bernhardt said. 
Bernhardt has seen increased interest in pickleball, but said not having a place to play on Madison's West Side has acted as a deterrent for many potential players.
"There's are lots of places where tennis courts are not used fully," he said. "It's not a big ticket item. The city would just have to paint other stripes on the tennis courts."
Ald. Joe Clausius, 17th District, and a parks commission member said they've always been receptive to requests for new activities. "That's how disc golf got started in Madison," he said.
Clausius said he would consider adding striping for pickleball on tennis courts if they were underutilized courts.