Madison should choose a Milwaukee developer's proposed $41.3 million, mixed-use project with a grocery store and housing for a city-owned lot on South Park Street, a new city staff report says.
Rule Enterprises has proposed a first-phase $41.3 million, six-story project with a 30,000-square-foot grocery, 150 mixed-income housing units and a 345-space parking garage on the 3.5-acre site at 1402 S. Park St., which once held the now-demolished Truman Olson Army Reserve Center.
A five-story second phase, with no cost details, would have 80 housing units.
In a 19-page memo Wednesday, city staff recommended Rule over proposals by Baehr Inc., Valeo and McShane Construction; Gorman & Co.; and Welton Enterprises. The teams had responded to a city request for proposals focused on creating a full-service grocery and extending Cedar Street though the Truman Olson site but open to other uses such as housing.
"We think this is a strong proposal," said Dan Rolfs, city community development project manager. "It brings a new mix of uses to the city. It has the potential to be a great project for the South Side."
Staffers recommended that Rule meet a series of deadlines, including securing a grocer, by Jan. 16 or the city should swiftly move to negotiate with Gorman, based in Oregon, which proposed a $22.8 million, five-story project including a 24,000-square-foot Maurer's Market grocery store on the first floor, 93 mostly low-income housing units, 90 stalls of covered parking and 85 surface parking spaces.
The grocery store would take the place of a 1960s-era Pick 'n Save at 1312 S. Park St. that could close as soon as 2022 as part of a related development.
"We received four quality proposals, which in itself showed strong support for our goal of uninterrupted grocery service," said Ald. Tag Evers, whose 13th District includes the site.
"I fully support staff's recommendation for Rule's proposal because this is our best chance to avoid a grocery gap. Gorman's proposal was also strong, and is a solid Plan B, but due to the later delivery date makes avoiding a gap much more challenging."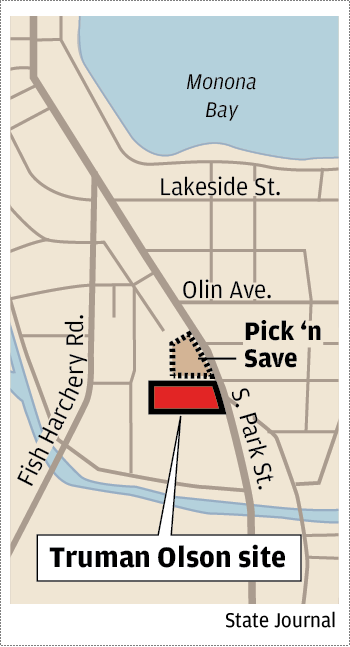 The city began the process for seeking proposals for the site almost two years ago. A resolution to begin negotiations with Rule will be introduced to the City Council on Tuesday, followed by review by the Finance Committee and a council decision on how to move forward on Dec. 3.
As of late March, SSM Health had been moving to acquire the Pick 'n Save site with the intent of demolishing the store as soon as late this year and immediately building a $75 million, five-story, 175,000-square-foot clinic on that property, the first phase of a multi-decade redevelopment in the area. When that building was completed, SSM's aged, existing clinic would be demolished.
You have free articles remaining.
But in May, in response to neighborhood concerns about losing access to fresh food, SSM abandoned its plans for the Pick 'n Save site and is now moving to build its new clinic on property it owns around its existing facility at 1313 Fish Hatchery Road.
SSM has since held two neighborhood meetings and intends to host a third meeting in early December on concept plans for its own properties. The health care giant has not finalized plans or drawings.
"We've come a long way, aided in large part by SSM's decision to build their new clinic on a different site," Evers said. "The city quickly pivoted and issued a new (request for proposals) with an expedited process to get a new store in place at Truman Olson before Pick 'n Save closes their doors.
The four proposals for the Truman Olson site all meet the city's basic requirements but would be financed in different ways and have different timetables, the staff report says.
A 30,000-square-foot grocery with unidentified grocery partner in a first phase with 150 apartments with some units for those making between 30% and 60% of the Dane County median income, $90,300 for a family of three, and remaining units for those making 60% to 80% of the median. The first phase includes a 345-space parking structure to serve the grocery and residential units in both phases of the project. The second phase would place 80 housing units above the parking garage. Rule would pay the city $1.5 million for the site and seek $2 million from the city's Affordable Housing Fund for the first phase, with an additional request possible for the second phase.
Gorman, Maurer's Market, Mehmert Store Services:
A 24,000-square-foot Maurer's Market on the first floor with 93 apartments on the second through fifth floors with most units for those making between 30% and 60% of the median income. It would provide 85 surface and 90 underground parking stalls. Gorman would pay $1 for the site — which the city could consider a $1.1 million tax increment financing (TIF) request because the city used TIF to acquire the property — and seek $1.85 million from the city's Affordable Housing Fund.
Baehr, McShane, Valeo, Habitat for Humanity:
An $87.7 million, six-story project including a 30,000-square-foot Capitol Centre Market, 227 apartments for students or families, 17 for-sale Habitat for Humanity town homes and a parking garage with 450 spaces. Baehr would pay $1.08 million for the site.
A $24.5 million, four-story project with a first phase including a 20,088-square-foot grocery, 92 market-rate apartments, 90 underground parking spaces and 89 surface parking spaces. A four-story second phase, with no cost details, would provide 94 low-income and market-rate apartments, 70 underground parking spaces and 77 surface parking spaces. Welton would pay $1 for the site, seen as a request for $1.1 million in TIF, and another $2 million in TIF support.
The city issued a first request for proposals for the Truman Olson site to adjacent property owners in January 2018 and had been in conversations with the two respondents, SSM and Welton.
After that didn't pan out, the city issued the new request for proposals.
"We received four quality proposals, which in itself showed strong support for our goal of uninterrupted grocery service." Ald. Tag Evers, whose 13th District includes the site
"We received four quality proposals, which in itself showed strong support for our goal of uninterrupted grocery service."

Ald. Tag Evers, whose 13th District includes the site