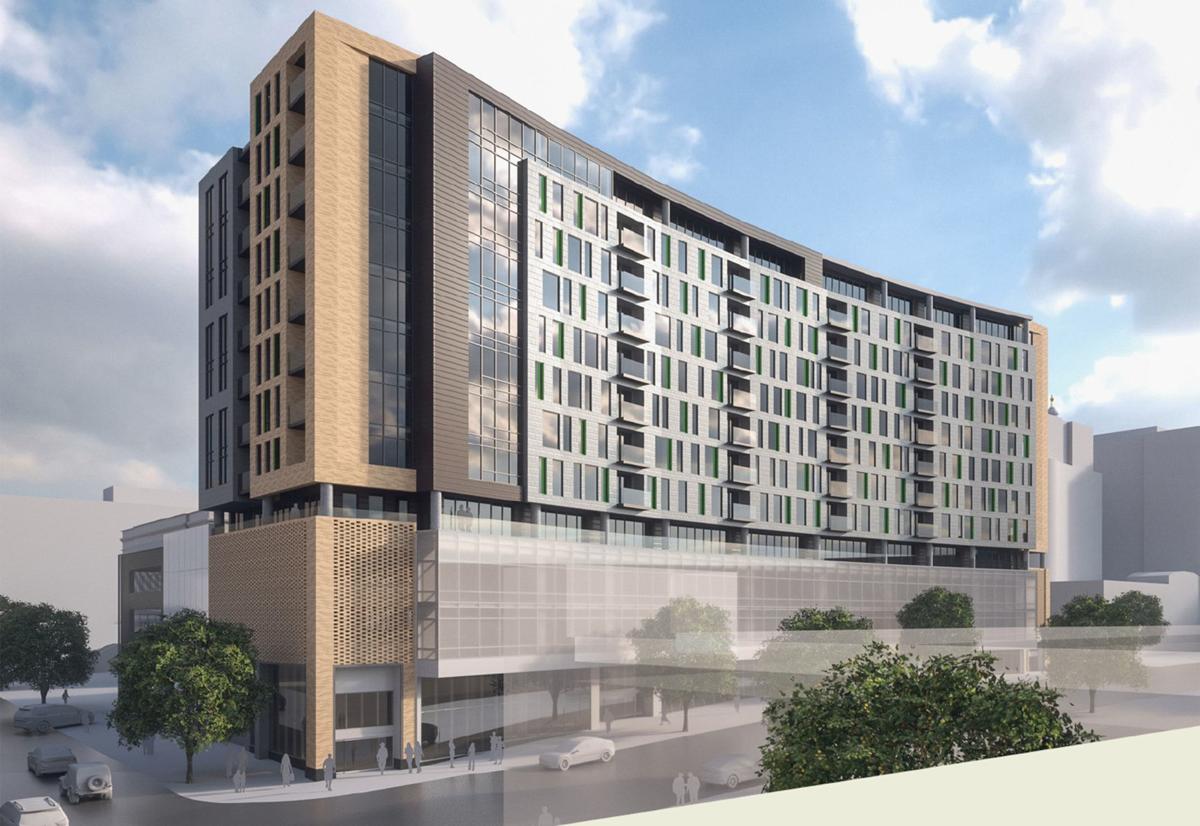 A special city negotiating team is recommending Stone House Development, of Madison, over two other suitors to do a pricey mixed-use development above the large underground parking garage nearing completion at the Judge Doyle Square project Downtown.
But the staff team also says that proposals by Gebhardt Development, of Madison, and Mandel Group, of Milwaukee, would also bring a successful outcome and that the city should further consider their proposals if negotiations with Stone House don't work out.
"I think Stone House does good work. I think they put forward a really good proposal," Mayor Satya Rhodes-Conway said, adding that she was pleased by the quality of all three proposals.
"All the teams have broad experience with development, and we received very positive feedback from their references," David Schmiedicke, city finance director, added.
The developers responded to a city request for proposals with projects costing from $38.2 million to $52 million and distinct designs for a private portion of the Judge Doyle Square project site, which includes the landmark Madison Municipal Building and aging Government East parking garage blocks.
The city's Finance Committee is scheduled to discuss the staff team recommendation on Tuesday with City Council selection of a developer expected in June or early July.
"Barring any new information, I think it is likely the Finance Committee will agree with the staff team recommendation," said Ald. Mike Verveer, 4th District, who represents the core Downtown.
The city is now completing the $50 million, 560-space public underground parking garage on the Municipal Building block to replace Government East, and the council has approved $11 million borrowed from the city's Parking Utility to build ground-level commercial space and two floors of private parking — collectively called the podium — above the garage.
The proposals for private development above the podium are:
Stone House's $40 million project with 159 apartments and 7,000 square feet of retail space in the podium. Twenty units would be for renters with household incomes at or below 60% of the Dane County medium income, or $49,560 for a family of three, and 17 units would be for those with household incomes at or below 80 percent of county median income, or $66,030 for a family of three. If financing works out, it may be able to provide more affordable units. Stone House is seeking $600,000 in city affordable housing funds and would pay $5 million to buy the air rights and the podium.
Gebhardt's $52 million project with 196 apartments and 26,000 square feet of commercial space and amenities above the podium, and 7,000 square feet of retail space in the podium. Seventy-eight units would be for renters with household incomes at or below 60% of the county median income. Gebhardt wants $1.75 million in city affordable housing funds and would pay a net $6.8 million to buy the air rights and the podium, subject to structural modifications.
Mandel's $38.2 million project with 150 apartments and 7,000 square feet of retail space in the podium. Thirty units would be for renters making less than 80% of the county median income. Mandel is seeking $1 million in city affordable housing funds and proposed a lease-purchase arrangement for the podium and a purchase of the air rights for $1 million within 10 years of occupancy.
Each proposal has advantages and drawbacks, the 18-page staff report says.
What each offers
Stone House has the most straightforward development in both construction and financing as well as a demonstrated ability to deliver the affordable housing element, but it has the longest repayment period for the Parking Utility, the report says.
Gebhardt maximizes density allowing for a relatively high payment to the city and the greatest number of low-cost housing units, but as a result the proposal carries the greatest risk in both construction and financing, it says. Mandel has offered a payment structure that, under certain assumptions, best matches the need to repay the Parking Utility but delivers the least amount of affordable housing.
The staff report comes as the city continues discussions with another private developer, Beitler Real Estate Services, of Chicago, on a hotel and housing on the Government East site after the garage is demolished.
3 years running
In 2016, after several misfires, the city chose Beitler to develop both blocks, with plans eventually emerging for a $186 million project with a hotel, housing and commercial space in three glassy buildings, as well as underground parking.
But in January, to resolve a legal dispute over part of the project, the council approved paying Beitler $700,000 in exchange for the developer giving up its rights to develop the Municipal Building block. The city then issued the new request for proposals for housing or commercial uses there.
Beitler, meanwhile, was to proceed with the development of a roughly 250-room hotel to serve Monona Terrace and 204 apartments in separate towers on the Government East block.
Although legal problems were seemingly resolved in early January, each side then claimed that the other was in default of a development agreement. In an exchange of letters in February and March, Beitler claimed city actions have made it "impossible" to get timely financing, and the city threatened termination of the agreement.
Some optimism
In following weeks, however, the sides have made progress.
Earlier this month, Beitler filed an application for a major alteration to previous plans to replace underground parking with a hotel swimming pool, a requirement of the hotelier. Meanwhile, the City Council has approved Beitler's request to lease 40 parking stalls for valet parking in the new public parking garage.
"The notices of default are still hanging out there," Rhodes-Conway said. "On the city side, we've been trying really hard to be clear about what the path forward is. We're hoping the Beitler team will continue to take these steps."
The city hopes to begin razing Government East in November with construction of the hotel to start by February 2020.