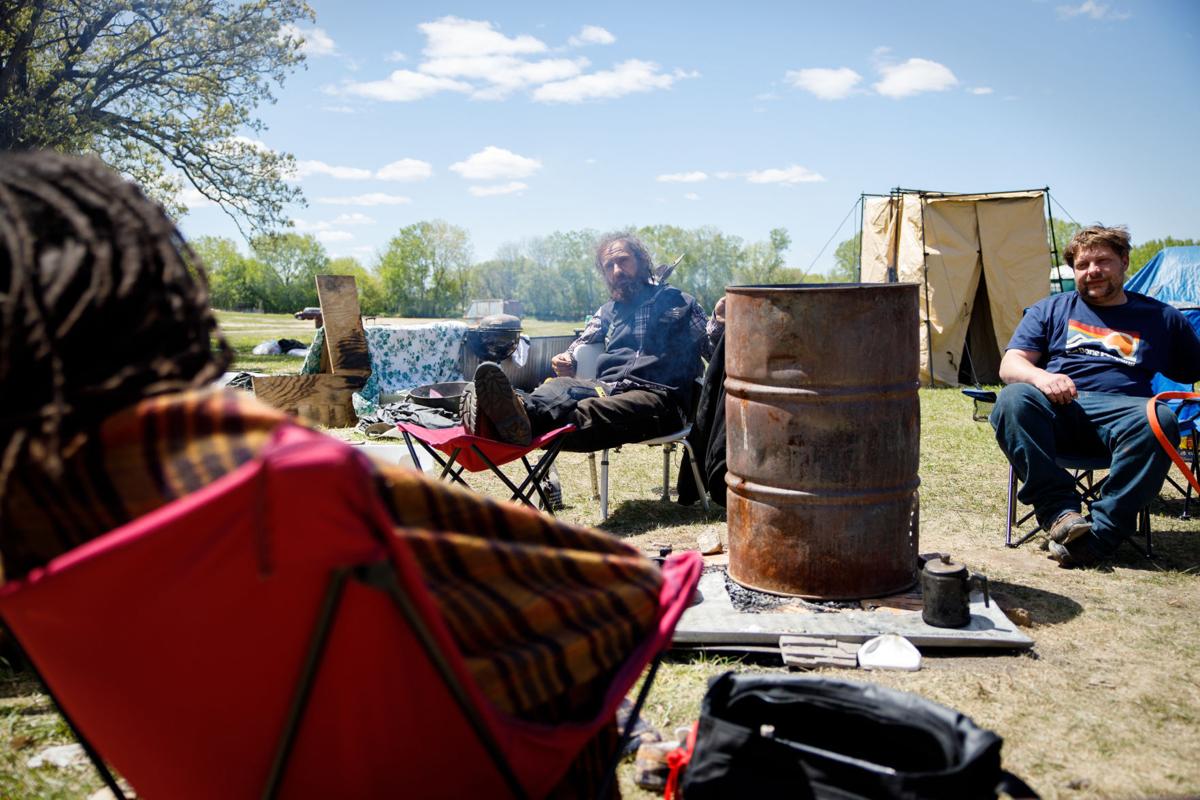 Madison officials are taking a slow approach to breaking up a homeless encampment at Reindahl Park on the East Side while exploring options for creating a permanent emergency shelter for homeless men after the City Council last week narrowly refused to buy a property near East Towne Mall.
"The mayor has directed us to do everything we can to work with the handful of campers who are left at Reindahl Park," city community development director Jim O'Keefe said Tuesday. "We don't want to be heavy handed."
Meanwhile, the council could but seems unlikely to reconsider its decision not to purchase the vacant big-box store near East Towne for the men's shelter, which requires a three-quarters majority to amend the current year budget. The mayor and members could wait until the next budget to secure the site, which would take more time but only need a simple majority vote. The city is also actively investigating other sites.
"There is consensus on the council to acquire property for a men's shelter," O'Keefe said. "There are a lot of different paths."
A temporary campsite
A month ago, the city posted notices that a ban on camping would be enforced and all structures and personal property must be removed from Reindahl Park by May 9, but several campers have refused to leave and city officials did not force a removal of items on Monday or Tuesday.
On Tuesday afternoon, about 15 tents or makeshift shelters remained in the park, clustered in five groups spread out over dozens of yards. Three dumpsters and a large portable toilet were on either side of the road leading up to the encampment.
As the COVID-19 pandemic took hold, the city designated the Starkweather Creek conservation area and Reindahl Park as places for temporary camping, but homeless people flocked to McPike Park on the Near East Side because of its proximity to Downtown and resources, officials have said.
At its peak, roughly 40 people were camping at McPike Park, but it was mostly abandoned at the time of the city's order to vacate the site amid a deep cold snap at the end of February. Before a city cleanup, McPike Park had piles of rotten food, beer bottles, discarded food containers, plastic bags, cardboard boxes and clothes left muddied and ruined by the melting snow.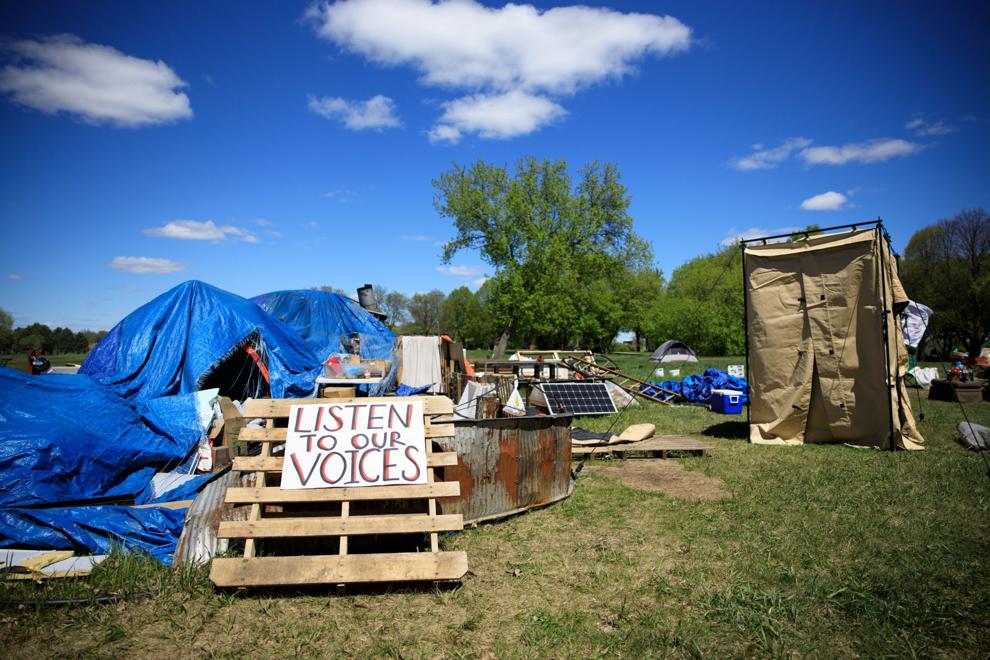 In contrast, Reindahl Park was cleaned up and relatively organized Tuesday afternoon. A group of five people sat around a campfire in a barrel next to a table of bread, donuts, oranges, graham crackers and water. Green grass with no garbage stretched out between the clusters of tents.
James DeGray, who lives in the park, said none of the tents and belongings left there are abandoned. He said he and volunteers cleaned the park at the city's request.
DeGray said he's not comfortable staying in the temporary men's homeless shelter because it gives him PTSD, and he can't calm down enough to sleep. He doesn't want to go to the encampment at Starkweather Creek because he doesn't feel safe there.
Reindahl Park needs to be made suitable as a public park, but the city intends to work closely with campers to find alternative shelter, O'Keefe said, adding, "We're going to do this being as respectful, supportive and helpful as we can."
On May 18, the council will consider a resolution by Ald. Juliana Bennett, 8th District, to prohibit the eviction of temporary encampments at the park. The resolution calls on the council to continue allowing public parks and other designated areas to be used as temporary encampments and would prohibit the removal and eviction of campers.
But Reindahl Park is no longer designated as a temporary encampment and the impact of the resolution is unclear.
Men's shelter options
As the city deals with the encampment, officials are also exploring options for a permanent men's shelter.
When the pandemic struck last spring, homeless men were moved from a Downtown church basement system to the Warner Park Community Recreation Center, where a temporary overnight shelter was set up. They were moved again in December to another temporary location in the city's former Fleet Services building. But that location is slated to be converted into the long-planned Madison Public Market some time next year.
On May 5, the council voted 14-5 to buy a former Savers and Gander Mountain store at 2002 Zeier Road for $2.6 million. But at least 15 votes are required for the purchase to pass because it involves a $3 million transfer from Dane County and an amendment to the city's adopted budget for 2021. Madison also plans to put $3 million toward the project.
The city has three main possibilities to still make that purchase.
Ald. Nasra Wehelie, 7th District, who had an excused absence to miss the previous meeting because she was out of the country tending to a family matter, can bring up the measure that failed for "reconsideration" at the next council meeting on May 18. But Wehelie has informed the city she will remain out of the country for the next meeting. Someone who voted no could also seek reconsideration.
The mayor or council can wait 60 days from the previous vote and offer a new resolution to make the purchase using only city money that's already in the 2021 budget, which would only require 11 votes for passage. Rhodes-Conway could also propose the purchase as part of her 2022 capital budget.
Amid the uncertainty, the city is exploring other sites for the men's shelter, including the Hooper property suggested by council President Syed Abbas at 2030 Pennsylvania Ave. on the East Side, near the current temporary shelter.
The Hooper property could be used as a temporary or permanent site for the shelter, Abbas said.
The mayor has asked staff to study the Hooper property and others, O'Keefe said, adding that the city is likely to need a third temporary location before it can open a permanent one.
State Journal reporter Emily Hamer contributed to this report