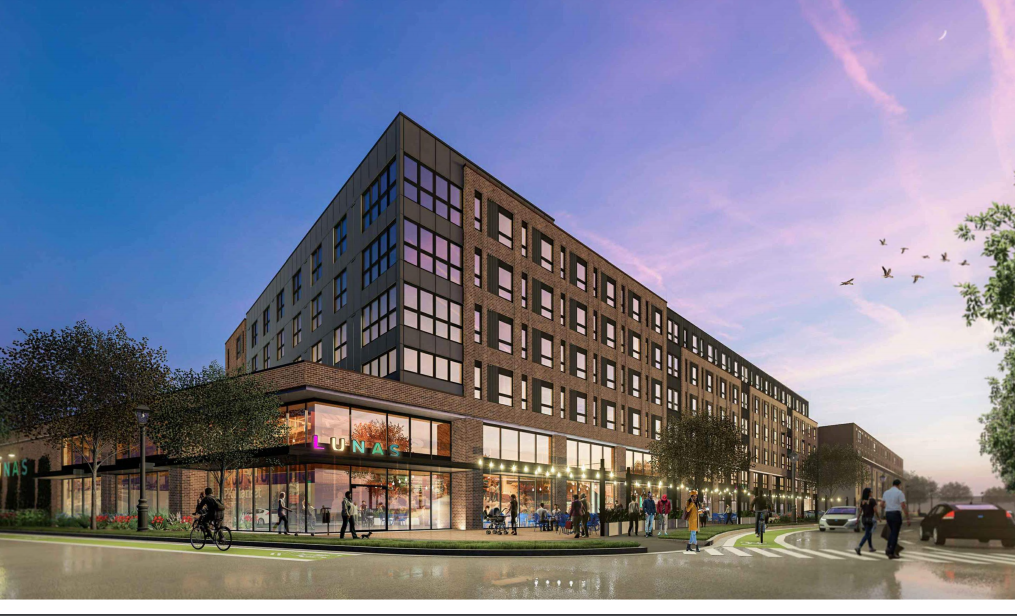 In a mutual decision, the city is moving from a tiny, Latino-owned grocery and seeking another grocer to be the anchor commercial tenant in a $42 million, six-story, mixed-use redevelopment on the South Side.
The city had hoped that Luna's Groceries, which operates a small store in the Allied Dunn's Marsh Neighborhood on the Southwest Side, would open a second, much bigger, full-service store in the coming Truman Olson housing redevelopment, called "Fourteen02 Park," on 3.5 acres of long-vacant, city-owned land at 1402 S. Park St.
In August, the City Council agreed to spend $4.7 million for a 24,000-square-foot grocery condo in the redevelopment to eventually replace an aging Pick 'n Save next door at 1312 S. Park St. The city's purchase was aimed to aid Luna's effort and allow the larger redevelopment by Rule Enterprises, of Milwaukee, and nonprofit Movin' Out, of Madison, to move forward on its timeline, avoid a potential grocery gap, and ensure the construction of 150 units of affordable housing and parking.
But recently, the city and Luna's agreed the site is not a good fit for the grocer, and Luna's is stepping away from the project to pursue other opportunities while the city identifies a new grocery operator to take over the space.
"Luna's has built a sustainable model for addressing food access in the Allied neighborhood, one of the city's largest food deserts," Mariam Maldonado, owner of Luna's Groceries, said in a statement.
"When I was chosen to work with the city and the Movin' Out team on the Truman Olson project I was excited by the opportunity to expand our model of the neighborhood store that takes care of its community to the South Park Street area," she said. "However, in developing plans for the store, it has become increasingly clear to me that it will be challenging to accomplish Luna's vision on this scale and in this timeframe."
Rule and Movin' Out have city approval for the grocery and housing component to be operated by the nonprofit with 30 units for those making up to 30% of Dane County median income, or $27,050 for a family of three; 64 units for those making up to 50% of median income, or $45,050 for that family; and 56 units for those making up to 80% of median income, or $70,650 for that family.
The project also includes 10,200 square feet of amenity space, structured parking for 164 cars and 134 bikes, and the city's construction of a new Cedar Street extension that's now underway.
"I'm grateful that everyone involved with this project is prioritizing the needs of the South Madison community," Mayor Satya Rhodes-Conway said. "I'm confident that we will secure a grocery partner for this site, and I'm confident that Luna's will continue to serve our community well for many years to come."
Tried to help
In December 2019, the city chose to negotiate with Rule over three other suitors to redevelop the property, which once held the long-demolished Truman Olson Army Reserve Center, but with a series of conditions, including that it name a grocer within about a month. Rule was chosen because its proposal provided the most promising timeline for replacing the 1960s-era Pick 'n Save on a site slated for future redevelopment with a new grocery, city officials have said.
A month later, Rule announced it had selected Luna's, which opened its initial 2,300-square-foot store at 2010 Red Arrow Trail in 2019.
The city tried to help the tiny grocer expand into the far larger space. On July 6, the City Council approved a $780,000 grant to the grocer. But Luna's hit other complications in financing and timing.
Luna's needed to secure $4.6 million for the grocery space and another $4.3 million to transform it into a store, city officials said. But Luna's lender determined its anticipated operational income would not support a total $8.9 million loan.
So in August, the council rescinded the $780,000 grant to Luna's and approved spending the $4.7 million to buy the grocery condominium space in the project.
The city's funding commitment was to serve as bridge financing between the financial closing timeline requirement of Rule Enterprises and Movin' Out in 2021 and Luna's financial borrowing timeline in 2022, officials said at the time.
The move provided the city with more certainty and control over the project because it means the larger development can proceed, ensuring a newly built "box" within which a grocer could serve the neighborhood for the next several decades, officials said.
With the purchase approved, the city could work with Luna's or another grocer to determine a lease or sales price for the space, economic development director Matt Mikolajewski had said.
Luna's, however, had no contractual obligation to work with the city to open at the site, and the city was not obligated to lease or sell the space to them and could partner with a different grocery.
"Our goal from the beginning has been to avoid a gap in grocery services on the South Side and to make sure the grocery store not only gets built but succeeds in the long run", said Ald. Tag Evers, 13th District. "We're still confident that we can meet our goals on this project and wish Mariam and Luna's success in their future efforts."
The city is committed to assisting Luna's in future endeavors as they continue to build and expand their presence throughout the Madison community as part of their mission to eliminate food disparities in the city, the city's press release says.
"Our goal from the beginning has been to avoid a gap in grocery services on the South Side and to make sure the grocery store not only gets built but succeeds in the long run."

Ald. Tag Evers, 13th District