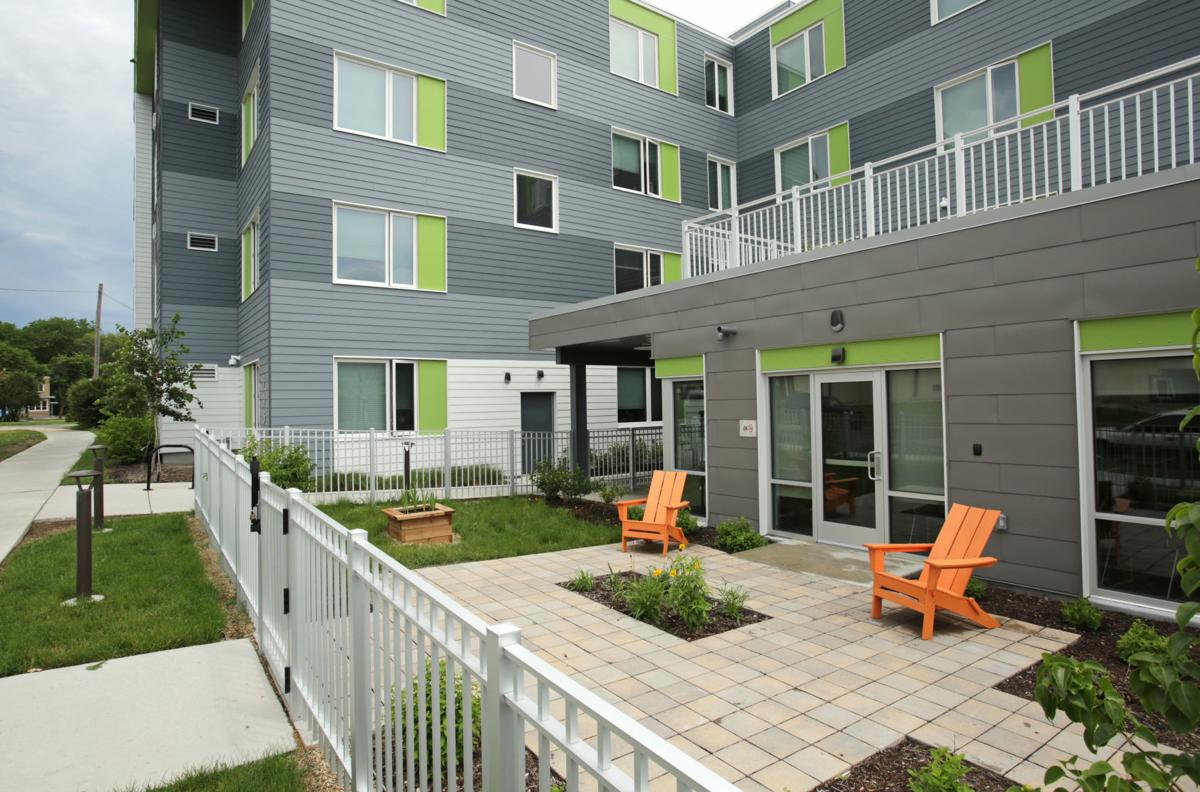 After a recent jump in police calls to Rethke Terrace, including two stabbings within a week, the city is working with the nonprofit operator on changes — notably a temporary ban on house guests — at Madison's biggest experiment with housing the homeless.
The $8.9 million, four-story, 60-unit building, which opened at 715 Rethke Ave. on the East Side in June 2016, has allowed dozens of chronic and veteran homeless, many with mental illness or addictions, to get off the streets.
Overall, police calls to the building for the first six months of 2018 dropped to 129, compared to 140 for the same time period last year. But in June, calls rose to 38 compared to 21 last June, and there have been 46 calls between July 1 and Friday.
"While many of the calls are minor in nature, others are more significant such as the two stabbings which occurred," police East District Capt. Thomas Snyder said. "I am concerned about the impact to police services and the fact officers are often unable to respond to other district complaints. Frankly, I am also concerned about the welfare and safety of residents at this property."
The police, contending the status quo is not sustainable, have complained to the operator, Heartland Housing of Chicago, about criteria for screening tenants, guest policies, consequences for rule violations and inadequate on-site property management and security at the building.
Heartland remains committed to serving the most vulnerable, including the chronically homeless, but is making some changes, spokesman Joe Dutra said.
The nonprofit is enacting a temporary ban on house guests and partnering with the city and Madison Police to identify long-term solutions, Dutra said. Also, Heartland staff will meet weekly with a crisis intervention-trained police officer, and will work with the Department of Veteran Affairs to increase support to 25 veterans at the facility, he said.
"I believe Heartland management has taken our concerns seriously," Snyder said. "I also believe it is not practical to believe all concerns will be corrected overnight. We have made suggestions and will continue to work together to make positive change."
Rethke Terrace is the city's first big move to Housing First, a national movement with roots in the late 1980s that puts the chronically homeless into housing with no or few conditions and voluntary support services. To build it, the city provided $1.14 million, Dane County $950,000, and the Wisconsin Housing and Economic Development Authority $5.4 million in federal tax credits. Under the operating model, rents pay for property management and maintenance staff with support services billed to Medicaid.
But, "Anybody who thought we could move 60 of the most vulnerable in our city to an apartment building and not expect some challenges along the way would be mistaken," city community development director Jim O'Keefe said.
You have free articles remaining.
"We all understand and recognize the value of providing residence for the chronically homeless population," Snyder said. "We also recognize that some individual residents come to this facility with personal histories that include substance abuse as well as physical and mental health issues. It was certainly understood there would be a learning curve for staff as well as police adjusting to the new facility."
The volume of police calls underscores a delicate balance between the philosophy of Housing First and rules that can make the environment safer at the building and surrounding neighborhood.
Until now, tenants have been allowed to drink in their rooms and have overnight guests with some restrictions, with efforts made to keep residents housed and avoid eviction.
"From the police perspective, there has been inconsistency with security and what their role should be," Snyder said. "Clearly, we have seen the impact many guests have had upon this property and to the residents who live there. Many of the disturbances and fights we respond to have been initiated by visitors."
Small number of offenders
Most problems are caused by a small number of people, including a person involved in the first stabbing who is leaving the facility, O'Keefe said, adding, "There are a handful of residents who have been living at Rethke who will not be there in the future."
Meanwhile, the funding model for supportive services hasn't fully worked, meaning less staff. But O'Keefe has hopes the state will fund a new homeless services coordinator who can develop a waiver to use federal Medicaid funds for intensive case management. "We want to work with the state to help shape the waiver request," he said.
Ald. David Ahrens, 15th District, who represents the site, initially was concerned about the experimental nature of the project and has continuing doubts. "Can we house 60 people, most with life-long, serious emotional and behavioral problems, in a single building without major disturbances and law enforcement issues?" he said.
But he added, "There is a general recognition that some of the major elements of the project have to change. It will take more time to see if those changes result in meaningful reduction in incidents that require constant police responses."
Snyder said any solution will likely require "a much more significant Heartland staffing footprint and the appropriate staff in place and on site to run the operation."
O'Keefe said everyone is learning from experiences, and adjustments can be made as needed at Rethke as well as a recently opened Heartland project with 45 units for homeless families at 7933 Tree Lane on the West Side, and Heartland's planned 58-unit project for homeless singles and some couples at 1202 S. Park St. on the South Side.
"We have to view this as a long-term proposition," he said.