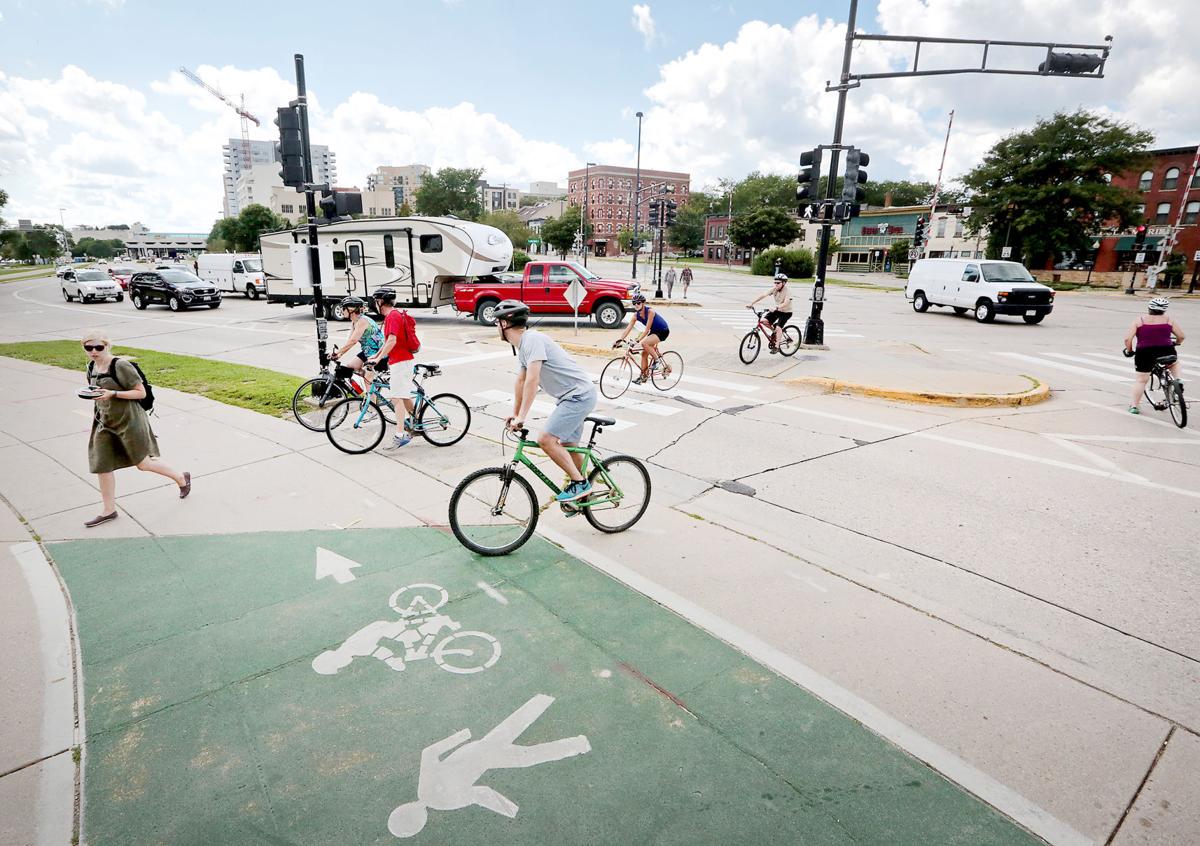 By car, bike or foot, it's a well-traveled, worn crossroads Madisonians and visitors love to hate.
Now, after nearly a year of study, the city's Engineering Division and a consultant are recommending a $3.7 million remedy including the intersection's first left-turn lanes to fix Downtown's clogged and dangerous "hairball" meeting of John Nolen Drive and South Blair, East Wilson and Williamson streets.
The Engineering Division and consultant are recommending the remedy be brought to final design, but suggesting only limited, short-term actions among a series of short- and long-term options to improve traffic flow, bicycle and pedestrian connections, and improve access to Lake Monona in the John Nolen Drive corridor south of Capitol Square. Short-term moves include re-striping, colored pavement and painted crosswalks at Broom Street and John Nolen Drive, and adding bicycle queuing space and signs at North Shore and John Nolen drives.
More ambitious, longer-term options include a pedestrian bridge east of Monona Terrace over John Nolen Drive to Law Park and a pedestrian underpass to the west of the convention center connecting a path to the park.
Splashier concepts, including the creation of a deck over John Nolen Drive with a park and parking to connect Downtown to Law Park east of Monona Terrace, will be left to the planning of others.
Ald. Mike Verveer, whose 4th District covers the core Downtown, said the recommendations make sense, addressing basic safety and building a groundwork for more ambitious efforts in the future.
"I tend to be realistic," Verveer said. "The exciting thing is a lot of people in the community are talking about these big-picture ideas. You must take these first steps before you get to exciting, transformational improvements."
The Engineering Division, which hired Strand Associates to prepare concepts and make recommendations, has been studying options to address longstanding problems in the corridor since September 2016. Their recommendations will be detailed at a public meeting at 7 p.m. Wednesday at Monona Terrace.
The main preferred option would create northbound and southbound left turn lanes from John Nolen Drive and Blair Street, an intersection that saw 92 crashes and nine bicycle crashes from 2011 through 2015.
Provide prominent pavement markings guiding cyclists through the intersection.
Eliminate a small spur of East Wilson Street and enlarge green space in front of the Hotel Ruby Marie.
Relocate driveways that enter Machinery Row and redirect the bike path in that area.
Expand the bicycle path on Williamson Street to separate cyclists and pedestrians.
Add a new traffic signal at Blount and Williamson streets to allow cyclists to cross diagonally, and create a raised bicycle tract on Blount Street to connect with the Capital City Trail.
The city must address pavement problems at the intersection and is trying to incorporate safety changes, city principal engineer Chris Petykowski said. "We're trying to create a more traditional intersection," he said.
The Engineering Division and Strand Associates dropped more complex and likely controversial options for the intersection, Petykowski said.
If embraced by the City Council and outside funding is secured, the preferred option could be done in 2020-21, Petykowski said.
For other parts of the corridor, the option for a bicycle-pedestrian bridge alongside a redevelopment site at 149 E. Wilson St. over railroad tracks and John Nolen Drive with a circular landing at Law Park is recommended for long-term planning, Petykowski said. The city recently secured a permanent 18-foot-wide easement for transportation purposes at the redevelopment site, which will hold a new apartment tower.
The study has also examined options to improve lake access on the west side of Monona Terrace around Broom Street, North Shore and John Nolen drives. One concept would create a new, multi-use path along the north side of North Shore Drive that would lead to a ramp and underpass beneath John Nolen Drive to the lakefront. Another path could link Broom Street to South Hamilton Street.
The options are recommended for long-term planning, Petykowski said.
The corridor study took a cursory look at private, visionary concepts, including the park deck over John Nolen Drive east of Monona Terrace.
In May, the Madison Community Foundation announced that it awarded the Madison Design Professional Workshop's Nolen Waterfront project $27,500 for a study to determine the feasibility and costs of constructing the deck, improving the Blair Street intersection, and building a boathouse designed by Frank Lloyd Wright in 1893.
Get Government & Politics updates in your inbox!
Stay up-to-date on the latest in local and national government and political topics with our newsletter.