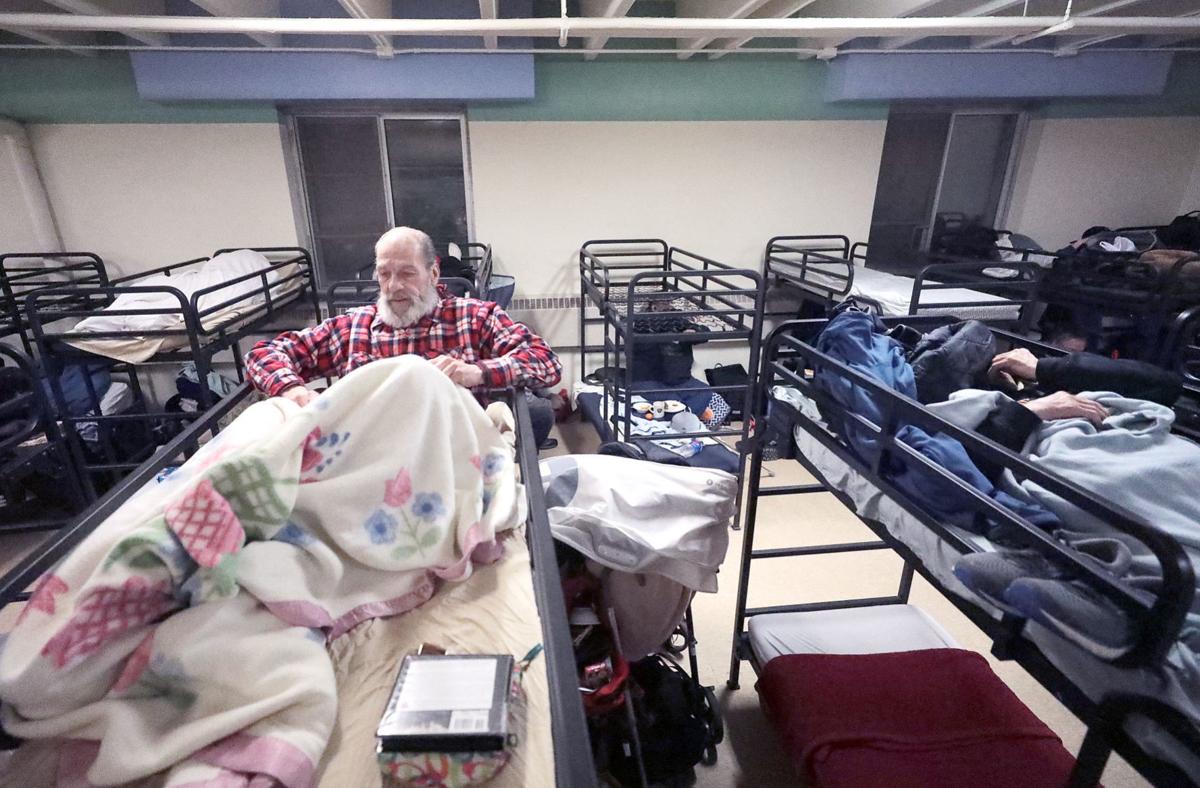 Madison, Dane County and nonprofit homeless service providers are scrambling to protect some of those most vulnerable to COVID-19 amid a lack of resources and inadequate facilities.
Organizers are trying to secure other spaces, including hotel and motel rooms, to relocate elderly homeless people and those with underlying health conditions from crowded shelters where it's hard to practice social distancing and isolate those who are sick.
The city, county and others are also searching for a large facility, perhaps buildings that have been shuttered due to the outbreak, with spaces that can be segregated and amenities such as cooking facilities, bathrooms and showers that can be used to relieve crowding on existing shelters.
In addition, advocates are emphasizing basic prevention practices at shelters and looking to connect the sick with health care while stressing safety with staff and volunteers.
"Two primary concerns are public health and human decency," said Shawn Tessmann, director of the Dane County Department of Human Services. "We are doing everything we can to achieve social distancing to slow the spread of this virus. The homeless can be among the most vulnerable in our society, and we know many of our homeless have multiple chronic health conditions."
The challenge is daunting. In Dane County, there are 521 single homeless adults and 128 families on lists awaiting housing, said Torrie Kopp Mueller, continuum of care coordinator for the Dane County Homeless Services Consortium.
Much of the burden falls on nonprofits Porchlight Inc., which runs the men's emergency overnight shelter system; the Salvation Army of Dane County, which operates the shelter for women and families; and Catholic Charities, which operates The Beacon homeless day resource center — all with facilities Downtown.
"Even in the best of times, the shelter system offers a pretty thin line of defense," said Jim O'Keefe, city community development director. "This situation is really taxing a system that's barely equipped to meet the demands being put on it. It's quite a challenge. We have been working around the clock."
Most vulnerable
The top priority is locating spaces for the most vulnerable, enforcing social distancing and minimizing the chance of virus transmission, O'Keefe said.
What's needed is a much larger space that can accommodate social distancing for 150 or more people, including the ability to partition spaces for people experiencing symptoms and those who are still healthy, said Kim Sutter, director of services for Porchlight.
The city, county and providers are identifying shelter users at highest risk — the elderly and those with underlying health problems — and, for the short term, looking to find hotel and motel rooms to accommodate what could be upward of 200 people, O'Keefe said. A lot more rooms are available now, he said, as businesses travel falls off and conferences and sporting events are canceled.
Advocates are also trying to identify another facility that could accommodate a large number of homeless people, provide space for adequate physical separation and offer other needed amenities, O'Keefe said. Such a move would allow Porchlight to concentrate staff at one site rather than having to spread workers among multiple sites, he said.
The costs of renting and operating such a facility would likely be shared by the city, county, state and federal government, he said.
"This is very much a work in progress, (but) I'm encouraged by the response we're getting," O'Keefe said.
Taking precautions
Porchlight, which runs the men's emergency shelter system from a primary site in the basement of Grace Episcopal Church on Capitol Square and overflow spaces in the basements of two other Downtown churches, has been averaging 130 guests per night in March, and 140 over the last three nights, Sutter said.
The nonprofit is taking steps to protect the men but has limited space to practice social distancing or quarantine those who may have been exposed to the virus, and is struggling to staff three shelter sites, she said.
Men are directed to use hand sanitizer as they check in and before eating, and the city is looking into installing a hand-washing station outside, she said. Volunteers will soon conduct screening during check-in, but there is a shortage of protective masks, she said. Daily breakfast and dinners are still being provided by volunteer groups, who have the choice of dropping off food and having staff serve it, she said.
The Salvation Army, serving an average of 22 families and 31 single women daily, is also working to develop protocols to minimize exposure and prevent outbreaks, said Melissa Sorensen, executive director of social services.
For example, public access is now limited to guests using its facilities in the 600 block of East Washington Avenue, and day services are suspended although case managers are still available by phone or online, Sorensen said.
Beds have been placed farther apart at the women's shelter, families are placed in the same room they used the night before as much as possible, janitorial services have been increased, hand sanitizer is available throughout the building, meal times are spread out, and after-school programs have been suspended, Sorensen said.
The Beacon, 615 E. Washington Ave., which serves about 225 people a day, is also taking steps to keep guests safe, said Jackson Fonder, president of Catholic Charities of Madison.
A shuttle is no longer running, which hasn't caused the number of users to drop, Fonder said. Guests must enter four at a time, get screened and wash their hands upon entering or leaving. Conference rooms are open to allow people to spread out throughout the building. And volunteers no longer serve lunch but make meals for the guests to take.
"Even in the best of times, the shelter system offers a pretty thin line of defense." Jim O'Keefe, city community development director
"Even in the best of times, the shelter system offers a pretty thin line of defense."

Jim O'Keefe, city community development director
Get Government & Politics updates in your inbox!
Stay up-to-date on the latest in local and national government and political topics with our newsletter.