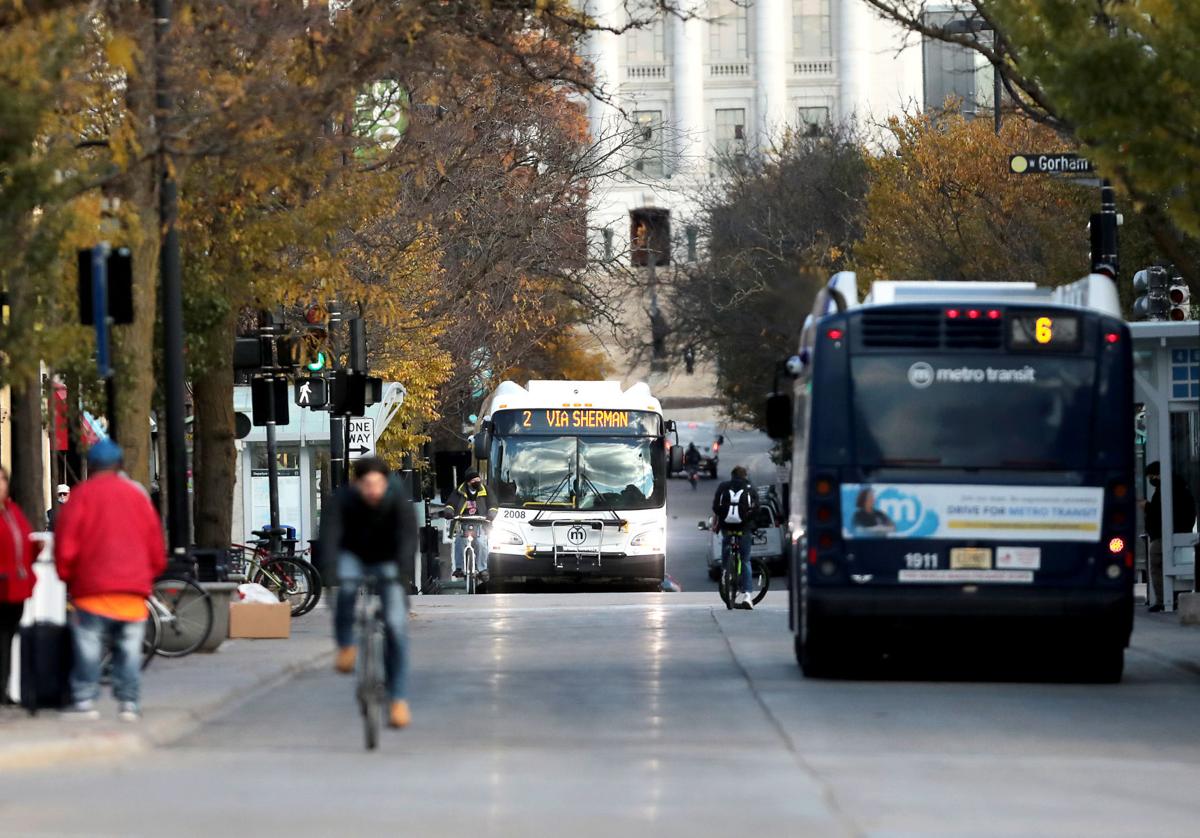 Madison City Council members are proposing that the city spend no more money on the coming bus rapid transit system until the council approves all BRT routes in a coming Metro Transit network redesign.
The proposed amendment to Mayor Satya Rhodes-Conway's proposed capital budget for 2022 comes amid continuing opposition to part of an initial east-west BRT route that runs through Capitol Square and the 100 through 300 blocks of State Street and concern about how the network redesign might affect riders in harder-to-serve neighborhoods.
The amendment, proposed by council president Syed Abbas and four others, is among 26 changes council members are offering to the mayor's capital and operating budget proposals. The changes were released Friday.
The amendment requires staff to submit a report on modifications to BRT and non-BRT routes for council approval, with funds released for route design only after the council has approved the scope of the route design, including alternative routes that don't use State Street or Capitol Square but use the "outer loop" a block off the Square.
Alds. Sheri Carter, Barbara Harrington-McKinney, Charles Myadze and Mike Verveer are listed as co-sponsors.
"My intent of this amendment is to make sure the City Council should be the body which decides the route design, and this amendment helps us direct staff to work for alternative routes around the outer ring and off the State Street and bring it back to the Common Council for approval," Abbas said. "By doing this, it creates transparency and provides the community opportunity to give input to the council and alders."
Rhodes-Conway blasted the amendment.
"Everyone on the Common Council says they support BRT, but this looks like a clumsy attempt to halt the project, negatively impacting not only the most marginalized in our community who rely on bus service but also the many visitors, shoppers and commuters who want to access the city through rapid, sustainable and convenient public transit," she said. "I hope this amendment doesn't destroy what we've worked so long, and with so many across our community, to create."
In a memo in response to the amendment sent to all council members Friday, Metro general manager Justin Stuehrenberg said staff have "significant concerns" about the language of the amendment and its potential impact.
"At best, this amendment creates significant confusion and uncertainty about how to move forward, as well as conflicting direction to staff from the council," he said. "At worst, it could delay the project indefinitely and potentially risk it altogether."
1-year delay?
The initial 15.5-mile route, to run roughly from East Towne to West Towne, was approved by the council in March 2020 and again in January 2021 with the final geometry now under design, a staff analysis of the proposed amendment says. Depending on the time needed to address the amendment, Metro Transit estimates at least a one-year delay in the BRT project, scheduled to start construction in late 2022, with an estimated $5 million in extra annual costs due to inflation, it says.
The city must complete a series of tasks by roughly May 2022 to open BRT for service as planned in 2024, Stuehrenberg said.
"All of these items are dependent upon each other and are on a tight timeline," he said. "Metro would only implement a project like this in the summer, when students are out of session and the weather is favorable. Therefore, any delay would delay the project by an entire year, from summer 2024 to summer 2025."
In addition to the extra cost, any delay threatens the project because it pushes federal funding into 2023 under a future Congress that may choose not to fund the grant program, and also an agreement with the state into 2023, when a different governor and Legislature could reject it, he said.
If the council wants to overturn decisions on BRT routing, it should do so by a resolution, not a budget amendment he said.
"My opinion is that the delays are the responsibility of the city administration that continues to set a course that their routes are the only ones to be approved," he said. "When the city administration agrees to look at alternatives, then we can move forward.
"Any increase in costs is not the fault of the City Council members who want answers and are ignored," he said. "If we were heeded a year ago, then the work on all routes would be available in a timely manner."
Rhodes-Conway disagreed. "Now is not the time to second-guess this project," she said. "Now is the time to deliver Madison a superior public transit service that will get people to work, school, entertainment and shopping options faster, more conveniently and in a more environmentally friendly way than ever."
Tight finances
The city, facing an $18 million gap to begin the budgeting process, will use mostly one-time measures to close the shortfall in 2022. Projections show similar gaps with costs rising faster than revenues in future years.
The proposed operating budget amendments come with the council having just $79,000 of spending capacity left under state levy limits after changes the Finance Committee made to the mayor's proposed operating budget late last month. Any additional spending beyond that amount would require cuts elsewhere. Council members also forwarded a series of changes to the capital budget.
Outside the proposed amendment related to BRT, other significant changes would expand the Fire Department's Community Alternative Emergency Services (CARES) program; shift some funding to further support a community-based gun violence prevention effort; deliver services to the homeless; and add police vehicles for when the city absorbs the town of Madison.
The mayor's operating budget, as amended by the Finance Committee, would increase spending 3.1% to $360.3 million for 2022; increase tax collections 1.2% to $259 million; and raise city taxes on the average home, now valued at $335,200, by 1.8%, or $49.99, to $2,786.05.
A series of changes
Specifically, other major operating budget amendments would:
Shift $82,000 from the Police Department to the Fire Department to contract with two mental health crisis workers for six months to expand the CARES program at $164,000 a year.
Transfer $200,000 from the Public Health budget for the Violence Intervention Team to fund a contract with nonprofit Focused Interruption for
The mayor's capital budget, as amended by the Finance Committee, would authorize $356.3 million in spending, including $142.8 million in borrowing and $213.6 million from other sources.
Other major capital budget amendments include:
$150,000 to prepare a 311 system, a nonemergency number people can call to get information on city services.
$250,000 for two squad cars, one vehicle for a sergeant and an unmarked detective vehicle as the city hires eight police officers to ensure equitable coverage when the city absorbs the town of Madison next year.
$50,000 to fund a vehicle for the CARES program.
$212,000 to buy property at 351 Russell St. to mitigate effects of known contamination.
A $65,000 grant to the Northside Planning Council to buy and retrofit an RV to serve as a mobile neighborhood center.
$400,000 to provide loans to property owners for the development of "accessory dwelling units," small backyard dwellings. The funds could help create five to seven new units.
Transferring $1.5 million of federal funds from the Hotels Converted to Housing capital project to the Community Development Division's operating budget to cover a proposed contract with Focus Counseling to provide services at a
The council will begin deciding the final capital and operating budgets on Tuesday evening, with additional meetings scheduled for Wednesday and Thursday nights if needed.