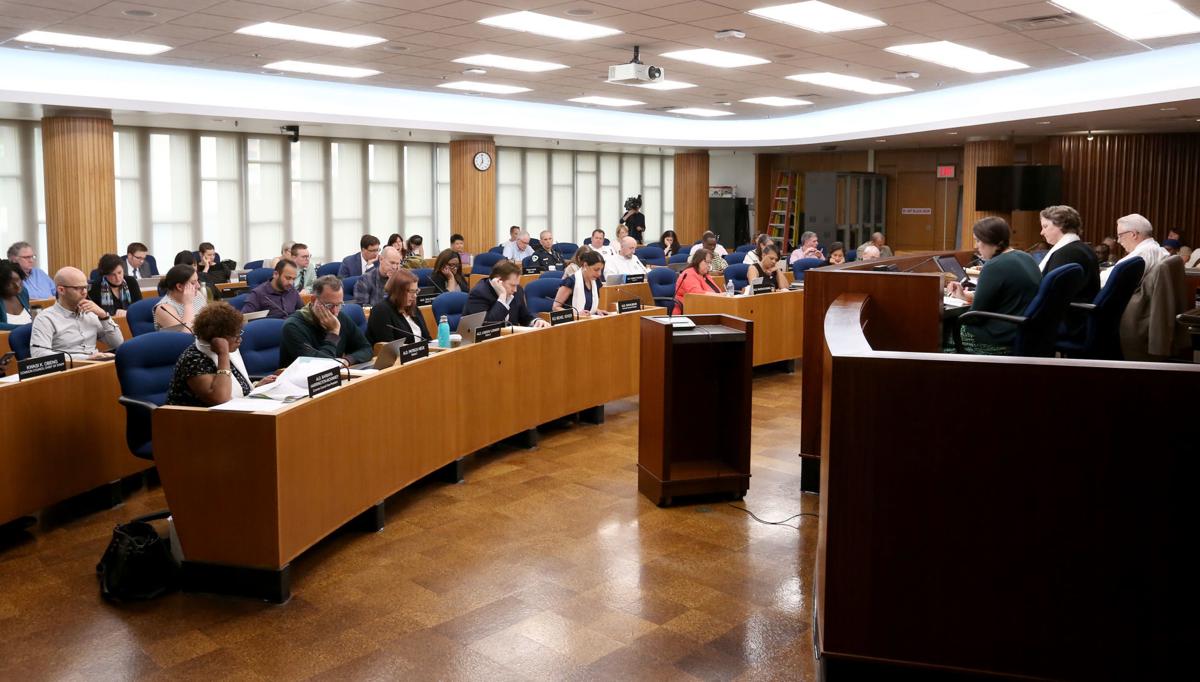 Madison's Finance Department is revisiting some projected costs for a smaller, full-time, higher-paid City Council and other proposals amid concerns from council members about how the timing and accuracy of estimates might influence a coming debate on the city's government structure.
The Task Force on Government Structure report, introduced by resolution to the council on Jan. 7, says the city's governmental structure is "fundamentally unfair" to many residents and recommended changes to the council, more efficient city committees and better community engagement.
The 11-member task force report pans the current system as an "impediment to full participation and representation" and "fundamentally unfair to a larger portion of the city's population, including, most notably, the city's residents of color and low income."
As part of the resolution, the Finance Department included a fiscal note that said changes proposed in the report would cost the cash-strapped city a net $2.2 million a year.
The mayor said she agrees with the criticisms raised by the task force but not with all of its recommendations.
The estimate, however, has triggered a dispute among task force and council members about whether projections are premature and based on incomplete information, or if they're what's needed as policymakers begin a conversation that can have major implications for how the city is run in the future.
On Tuesday, finance director David Schmiedicke told the council's Executive Committee that his department intends to add language to the fiscal note to clarify that adopting the resolution and report brings no immediate costs, but retains the essence of the cost projections. The committee referred the resolution to an upcoming meeting until it sees specific language in the revised fiscal note and other changes to the resolution.
Ald. Rebecca Kemble, 18th District, a task force member, has been leading complaints that the detailed fiscal note is premature, didn't follow usual procedures, includes inaccurate estimates, and unfairly frames the coming conversation. She said a fiscal note that retains all projections is "not acceptable" and will work with the Finance Department on new language.
"At this point, city staff has done a lot of work on it," she said after the meeting. "It's out there. The bomb has already dropped."
But Ald. Paul Skidmore, 9th District, another task force member who didn't attend Tuesday's meeting, says he supports the initial projections and accused Kemble of trying to "change the narrative" of the task force's work and "put a different spin on the recommendations."
The full council will make a decision on accepting the task force report and next steps in coming weeks.
Specific estimates
It's standard practice for the Finance Department to provide a fiscal note with proposed resolutions and ordinances that have financial implications.
Usually, fiscal notes are very specific. Sometimes, as with resolutions calling for council acceptance of special reports, such as one from the Urban Forestry Task Force considered Tuesday night, the notes detail no immediate fiscal impacts but say there may be costs if specific recommendations are implemented later.
The Finance Department's initial fiscal note on the resolution introducing the Task Force on Government Structure report was detailed, including a matrix of recommendations and summary of the methodology used to determine costs.
The biggest expenses would be $1.1 million to transition to a full-time City Council, $400,000 annually for a temporary administrative services team to be replaced later by an Office of Resident Services and Neighborhood Engagement, and $320,000 annually to facilitate resident engagement and participation, the initial note says.
The costs for the council changes are based on relatively specific task force recommendations: reducing the council from 20 to 10 members; having members serve full time; and paying members salaries at 80% of the Dane County median income for a family of three, or $67,950.
In a response to initial rumblings about the fiscal note, Schmiedicke wrote on Jan. 14 to Mayor Satya Rhodes-Conway, council members and others saying there can be disagreement about assumptions selected, but that the assumptions were "chosen in good faith, carefully noted, and represent knowledge gathered from comparable analyses."
Also, given the scope of the task force report, "it was felt a more comprehensive analysis was important in the interest of transparency."
A debate ahead
Kemble said she sees some basis in the report to project costs for changes to the council, but stressed no specific restructuring — including number of members, full- or part-time status or salary — has been proposed by any council member. She called estimates for other changes "guesswork."
She said she would prefer a fiscal note like those attached to other resolutions when the council is asked to accept a report, and will not accept language that includes cost estimates for the temporary administrative services team/Office of Resident Services and Neighborhood Engagement.
More detailed fiscal notes should accompany proposals to enact specific recommendations, she said.
Skidmore, in an email to the city attorney on Tuesday, said it's inappropriate for a task force member to be proposing such a change without discussing it with the full task force. He said he supports the original resolution and projections, and will refuse to sponsor a substitute resolution that includes "an altered fiscal note."
Get Government & Politics updates in your inbox!
Stay up-to-date on the latest in local and national government and political topics with our newsletter.