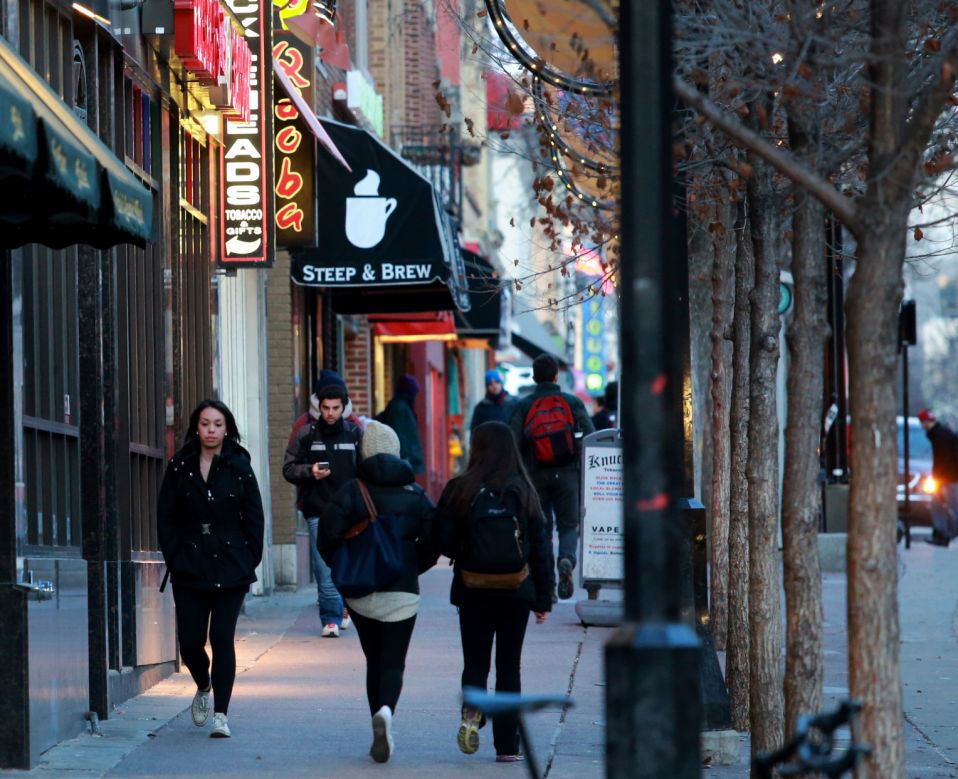 A Madison City Council member says Mayor Paul Soglin has threatened to veto any new liquor licenses Downtown amid a split between the council and the mayor over how much liquor in the area is too much.
Ald. Mike Verveer, 4th District, who represents the core of Downtown, said Soglin raised the possibility during a meeting Tuesday that included him and Alds. Zach Wood, 8th District, and Ledell Zellers, 2nd District, who also represent parts of Downtown. Soglin declined to say whether he made the threat.
As the State Street area has seen a loss of retail establishments and an increase in restaurants, and as some parts of the broader Downtown have seen alcohol-fueled violence, Soglin has resisted the addition of more liquor licenses for restaurants.
Under a 2014 ordinance set to expire July 1, 2019, the city is already prohibited from approving new taverns and liquor stores in the 500 and 600 blocks of State Street, the north side of the 600 block of University Avenue, the 400 blocks of North Frances and West Gilman streets and the west side of the 10 block of North Broom Street.
But the council has continued to approve new liquor licenses for restaurants, three of which Soglin has vetoed.
Verveer said he was willing to consider limits on new restaurants selling any alcohol after 11 p.m., as well as expanding the area where new taverns are banned. But he said he was wary of a moratorium on restaurant liquor licenses that could, for instance, discourage a high-end restaurant like one by renowned Madison chef Tory Miller.
"I would try to talk the mayor out of a moratorium that would include Capitol Square," he said.
You have free articles remaining.
'Beginning stages'
Zellers said she is willing to extend the sunset date of the existing moratorium on new taverns, and to expand the area to which it applies. She was also open to limiting the hours new restaurants could sell alcohol.
"This is in the beginning stages of discussion," she said. "Another thing that needs to happen would be meetings with stakeholders to get their perspective and ideas."
Verveer said Wood and Zellers were sent a proposal from the mayor's office laying out a plan for a moratorium on new restaurant liquor licenses in the Downtown. Soglin and City Attorney Mike May declined to release the proposal, although it was introduced for referral to city committees during Tuesday's council meeting, but "by title only" — meaning its contents were not yet available.
Zellers said to "go directly to Soglin" for "any document he authored or is proposing"; Wood did not respond to the Wisconsin State Journal's request to see the proposal.
"The stage we're at now is simply collecting ideas," Soglin said.
In 2015, Soglin vetoed a beer license for Mad City Frites, which was at 320 State St., but the council overrode him. The council also overrode Soglin's veto of a beer and wine license for Lotsa Stone Fired Pizza, 506 State St., in 2016.
But on Tuesday, the council upheld Soglin's decision to deny a Taco Bell Cantina, 534 State St., a license to sell beer and wine.
Last month, Soglin raised the possibility of putting the issue of more liquor licenses Downtown to public referendum.