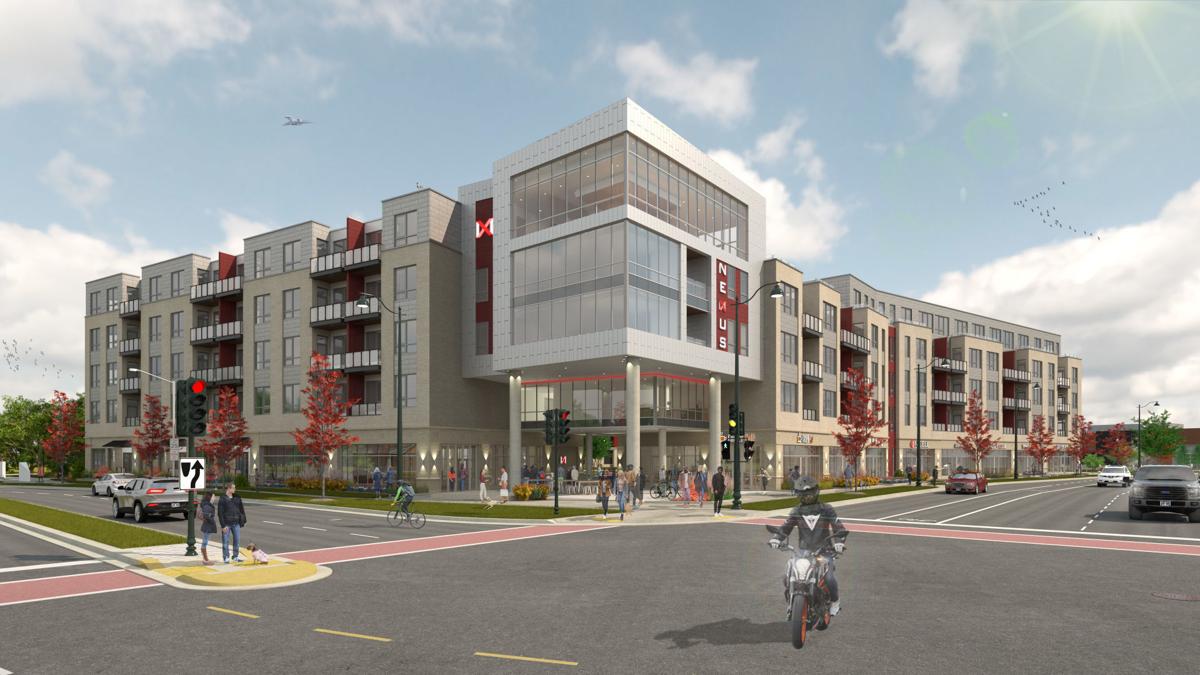 Embracing the future and past, the Madison City Council on Tuesday approved the final piece of the roughly $80 million, multi-phase Union Corners redevelopment on the East Side and a first-ever, citywide historic preservation plan that takes a deep look at Madison's culturally diverse — but uncelebrated and mostly unnoticed — past.
In a packed agenda, the council also approved actions related to the COVID-19 pandemic, including the use of funds for more public health staff and support for those quarantined, Police Department supplies and equipment, City Clerk's Office supplies, and delivering funds for artists who have lost income in the crisis to create art in public places.
The council unanimously approved Gorman & Company's $28 million Nexus apartments, a five-story, mixed-use project with 14,600 square feet of retail space, 105 housing units and 79 underground parking spaces and surface parking that's the final piece of the Union Corners redevelopment at East Washington Avenue and Milwaukee Street.
Another developer first proposed a project at the site in 2004, and after multiple twists, the city acquired the property and Gorman was selected to move forward with the redevelopment.
Gorman, with substantial city support, began with the $20 million UW Health Union Corners, a two-story, 60,000-square-foot medical clinic with underground parking completed in 2016. Next came Carbon at Union Corners, a $20.5 million, four-story mixed-use project with 90 apartments, 19,000 square feet of first-floor retail and underground parking finished the next year.
The developer most recently completed Generations at Union Corners, a $15 million, three-story residential project with 60 mixed-income apartments and underground parking targeted to families with grandparents serving as primary caregivers of grandchildren and families with children who live with other members of their extended family.
at historyAfter a nearly three-year effort, the council unanimously adopted the first-ever Historic Preservation Plan as a supplement to the city's Comprehensive Plan, directed staff to implement recommendations, and accepted an Underrepresented Communities Historic Resource Survey Report, the latter seen as a "living document" that will be a starting point for diversifying stories the city is documenting.
Until now, the city's approach to historic preservation has largely been about architecture and through regulation.
The city has 182 landmarks and five historic districts but the Historic Preservation Plan features outreach to historically underrepresented communities — African Americans, Latinos, Asian Americans, Native Americans, LGBT people and women — to celebrate and preserve their stories and places as part of the city's collective history.
"Historic preservation is an important element of place making," city preservation planner Heather Bailey said in an interview. "This is our first preservation plan that evaluates cultural resources citywide. We need to be proactive and deliberate in how we undertake that effort so that we can assist the community in making informed choices about the stories we tell and how we incorporate historic resources into our ever-evolving cityscape."
The plan recommends strategies to better weave historic preservation into public policy, apply land-use and zoning tools, use economic-development and financial incentives, and encourage heritage tourism.
In some cases, it could mean more landmarks or adding historic districts, but it could also simply mean better identification, education opportunities, signage, financial incentives, or letting property owners know the significance of the site. The plan also has an emphasis of returning to strong public outreach and educational programming for the preservation program.
"It is ambitious," Bailey said. "People care deeply about Madison and they had a lot to share. With the new challenges facing us all, achieving the goals of the preservation plan is even more ambitious. We need to be creative in making sure we accomplish what the public has asked of the city's preservation program."
to COVID-19Among actions related to the new coronavirus, the council:
Amended the Public Health Madison Dane County budget to use $700,000 in federal funding to add staff and provide funds to those required to quarantine due to a positive COVID-19 test.
Amended the Police Department budget to accept $279,128 in federal funds for supplies and equipment, and transferred $705,000 from the contingent reserve to the City Clerk's Office for election-related supplies.
Approved using up to $80,000 from the Municipal Art Fund to commission artists who have lost income due to the crisis to create art in public places.
Referred to a future meeting confirmation of the
to let homeless people camp in some parts of city parks, greenways and properties within certain limits.
Referred until a future meeting the lease of a vacant, former skilled-nursing facility on the East Side as a possible short-term respite shelter. The city is looking to lease the former Karmenta Center, 4502 Milwaukee St., from Watson Smith LLC for $900,000 for two years with an option to then buy the property for future redevelopment.
Get Government & Politics updates in your inbox!
Stay up-to-date on the latest in local and national government and political topics with our newsletter.