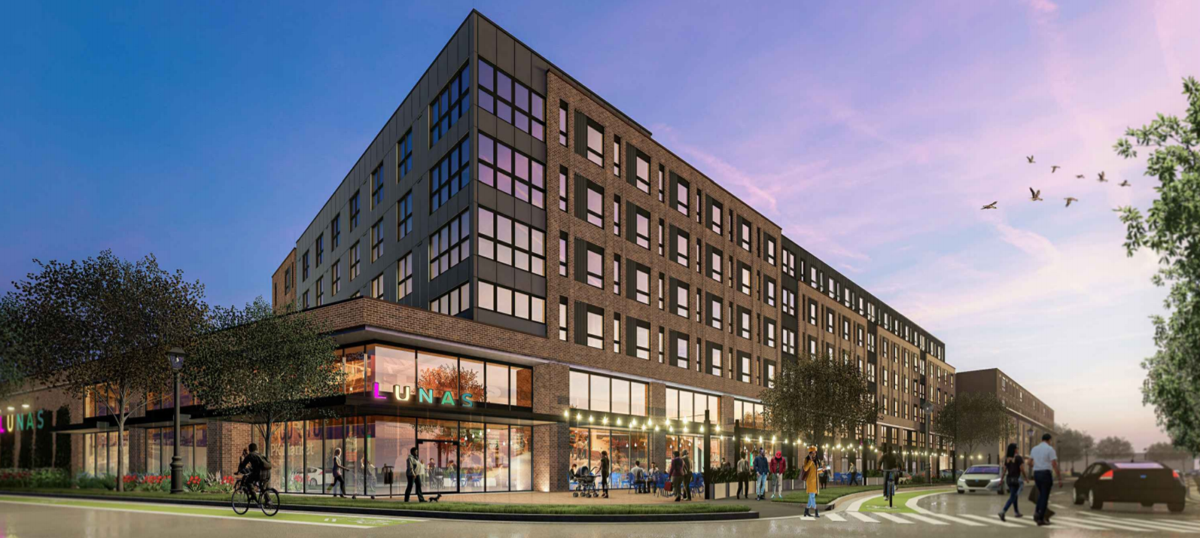 A large apartment and grocery store development on South Park Street spearheaded by entrepreneurs of color received final sign-off Tuesday from the Madison City Council.
The council approved a revised loan agreement and development agreement on the $42 million project with Rule Enterprises, a Black-owned Milwaukee development company, and Madison-based nonprofit Movin' Out Inc. to bring 150 housing units, a 24,000-square-foot grocery store and parking to the long-vacant, city-owned Truman Olson property.
The grocery store will be run by the owners of Luna's Groceries, a small Latino-owned store in the Allied Dunn's Marsh neighborhood, and it will act as a replacement grocery store for the neighborhood when the nearby 1960s-era Pick 'n Save is eventually razed for future development.
The development agreement, which passed as part of the council's consent agenda, gives the 3.5-acre parcel at 1402 S. Park St. to the developers at no cost. In exchange, the agreement stipulates the number of units that need to be for lower-income residents and how large the grocery store will be, among other things.
The housing component, which will be operated by Movin' Out, is to be made up of 30 units for those making up to 30% of the Dane County median income, or $27,050 for a family of three; 64 units for those making up to 50% of median income, or $45,050 for that family; and 56 for those making up to 80% of median income, or $70,650 for that family.
Stop-N-Go license
Despite the legal warnings from a city attorney, a Stop-N-Go convenience store on the East Side was again denied Tuesday a liquor license as council members raised concerns about alcohol density in the Schenk's Corners area.
In early January, the council denied an application from Kwip Trip to sell beer and hard cider at the Stop-N-Go store at 2002 Winnebago St., citing the "health, safety and welfare" of the community as its reason for denial. Because Kwik Trip bought out the Madison-based Stop-N-Go brand late last year, the La Crosse-based gas station giant was required to reapply for liquor licenses at the Stop-N-Go stores.
On Tuesday, the council reconsidered the previous decision and voted 12-7 against granting the license, citing the existing density of liquor licenses in the popular East Side area and the convenience store's proximity to East High School and a child care center.
Ald. Marsha Rummel, whose 6th District covers Schenk's Corners, said her opposition rested on those reasons and not necessarily concerns some neighbors raised about losing a small U.S. Postal Service location that used to be inside the Stop-N-Go.
"I encourage you to think about the density question as a standard more than we have a responsible corporate applicant," Rummel said. "They're separate questions."
David Ring, Kwik Trip's community relations manager, said the previous owner of Stop-N-Go decided to end its relationship with the Postal Service before Kwik Trip bought the brand, and he argued Kwik Trip was only applying for the exact type of license the store has held for years.
Assistant city attorney Jennifer Zilavy said the license had been unanimously supported by the Alcohol License Review Committee and faced no objection from police or the neighborhood association.
Throughout the application process, Zilavy said the majority of concerns neighbors raised focused on topics other than density, such as losing the contracted post office. She argued the council hadn't made a strong enough case in January to deny the license.
"At this point, there really is nothing in the record that supports a legal basis for denial of the license," she said.
Some council members said their opposition came down to solely density and argued the body has the right to go against the recommendation of the ALRC. Others took issue with how the City Attorney's Office was presenting the situation.
"We're literally having a legal discussion at a council meeting in open discussion and arguing against ourselves," Ald. Keith Furman said.
Alds. Tag Evers, Grant Foster, Patrick Heck, Rebecca Kemble, Max Prestigiacomo, Mike Verveer, Nasra Wehelie, Syed Abbas, Christian Albouras, Shiva Bidar, Furman and Rummel voted to deny the license; Alds. Barbara Harrington-McKinney, Zachary Henak, Lindsay Lemmer, Paul Skidmore, Michael Tierney, Samba Baldeh and Sheri Carter voted in favor; and Ald. Arvina Martin was absent.
Other action
The council approved a Chicago-based developer to construct a smaller, redesigned hotel as part of the Judge Doyle Square project as opposed to the shimmering, glass-clad structure that was originally envisioned for the massive two-block Downtown project.
Beitler Real Estate Services now has the go-ahead to build a nine-story hotel covered in masonry, metal panels and some glass rather than the original 12-story design.
Despite the height drop, the 260-room hotel slated for the 200 block of South Pinckney Street and meant to serve Monona Terrace should have about the same number of rooms by making the building wider and using a different style of room.
Also approved Tuesday, nine nonprofits and cooperatives are set to receive nearly $3.1 million in city funding for a variety of housing efforts to offer lower-cost and affordable housing options.
The funds are split between $1.7 million from the city's Affordable Housing Fund and $1.36 million from other pots of money within the city budget. The money will fund work such as down payment assistance, rehabbing homes for first-time buyers to purchase and supporting cooperatives Downtown and on the Near East Side.
---
Weekend re-reads: Check out these Wisconsin State Journal stories honored in state newspaper contest
The Wisconsin State Journal collected 10 first-place awards in an annual contest put on by the Wisconsin Newspaper Association, including recognitions for general excellence, all-around photography and the opinion pages.
State Journal staff also won eight second-place finishes and 12 third-place honors in the association's Better Newspaper Contest, which evaluated content published between Sept. 1, 2019, and Aug. 31, 2020.
Photographer John Hart took home three individual first-place wins for the feature photo, artistic photo and photo essay categories, while photographer Amber Arnold earned first for a general news photo.
Emily Hamer was awarded the Rookie Reporter of the Year distinction and also won first place for extended coverage on the return of state pardons. Higher education reporter Kelly Meyerhofer earned first place in local education coverage.
Re-read the State Journal stories that won first, second and third place in this year's Better Newspaper Contest.