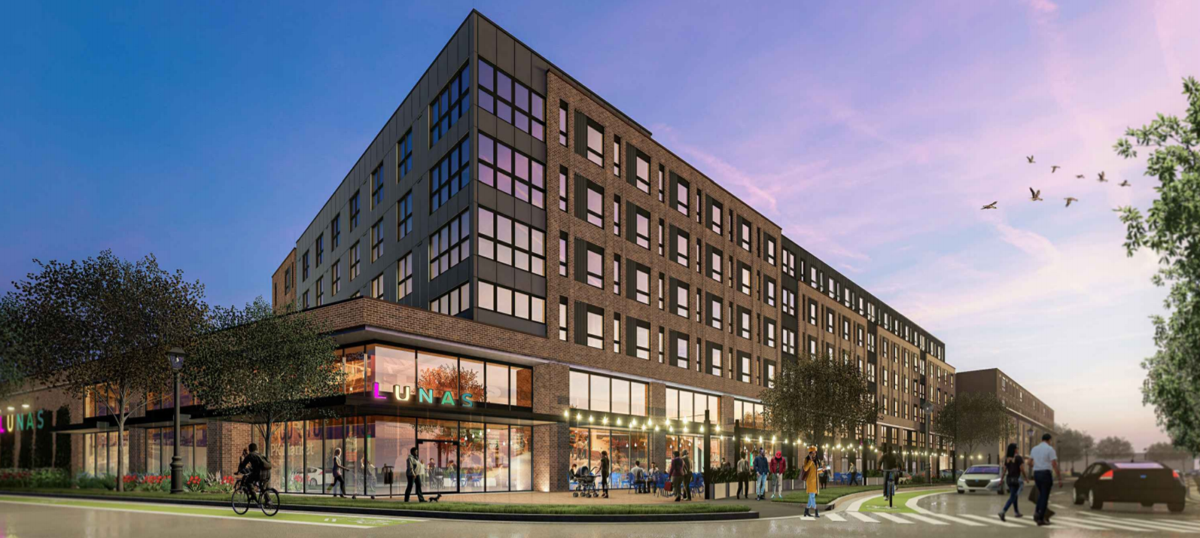 Minority entrepreneurs have won city approvals for a $43 million, six-story, mixed-use project with lower-income housing, grocery store and parking at a long-vacant, city-owned property on the South Side.
It's the first time minorities have led a major project in the city and it secures a grocery store for a neighborhood at risk of losing one.
The city's Plan and Urban Design commissions this week gave final approvals to Rule Enterprises, of Milwaukee, and nonprofit Movin' Out Inc., of Madison, for the project, which includes 150 housing units, a 24,000-square-foot grocery store to be run by the owners of Luna's Groceries, a small Latino-run store in the Allied Dunn's Marsh neighborhood, and 161 structured parking spaces at the former Truman Olson property at 1402 S. Park St.
The 3.5-acre site once held the now-demolished Truman Olson Army Reserve Center.
"I'm proud to see the citywide support of our partnership between an African American-led development company, a nonprofit development organization led by women, and a Black and Latino-owned grocery store," developer Brandon Rule said.
The project, which will be at the corner of South Park Street and a new extension of Cedar Street, will include housing operated by Movin' Out. Of the 150 units, 30 are for those making up to 30% of the Dane County median income, or $27,050 for a family of three; 64 for those making up to 50% of median income, or $45,050 for that family; and 56 for those making up to 80% of median income, or $70,650 for that family. Thirty of the units will be reserved for those with a disability.
The city is donating the land for the project and has proposed delivering $300,000 from its Affordable Housing Fund. Dane County is providing $1.35 million, and the state has awarded the project $12.1 million in federal tax credits.
"We are thrilled to have received successful approval of this important project for Madison's South Side," said Kathryne Auerback, executive director of Movin' Out. "It's a complex project that requires collaboration between the city, our development team and the neighborhood."
The project, called "Fourteen02 Park," will offer tenant amenities including a community room and rooftop deck, indoor fitness space, child's play area, and homework spaces and youth lounges.
In December 2019, the city chose to negotiate with Rule over three other suitors to redevelop the property but with a series of conditions, including that a grocer be secured by mid-January 2020. Rule was picked because its proposal offered the most promising timeline for replacing a 1960s-era Pick 'n Save at 1312 S. Park St., which is to be razed to make way for future development, city officials had said.
Joe and Mariam Maldonado opened their original, 2,300-square-foot Luna's Groceries store at 2010 Red Arrow Trail in early 2019 to serve the Allied Drive neighborhood. Their new store would be about three times the size of the Willy Street Co-op on Williamson Street but smaller than the existing Pick 'n Save on South Park Street.
"I'm tremendously pleased and excited," said Ald. Tag Evers, whose 13th District includes the site.
"It's long been my hope that we could cut the ribbon on Luna's and turn out the lights on the Pick n' Save, all in the same day, thereby avoiding a grocery gap. Thanks to the unanimous support of Plan Commission and UDC, the project can break ground this spring and keep this goal in sight."
Dean Mosiman's memorable stories for 2020
In an unthinkable year dominated by COVID-19, I chose as my most memorable stories on struggles with homelessness, gun violence and handling of protests for racial equity, as well as pieces on big projects that will shape the city's future.
Early in the year, just before the COVID took hold, I teamed with photographers to look at the city's "barely humane" shelter system for homeless men in church basements. I've continued to cover how the pandemic forced changes in serving the homeless and the current search for a site for a new men's shelter. Meanwhile, many are addressing the needs, including Occupy Madison's opening of a "tiny hut" village on the East Side in December. 
In 2018, I did a four month project on gun violence in Madison, including a look at root causes and solutions. Tragically, the city experienced a record numbers of shots fired incidents and rise in shooting homicides this summer. The city and Dane County are now investing more in peer support to de-escalate tensions and a public health approach to violence.
The Black Lives Matter protests laid bare strains between many in the community and police. I tried to show how city officials struggle to protect protesters' First Amendment rights while keeping citizens and property safe amid continuing unrest Downtown. 
Amid it all, in an expression of confidence in the local economy, Urban Land Interests offered and the city approved a complex, $125 million redevelopment that involves historic preservation, demolition and new construction on Capitol Square. And it was a joy to detail how the $35 million Madison Youth Arts Center, which will be a diverse hub for children and families, is quietly taking shape on the Near East Side.