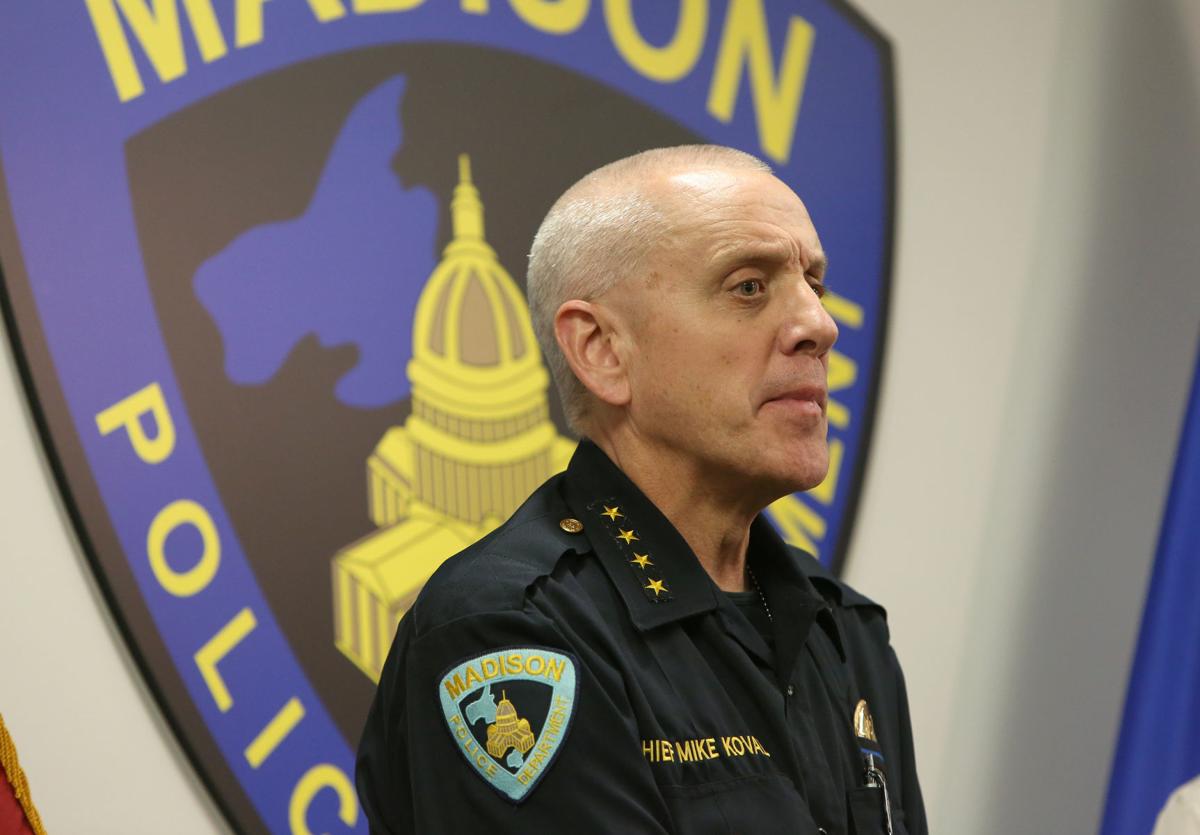 Pointing to what he calls inadequate department staffing, Madison Police Chief Mike Koval is removing 12 officers from proactive, community engagement work and assigning them to traditional patrols next year.
Koval outlined changes Tuesday in a memo to David Schmiedicke, city finance director, months before the City Council and mayor are set to finalize a 2020 spending plan that has a projected shortfall of about $9.5 million.
Koval in his memo says according to the latest patrol workload analysis, the 599-position Police Department is short 31 patrol officers, and since 2015 he has advocated for a gradual increase in staffing of 10 officers per year for four years.
"While I appreciate the support that the Mayor's Office and (City) Council have provided in working towards this objective, we have fallen short in past budgets," he said.
This year's budget added three new Police Department positions — a patrol officer, a detective and a civilian employee.
The lack of support, Koval said, already forced him in 2017 to eliminate the department's Safety Education unit and the afternoon shift of the Traffic Enforcement Safety Team, which in turn led to a sharp decline in speeding tickets and associated revenue.
Assistant Chief John Patterson said six officers will be cut from Community Policing teams, or one from each of the city's six districts, bringing the total number of officers in the program down to 22. Each officer in a district's Community Policing team is assigned to a specific geographic area to monitor "crime patterns and neighborhood issues within their area," according to the department.
The six-officer Gang Unit and five-position CORE team will each lose two officers, as will the Neighborhood Policing program.
Each police district has either two or three neighborhood police officers, or NPOs. It's not clear which districts will lose officers.
"We are currently evaluating data from each neighborhood where an NPO is assigned and will be selecting the two positions soon," Patterson said.
You have free articles remaining.
The CORE team's mission, as described on its website, "is to enhance the Madison Police Department's efforts to reduce disproportionate arrests related to racial disparities and improve trust and perception of fairness through procedural justice, community outreach, education and problem solving."
NPOs are assigned to work in particular neighborhoods, and do not regularly respond to calls.
"They take a proactive approach to find long-term solutions to problems in their areas," according to the department, and "are typically assigned to their areas for up to four years" and "become very familiar with their neighborhoods and residents."
Ald. Paul Skidmore, 9th District, a longtime advocate for more police, said data bear out Koval's request for more patrol officers.
"We are now 10% of the time per day … on priority-call status only," he said, referring to times when police have to suspend responding to non-emergency calls for service because of a high number of emergency calls.
He said the city's increasing debt load means money that could have gone toward police staffing is being used to service debt.
Mayor Satya Rhodes-Conway's office did not respond to a request for comment.
City Council President Shiva Bidar said, "We have (a) budget process that ends in November. All decisions for any changes to staffing by any department should be made based on the budget as adopted by the (City Council) in November."
At about $77 million, the Police Department has the largest budget of any city agency in this year's $332 million operating budget. The next largest is public works and transportation — including Metro Transit bus service — at about $66 million.
Koval's letter is in response to Rhodes-Conway's instructions last month to department heads to describe how they would allocate funding if their budgets were to remain the same, increase by 2.5% or decrease by 2.5%.
Koval said in his memo that with a 2.5% increase, his department would add 10 patrol officers and boost or launch a number of programs, including better mental health care for officers and better domestic violence response practices.
A 2.5% cut, he said, would force the elimination of the school crossing guard program and layoffs for sworn police officers, parking enforcement officers and administrative staff.
Patterson said Koval plans to release the latest patrol staffing study Thursday.