Wisconsin utility regulators have extended the deadline for comments on a controversial power line proposal after a computer glitch left some people unable to submit comments in the final hours of the scheduled public comment period.
The Wisconsin Public Service Commission's electronic records system crashed at 4:22 p.m. Friday — a little less than 8 hours before the deadline for comments on the proposed Cardinal-Hickory Creek transmission line through southwest Wisconsin.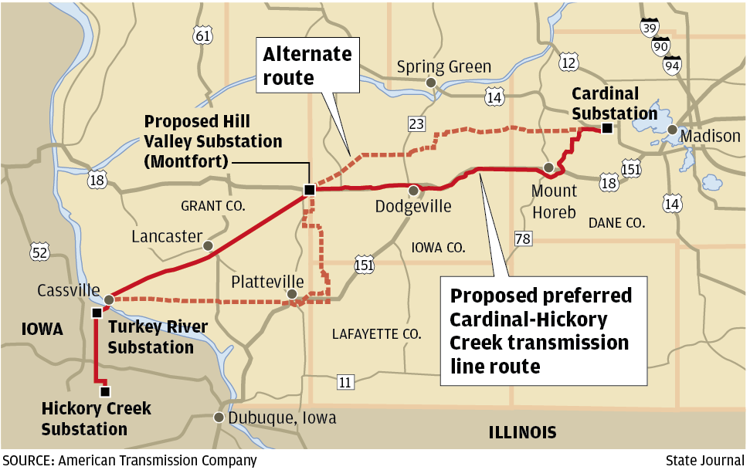 PSC Chief of Staff Carrie Templeton said the system locked up after someone submitted an incompatible document in an unrelated docket.
"It locked the whole system," she said. "This happens from time to time."
Users who attempted to submit comments while the system was down would have received an error message. The system automatically disabled comments on the Cardinal-Hickory Creek docket after midnight.
Judge Michael Newmark extended the deadline until July 7 "for the limited purpose of allowing only those persons who attempted to file a comment … but found the system unresponsive" to file comments.
You have free articles remaining.
Register for more free articles
Stay logged in to skip the surveys
It is expected to cost about $500 million, which would be passed along to ratepayers in 12 states, with about $67 million falling to Wisconsin.
The utilities behind the project and clean energy groups say the line would deliver cheap, clean wind energy from Iowa, saving ratepayers money.
Opponents question the public value, saying it would enable little new renewable energy, damage important conservation areas, and result in minimal ratepayer savings.
As of Friday afternoon, there were 905 comments in the Cardinal-Hickory Creek docket. More than a third of those were filed last week when the commission held a series of public hearings that drew hundreds of people.
Opponents reported some people were unable to submit comments Friday night.
The last big transmission case, a line between Holmen and Middleton known as Badger Coulee, drew 775 comments. The one before that, which followed the Mississippi River from Alma to Holmen, got just 238.