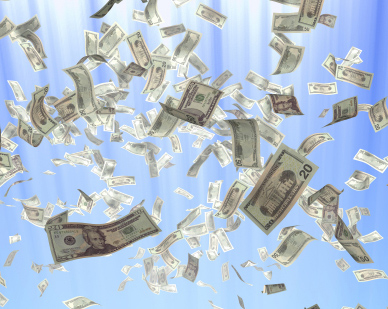 [Editor's note: This story has been updated to reflect the discovery of an unusual number of duplicate records in the original data downloaded from the Government Accountability Board's website. Statements made by Mike McCabe have also been updated, after he said he misunderstood a question from a reporter. Read the full correction here.]
---
Despite Gov. Scott Walker's huge fundraising advantage heading into next month's recall election, a Wisconsin State Journal analysis of the money that has flowed into all state campaigns and political groups since Walker took office suggests backers of the two major political parties have competed on an unusually level playing field.
Altogether, at least $77.1 million surged into Wisconsin campaigns and political groups between Jan. 1, 2011 — two days before Walker took office — and April 23 of this year, according to campaign finance statements filed with the state Government Accountability Board.
The period covers the first 16 months of Walker's tenure, including his controversial measure to effectively eliminate public sector collective bargaining, which turned the state into a national battleground and sparked 15 recall elections.
The bulk of that money — $71.9 million — was split about in half between Democratic candidates and affiliated organizations, and Republican candidates and their affiliated groups.
The analysis challenges the narratives both sides have been telling about the other.
It found that most of the out-of-state money — and most of the big-dollar contributions — have gone to Republican candidates and allied groups, while donations to Democrats and unions' political action committees have come overwhelmingly from within Wisconsin.
Katherine Cramer Walsh, a UW-Madison associate professor of political science, said the relative parity in fundraising was surprising, especially in light of a provision in state law that allows the targets of a recall to raise unlimited money between the time a recall drive is initiated and the time an election is called. That provision helped Walker raise millions more than he could otherwise. Through April, his campaign had raised at least $22.8 million, smothering his Democratic rivals.
"The perception out there is that the Republicans are much more flush with cash, and that isn't supported here," Cramer Walsh said.
To avoid duplication, the State Journal analysis examined only the money going to political groups and excluded money those groups gave to each other. It's not yet known how much of that will be spent on recall elections and how much might ultimately go to other campaigns.
Also not included in the State Journal's tallies were the millions of dollars collected by so-called "issue ad" groups such as the pro-Democratic Greater Wisconsin Committee and the pro-Republican Club for Growth-Wisconsin, which do not have to report their contributors to the Government Accountability Board.
About $27 million has been spent on such advertising since recall fever started last summer, with about $22 million spent in support of Republicans and $5 million to help Democrats, said Mike McCabe, executive director of the Wisconsin Democracy Campaign.
The Democratic Party of Wisconsin strongly criticized the State Journal's analysis because it looked only at money coming in and did not examine spending, particularly in the governor's race. According to figures provided by the party, spending by the Walker campaign and pro-Walker groups since May 1 is running 5-1 in the governor's favor.
"We choose not to comment on this irresponsible story," party spokesman Graeme Zielinksi said.
Messages left with Republican Party of Wisconsin spokesman Ben Sparks were not returned.
Donation sources, sizes differ
While the sums between the two camps were similar, there were sharp differences in where the money came from and the sizes of the donations, according to the newspaper's analysis.
Republican campaign committees, political action committees and related groups got about 52 percent of their money from Wisconsin, the State Journal found.
By contrast, Democratic candidates and groups affiliated with the party got about 73 percent of their donations from Wisconsin residents. (Locations of donors who gave about 1 percent of the GOP money and 7 percent of the Democratic money were either undetermined or from out of the country.)
Contributions to union PACs were collected even closer to home: about 79 percent came from in state, the State Journal found, while 9 percent came from out of state. The remainder was money for which donors' hometowns were undetermined, in part because state law does not require disclosure for donors giving $20 or less.
"That does not jibe well with Gov. Walker's allegations that support for Wisconsin public unions and Democrats is from out-of-state meddlers," Cramer Walsh said.
Donations to Democrats and their supporters also came in smaller increments, the analysis showed. Of the money collected by groups supporting Democrats, about 45 percent were for more than $100, while about 76 percent of the donations to Republicans were for more than $100.
Walker's policies have earned him national acclaim — and condemnation — making the June 5 recall election a closely watched affair nationwide, said Joe Heim, a professor of political science and public administration at UW‑La Crosse. Other states' political fortunes and even the presidential race could hinge on whether Wisconsin swings Republican or Democratic.
"The fact that so much (Republican) money is coming in from out of state is clearly an indication that the governor is leading the charge on a national agenda. Collective bargaining is just one part of it," he said, citing other GOP priorities championed by Walker such as stricter voter identification regulations and laws advancing the rights of gun owners.
The State Journal's analysis found that at least $35 million went to the Democratic Party of Wisconsin, Democratic candidates in recall elections and union groups including the AFL-CIO, the American Federation of State, County and Municipal Employees, the Service Employees International Union, Wisconsin Education Association Council and others.
Fundraising by those groups initially was aimed at organizing massive rallies at the Capitol in February and March 2011 to oppose Walker's bill stripping most collective bargaining powers from most public workers.
Then contributions poured in to defend three Democratic senators targeted for recall who were among the 14 who fled the state en masse in February 2011 to forestall a vote on Walker's bill.
Democratically aligned groups also raked in cash in their successful efforts in 2011 and 2012 to force recall elections against Walker, Lt. Gov. Rebecca Kleefisch and 10 GOP senators.
Milwaukee Mayor Tom Barrett and Madison firefighter Mahlon Mitchell are challenging Walker and Kleefisch in the June 5 recall, when four Republican Senate recall elections also will be held.
On the other side, at least $36.9 million flowed into the Walker campaign, the Republican Party of Wisconsin, pro-Walker groups and GOP officeholders tagged for recall, the analysis showed.
About $5.2 million in contributions went to third parties, or groups whose political orientation is nonpartisan, bipartisan, or is unclear from their GAB filings.
'In one ear and out the other'
But will the millions of dollars infused into Wisconsin politics decide who wins next month? McCabe said money — even mountains of it — does not guarantee electoral success.
He noted that last week's Marquette University Law School poll put Walker's support at 50 percent among likely voters compared to 44 percent for Barrett — with just 3 percent undecided. Voters either love or hate the governor, McCabe said, and a bunch of commercials, mailings and robocalls probably won't change much.
"I think a lot of money will be wasted," McCabe said. "I think the information will go in one ear and out the other because most voters have made up their minds."
But Cramer Walsh and Heim disagreed. They said the two sides will be aiming not just at the 3 percent of undecided voters but at driving their own supporters to the polls while discouraging their opponents' supporters from voting.
"The money does matter," Cramer Walsh said, "because the game now is turnout."