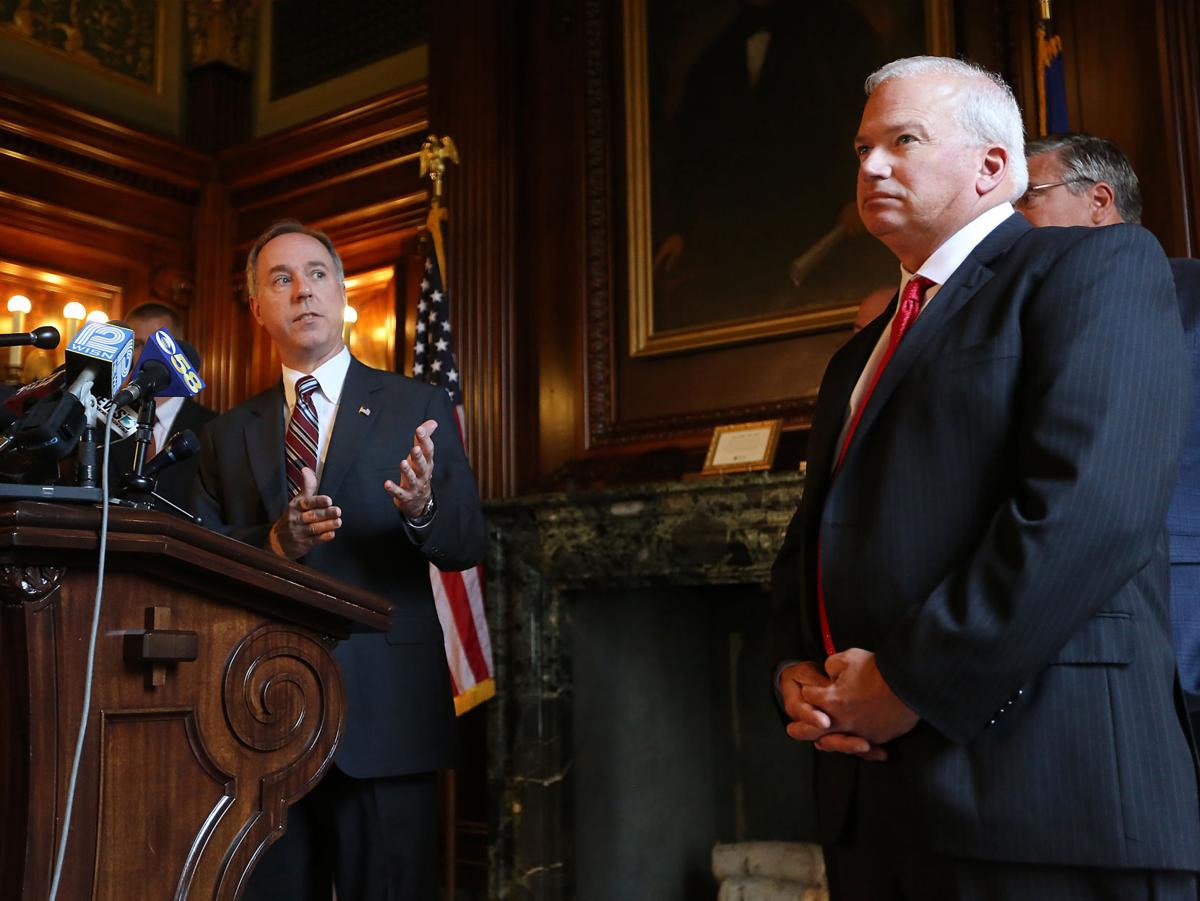 Hopes of landing a deal with giant Taiwanese iPhone manufacturer Foxconn is likely one reason Gov. Scott Walker offered a deal to Republican lawmakers bickering over how to wrap up an overdue state budget, a Senate leader said Friday.
Senate Majority Leader Scott Fitzgerald, R-Juneau, said Walker probably wants the next two-year spending plan to be in place sooner rather than later as his state competes with others to lure Foxconn to build a $7 billion plant here. A new state budget was due June 30.
"If there's something looming like this ... it would be much cleaner to get the state budget wrapped up before we launch into this new area of Foxconn," said Fitzgerald, who made his comments on a syndicated conservative talk radio show. "One of the reasons he wants to see the state budget completed."
Walker offered Fitzgerald and Speaker Robin Vos, R-Rochester, on Wednesday to use $200 million slated for tax cuts to instead pay for roads projects. The compromise comes after weeks of continued disagreement between Senate and Assembly Republicans over whether to use more borrowing for projects or to seek new revenue sources through tax or fee increases.
Assembly Republicans, who have been against borrowing more for roads without a new source of revenue, agreed to Walker's proposal. But Senate Republicans didn't get on board.
"I'm wondering why the Senate is taking so long to embrace this," said Assembly Majority Leader Jim Steineke, R-Kaukauna, also on WTAQ-AM Friday. "If this doesn't get us back to the negotiation table, then I don't know what will."
You have free articles remaining.
Steineke said his caucus is "at a loss" about why the Senate Republicans rejected the offer and urged them to come back to the negotiating table because Walker's offer is a "good deal" that "addresses everyone's concerns."
But Fitzgerald said the offer doesn't add up yet, and blamed Assembly Republicans for the stalled work on the next state budget that is primarily a result of the two houses' divisions on transportation funding.
He said by sending a letter on Thursday to Walker accepting his offer, and calling to resume the Legislature's budget-writing committee, Assembly Republicans created an "illusion" that a budget deal was imminent. He said the Assembly is still pushing for new revenue — which won't fly with Walker — and Fitzgerald questioned whether Walker's offer actually eliminates transportation bonding levels as the Assembly suggests.
"That's all sleight of hand. There's nothing there," Fitzgerald said.
But when asked if the two houses are having "irreconcilable differences," Fitzgerald said no.
"No no no. I don't want to suggest that we aren't fairly close because I think we are," he said.
The Associated Press contributed to this report.