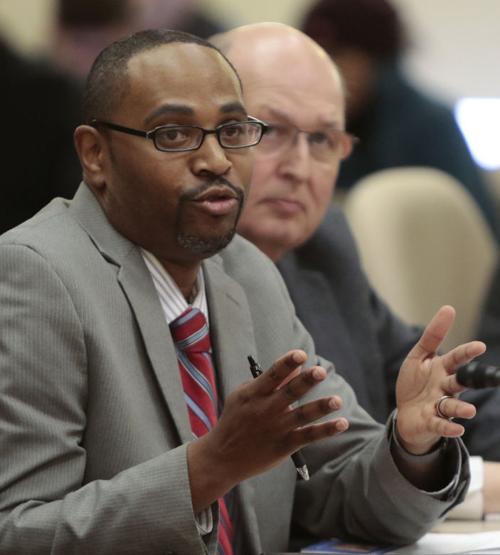 Democrats on the Legislature's budget committee raised numerous questions Tuesday about proposals by Gov. Scott Walker to drug-test some people receiving unemployment insurance or other benefits and to make changes to the state's highly regarded Worker's Compensation program.
The questions came during a briefing before the Joint Legislative Finance Committee on Gov. Scott Walker's proposed budget for the state Department of Workforce Development.
Sen. Lena Taylor, D-Milwaukee, asked DWD Secretary Reggie Newson who would be tested and for what substances. Newson had few answers, saying the state is waiting for guidance from the federal government.
Newson said the goal of the program, which includes $500,000 for drug treatment, is to "maximize their potential so they can lead productive lives."
"The overarching principle is that Wisconsinites are ready to work," he told the committee.
But Taylor noted that in other states, similar programs have been deemed unconstitutional or have spent excessive amounts of money to detect just a few drug-addicted people. Said Rep. Gordon Hintz, D-Oshkosh: "At a time when we don't seem to have money for some core programs ... we need to make sure we're doing something that makes sense."
Newson also answered questions about a Legislative Audit Bureau report that found the department overpaid $167.9 million in unemployment insurance claims over the past three years. He said every DWD employee is on the lookout for waste and fraud and that he would ask the attorney general to consider prosecuting more overpayment cases.
The secretary also defended Walker's proposal to move worker's compensation functions out of his agency to the state Office of the Insurance Commissioner and the Department of Administration's hearings and appeals division. He said the move "will help us leverage existing expertise" and lead to "improved efficiency and effectiveness."
But some lawmakers said Wisconsin's system, which is known for its low cost, quick return of injured workers to the job and low rate of lawsuits, should not be tampered with. Rep. Chris Taylor, D-Madison, noted that Newson has said some of the changes are based on practices in Florida, whose system has been found to be unconstitutional; Illinois, where litigation rates are high; and Texas, which is getting rid of its worker's compensation system.
"I think what you're saying is that we want to imitate states that aren't doing as well as we are doing now," Taylor said. "It just doesn't make any sense to me."
Reporter Steven Verburg contributed to this report.