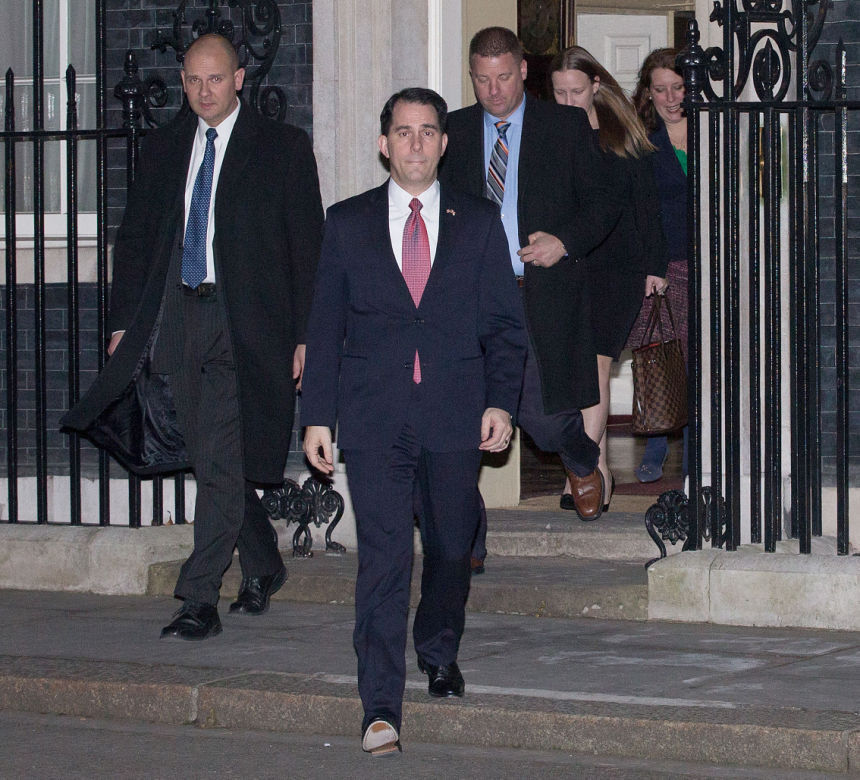 When Gov. Scott Walker traveled to the United Kingdom in February, he ducked questions from the press about foreign affairs, insisting the trip was a state taxpayer-funded trade mission.
But since then Walker has mentioned his meeting with British Prime Minister David Cameron multiple times to boost his foreign policy credentials, a perceived weakness of his likely presidential campaign.
Walker's latest Cameron reference is now backfiring.
Time Magazine reported last week that Cameron is disputing Walker's comment that the British head of state criticized President Barack Obama's global leadership.
"I heard that from David Cameron back in February earlier when we were over at 10 Downing," Walker told a group of Republican donors Friday at an event sponsored by 2012 GOP presidential nominee Mitt Romney, according to Time.
"I heard it from other leaders around the world. They're looking around realizing this lead-from-behind mentality just doesn't work. It's just not working."
But an unnamed Downing Street spokesperson told the magazine, "The Prime Minister did not say that and does not think that."
Walker has previously mentioned Cameron in at least two national media interviews, including a Fox News Sunday interview in late February and earlier this month with ABC's Jonathan Karl, who specifically asked about Obama's criticism that Walker needed to "bone up" on foreign policy.
"And I guess you've been doing it?" Karl asked. "I mean you've been traveling, you've been talking to foreign policy experts."
"We've been to Israel, I've talked to David Cameron in the UK, we've been elsewhere," Walker said, according to a transcript.
"My belief is if I'm going to even think about running for president of the United States, it's not about preparing for debates, it's about being prepared to be the president of the United States."
Walker's political spokeswoman referred questions to his official office, which did not immediately respond.
In a phone interview with Wisconsin reporters at the end of the UK trip, Walker said he and Cameron made a "personal connection" and talked about their families and the parallels between his own re-election campaign last year and Cameron's re-election race this spring.
"The biggest question I had for him was curiosity about his own campaign," Walker said. "We talked about parallels … trying to get people to focus on what they were against and how we're for something and having a plan to run on.
"He was intrigued by that because that parallels (his own experience)."
Walker didn't mention anything about Cameron critiquing Obama's leadership, though he also declined to discuss with reporters any questions related to foreign policy or the presidential election.
The six-day United Kingdom trade mission organized by the Wisconsin Economic Development Corp. cost taxpayers $138,000.
Walker is currently in Canada on his third foreign trade mission of the year.
He also spent a week in Germany, France and Spain in April. WEDC officials have not announced the cost of those trips.
Walker's six-day trip to Israel in May was sponsored by his political group Our American Revival and the Republican Jewish Coalition.
Walker made two trips overseas during his first term.