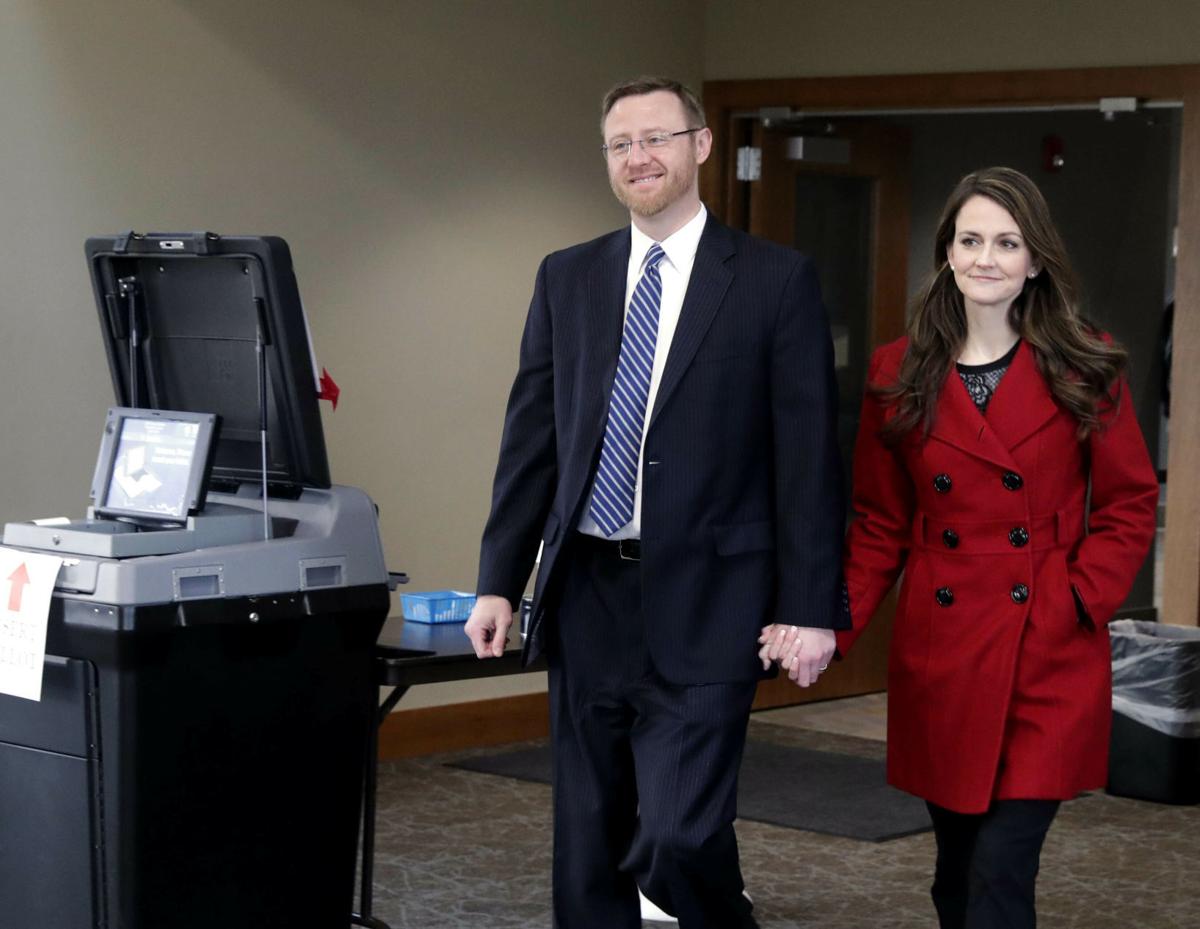 Wisconsin Appeals Court Judge Brian Hagedorn called his likely election to the state Supreme Court a "historic" win and said Wednesday he was confident his slim lead in the race is insurmountable.
"We made history in a significant way," Hagedorn said, referring to winning despite millions spent against him. "Our margin of victory looks to be insurmountable."
Hagedorn's comments at Pewaukee's Ingleside Hotel Wednesday morning come as he maintains a razor-thin 5,960-vote lead over his opponent, Wisconsin Chief Appeals Court Judge Lisa Neubauer. A total of 1.2 million votes were cast, meaning he won by a margin of 0.49 of one percentage point, close enough for Neubauer to request a recount, though she would have to pay for it.
The Neubauer campaign's website Wednesday was soliciting donations and volunteers in the case of a recount "to make sure every vote counts."
Later in the day, Neubauer posted a video on social media lamenting "an unprecedented deluge of last-minute, outside dark money spending."
Outside electioneering groups spent about $2.8 million in the race, according to the nonpartisan Wisconsin Democracy Campaign. Six mostly liberal groups spent about $1.6 million backing Neubauer while five mostly conservative groups spent about $1.2 million supporting Hagedorn.
Conservative groups in the final week leading up to the election made a last-minute push for Hagedorn, one of which paid for a seven-figure media campaign slamming Neubauer.
Other recounts
The Neubauer campaign late Tuesday night said a recount is likely, but it has not yet announced if it intends to request one. Recounts represent a significant cost for campaigns. The last Supreme Court recount, in the 2011 race between liberal-backed JoAnne Kloppenburg and conservative-backed Justice David Prosser, cost more than $500,000.
In that race, Kloppenburg held a 200-vote lead on election night based on preliminary results tabulated by The Associated Press. But after Waukesha County announced it had failed to include votes from the city of Brookfield, Prosser ended up with a more than 7,000-vote advantage in the official statewide canvass. The recount adjusted that margin by only a few hundred votes.
Wisconsin counties are required to canvass and submit official election results to the Wisconsin Elections Commission by April 12. Neubauer has three business days after the last county canvass is completed to request a recount.
Wisconsin's last statewide recount occurred after the 2016 presidential election at the request of the campaign of Jill Stein, a third-party presidential candidate. That recount cost more than $2 million.
Hagedorn said he's prepared financially and legally for a recount, though his campaign would not be expected to foot the bill if his campaign is not the requester.
"It looks like the lead is quite large, and that a recount would not make a whole lot of sense," Hagedorn told reporters. "If that's what Judge Neubauer decides to do, we are certainly more than ready for that."
No declaration
Due to Hagedorn's slim lead, The Associated Press has not yet declared a winner. Hagedorn said Neubauer has not yet called him to concede the race.
Preliminary results show Hagedorn won almost all of the same counties that conservative-backed Justice Rebecca Bradley won in 2016, also against Kloppenburg. Hagedorn won by wide margins in the Milwaukee suburbs and rural areas, offsetting Neubauer's double-digit leads in Milwaukee, Dane County and southwestern Wisconsin.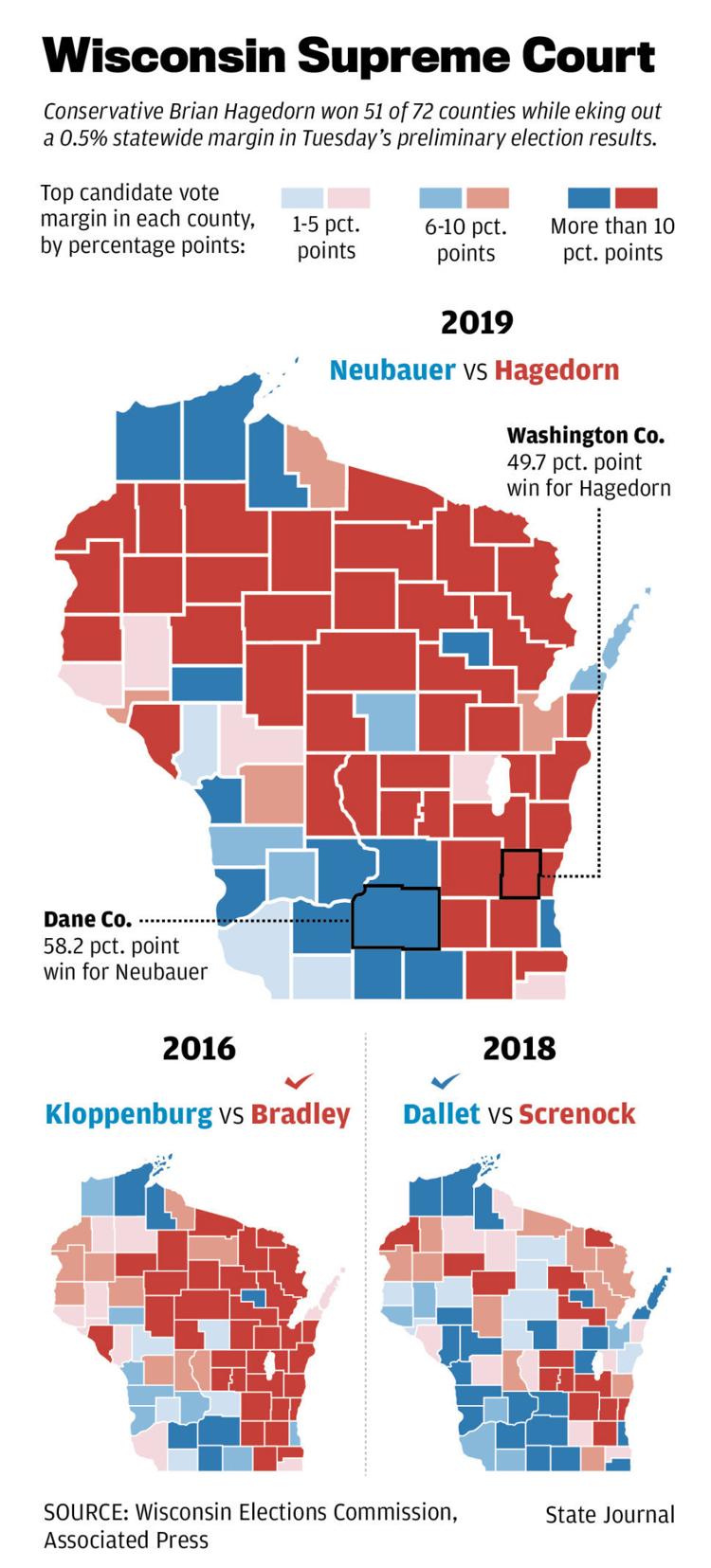 Hagedorn's likely victory in the race means the state Supreme Court will maintain its conservative majority after 2020 even if a liberal-backed justice wins election to the court next year. Hagedorn would replace the retiring liberal-backed Justice Shirley Abrahamson for a 10-year term on the court.
Hagedorn, who faced criticism from Neubauer and from outside spending groups for his controversial views on gay marriage and LGBT issues, considered them misleading attacks.
Invoking Kavanaugh
The criticism floated in attack ads and news articles prompted former Gov. Scott Walker to compare the race to the hearings for U.S. Supreme Court Justice Brett Kavanaugh last year.
A California professor had accused Kavanaugh of sexually assaulting her while the two were in high school, an allegation he vehemently denied.
Hagedorn declined to comment on such a comparison except to say the attacks on him were "misleading and inaccurate."
He said some of the criticism directed at him, which he characterized as attacks on people of faith more generally, contributed to the support he received at the polls.
Hagedorn said Wednesday he remains committed to his campaign promise to treat everyone with dignity and respect under the law.
Get Election 2020 & Politics updates in your inbox!
Keep up on the latest in national and local politics as Election 2020 comes into focus.