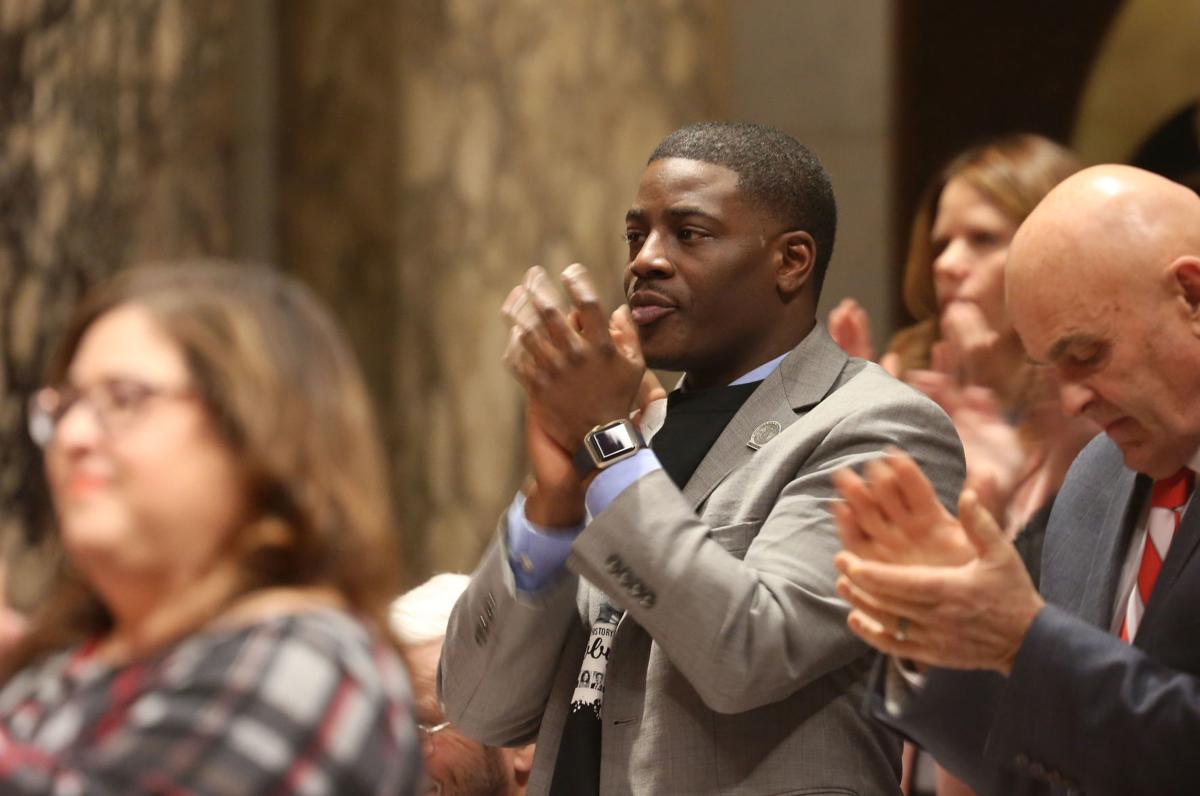 African American lawmakers say they plan to introduce their own Black History Month resolution and are for now withholding their support for a controversial Black History Month resolution a white lawmaker introduced honoring mostly white people.
Milwaukee Democratic Rep. David Crowley, chairman of the Legislative Black Caucus, said Monday that African American lawmakers intend to move forward with a resolution of their own, and that members of the caucus won't consider another resolution from Rep. Scott Allen, R-Waukesha, who is white, until he speaks with every African American lawmaker.
Allen stirred up controversy in December when he introduced a resolution seeking to highlight the history of Wisconsin's Underground Railroad, which helped more than 100 slaves escape to freedom in Canada between 1842 and 1861. Allen's resolution honored mostly white people, and some black slaves.
His resolution garnered harsh criticism from some black lawmakers.
"If this was intended to be without controversy, you failed," Sen. Lena Taylor, an African American Democrat from Milwaukee, wrote to Allen. "Thank you Massa Allen for pickin' whose we should honuh suh. We sho ain't capable of thinkin' fo ourselves, suh."
Black History Month has traditionally served to honor the central role of African Americans in U.S. history and the accomplishments of African Americans, so Allen's resolution honoring white Americans is atypical.
"I think that at the end of the day, the biggest issue is when you put forward as a white man a Black History Month resolution with no input from any African Americans who you consider your colleagues," Crowley said after a news conference marking February as Black History Month.
Crowley's office shared a draft version of the Black Caucus' resolution, which plans to honor several African Americans, including the late Kobe Bryant, a five-time NBA champion with the Los Angeles Lakers, and his daughter Gianna. Both died in a helicopter crash in California late last month.
Among the others the resolution honors are Mabel Watson Raimey, Wisconsin's first black female attorney and first black female graduate of UW-Madison; Susan Bazzelle Ellis and Millie White French, the first African American teachers hired by Milwaukee Public Schools; music producer Jay Mayo Williams; Lillian Fishburne, the first African American female to be promoted to the rank of rear admiral in the U.S. Navy; Richard Arrington Jr., the first black mayor of Birmingham, Alabama; and Dr. Rogers Onick, a retired Milwaukee schools principal.
"We have always worked diligently to list a resolution that we feel best represents our community and that is the resolution that I'm honored to stand by," said Rep. Shelia Stubbs, D-Madison, who is African American.
Allen didn't return a request seeking comment, and spokespersons for Assembly Speaker Robin Vos, R-Rochester, and Senate Majority Leader Scott Fitzgerald, R-Juneau, didn't respond to a question about whether Republican lawmakers who control the Legislature would support the resolution from the Black Caucus, whose members are all Democrats.
In a previous interview, Allen said he authored his resolution in part to help more Wisconsinites, especially those who are white, become engaged in Black History Month. He said he's passionate about black history and wants to be part of the conversation.
Allen said his resolution was meant to start a dialogue, and that he's open to working with members of the Black Caucus to amend it or pass it in another month. He didn't reach out to African American lawmakers before introducing the legislation because his requests for collaboration with them went unanswered last year, he said.
The controversy over Black History Month is the third time in as many years that lawmakers have argued over how to commemorate the month.