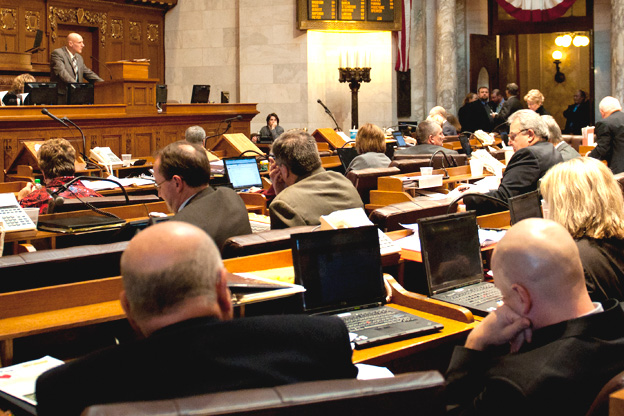 A second compromise version of a bill to streamline mine permitting got a cool reception from Republican legislative leaders Tuesday even though their own controversial version of the legislation appears headed for defeat in the Senate without more GOP support.
Both bills are aimed at paving the way for construction of a $1.5 billion, 700-job open pit iron mine proposed by Gogebic Taconite, a subsidiary of a Florida-based coal-mining company, in northern Wisconsin. Republicans are especially anxious for passage of the legislation having made it their premier job creation bill of the session.
But Republicans hold only a one-vote majority in the Senate where moderate members of the party are squared off against party leaders in a pitched battle over details of the mining legislation. Tuesday, one of those moderates, State Sen. Dale Schultz, R-Richland Center, joined State Sen. Robert Jauch, D-Poplar, to unveil a mine permit bill that the legislators say allows for reasonable public legal challenge of approved permits, provides more tax dollars to local communities and corrects what critics say is a weakening of some environmental protections in the Assembly bill. 
"There is nothing in our proposal that weakens environmental policy," Jauch said.
Assembly Republican leaders were quick to denounce the proposal, issuing a joint statement within an hour of the announcement of the compromise by Schultz and Jauch. Assembly Speaker Jeff Fitzgerald, R-Horicon, Majority Leader Scott Suder, R-Abbotsford, and budget committee co-chairman Robin Vos, R-Burlington, said they opposed the Schultz-Jauch bill because it contains ideas that were introduced as amendments to the Assembly and voted down.
Even so, the Assembly Republicans said they are open to working on a compromise with the Senate.
The Schultz-Jauch bill would:
• Create an 18-month timeline for the state Department of Natural Resources to act on a mining permit application. The plan also provides for extensions of the deadline if mutually agreed upon by the DNR and the mining company. The Assembly bill requires the DNR to act within 360 days with no extensions allowed.
• Allow for public legal challenges of a permit within the 18-month timeline but only if an administrative law judge finds that the legal challenge has merit and is not frivolous.
• Ensure that 100 percent of mining tax dollars go to local communities affected by mining and that the mining company would not have to pay more in taxes than under current law over the life of the mine. It would also require $5 million up front, in guaranteed payments in lieu of property taxes to local communities during the first five years of operation.
Andrew Welhouse, a spokesman for Senate Majority Leader Scott Fitzgerald, R-Juneau, said Fitzgerald is concerned about supporting a compromise bill that is not likely to pass the Assembly. Fitzgerald has already denounced an earlier compromise bill put forth by State Sen. Neal Kedzie, R-Elkhorn. Welhouse said any Senate compromise has to be acceptable to Assembly Republicans.
"The biggest concern we have right now is trying to pass something this session," Welhouse said.
Get Government & Politics updates in your inbox!
Stay up-to-date on the latest in local and national government and political topics with our newsletter.