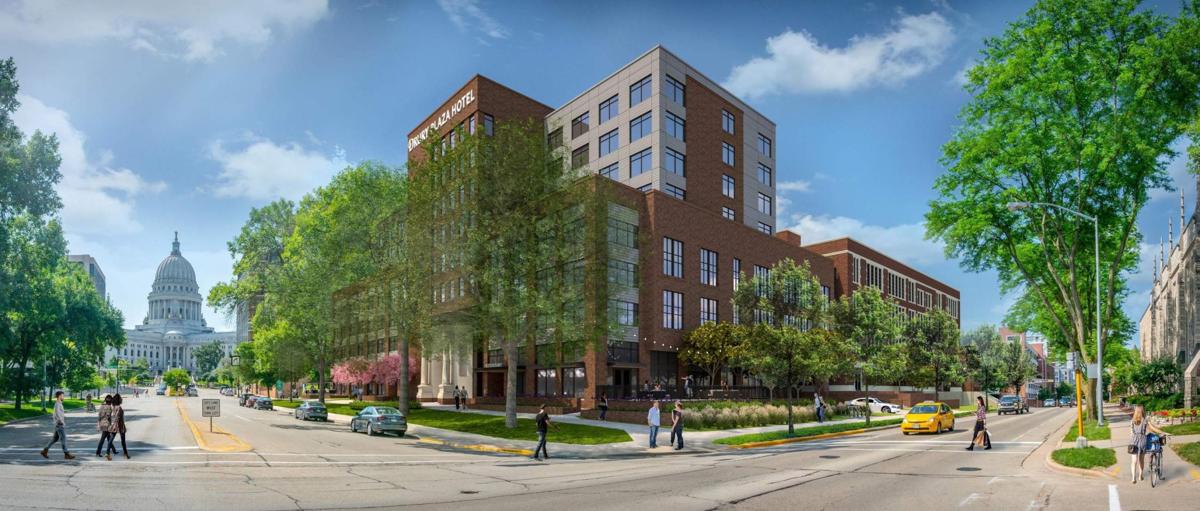 After nearly two years, a developer has won city approval to convert Madison Area Technical College's Downtown campus building into hotel space and build an eight-story addition to create a roughly 315-room hotel a block from Capitol Square.
The Plan Commission on a unanimous voice vote late Monday night approved Drury Southwest's proposal to renovate MATC's six-story Downtown education center, 211 N. Carroll St., into a 199-room Drury Plaza Hotel and replace an existing parking area along Wisconsin Avenue with a new structure offering first-floor commercial space, four levels of parking and 116 more hotel rooms.
Planning Division staff recommended approval and the proposal has broad community support. The project has initial approval from the Urban Design Commission and just needs its final sign-off, expected on Oct. 3. City Council approval isn't needed because a zoning change isn't required.
"It's going to be a very handsome project and fit well with the neighborhood," Drury senior vice president Herb Wedemeier said Tuesday.
MATC, also known as Madison College, plans to leave the Downtown Education Center in June 2019. To offset the loss of space and better reach a historically under-served part of the city, MATC will open a new campus on Madison's South Side for the fall 2019 semester.
Drury, which will lease the Downtown site from the college, hopes to begin construction in March and complete the project in the spring of 2021.
You have free articles remaining.
"It's hugely significant, particularly when combined with the other hotel development approved by the commission on Monday," said Downtown Ald. Mike Verveer, 4th District. "It will be a huge shot in the arm for Downtown economic development."
The two-acre MATC campus site is across West Dayton Street from the 373-room Madison Concourse, the city's largest hotel, and within a block from a $43 million, 133-room boutique hotel proposed for the 100 block of State Street that won commission approval earlier Monday and is up for final City Council approval for a zoning change on Sept. 25.
In late 2016, Drury, a Missouri-based hotel company, was one of 11 developers that sent MATC its qualifications for doing the redevelopment project. Drury wasn't selected as a finalist, but teamed with Hovde Properties of Madison to submit the winning proposal, which included a 10-story office tower with first-floor grocery store and retail space along Wisconsin Avenue.
Hovde dropped out on the project in late 2017 as company officials cited concerns about a land lease with the college.
But Drury pressed on and revised the project, replacing the office tower with more hotel rooms and commercial space, preferably for two restaurants, facing Wisconsin Avenue.
The plan converts the existing building's basement into some guest and meeting rooms and amenities such as a fitness room and swimming pool. The first-floor plan includes guest rooms, a desk and lobby and a hotel restaurant, and the upper-floor plan includes guest rooms with a fifth-floor connecting link to the new structure with access to a rooftop patio.
The new structure is designed to have one level of basement parking and two restaurant/retail spaces on the first floor with outdoor cafe areas. The existing former Central High School arch is being relocated to serve as a main entrance. The second, third and fourth floors include vehicle parking with a total of 271 spaces. The other floors include guest rooms.
"We're very excited about it," Wedemeier said. "We've wanted to bring Drury hotels and all the customer service we have to Madison for years."