In a city teeming with construction, tens of millions more in investment and big landscape changes — including a major project by SSM Health Dean Medical Group — are coming to an area just south of Downtown.
A taste of change has already occurred, but the city and residents are now preparing for a number of meaty projects that would dramatically transform the triangle-shaped 64 acres bounded by Fish Hatchery Road, South Park Street and Wingra Creek.
After two years, developer Terrence Wall is nearing final approvals for a major mixed-use project at the northern tip of the triangle, while SSM intends to replace and expand its 169,000-square-foot clinic surrounded by parking lots along Fish Hatchery Road. SSM could begin construction late next year.
Along South Park Street, the city is supporting a nonprofit's effort to build housing for the homeless. The owner of the Pick 'n Save grocery site is considering a big redevelopment. And the city is preparing a request for proposals to developers for a large, long-vacant parcel next to the grocery.
At some point, more redevelopment is expected at the Madison Labor Temple and U.S. Postal Service properties near the corner of South Park Street and West Wingra Drive.
The city has seen areas ripen for development before, but "what's rare is for multiple property owners to be ready at the same time," planning director Heather Stouder said.
In coming months and years, development proposals will raise issues of height and density; vehicle, bicycle and pedestrian connections; parking; and affordability and the potential for gentrification.
The pressures will test a neighborhood association that doesn't always speak with one voice, and city plans and processes.
"Something is rippling down Park Street rapidly," said Carrie Rothburd, co-chair of the Bay Creek Neighborhood association's Planning and Economic Development Committee. "We are going to be the eye of the storm."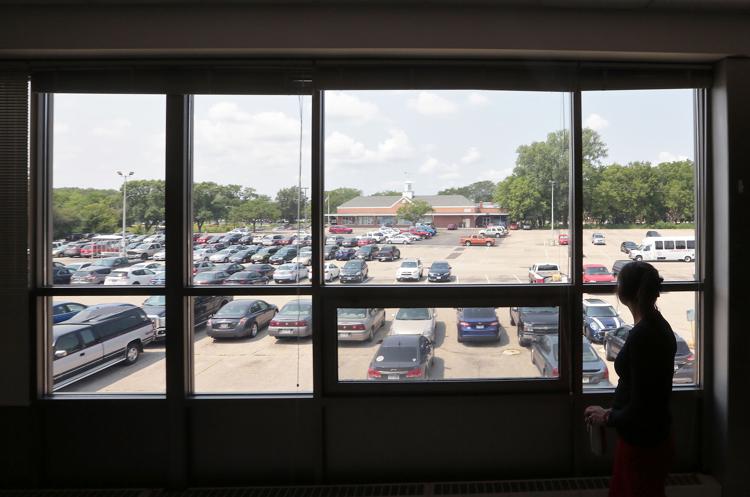 Waiting for investment
The city has anticipated redevelopment of the aging triangle for some time, especially after the sprawling Bancroft Dairy, which opened at the intersection of Fish Hatchery Road and South Park Street in the 1920s, was mothballed in 2004 and became a hulking symbol of decay.
The area's most recent planning effort in 2005, called Wingra BUILD, envisioned significant redevelopment and offered conceptual renderings of the triangle peppered with new multi-story buildings, new streets and parking structures.
The plan laid out short-term land uses, issues and objectives, and envisioned $121 million in investments.
In 2008, Strand Associates expanded its headquarter offices into an attractive cornerstone at Fish Hatchery Road and West Wingra Drive. Five years later, the $25.2 million, four-story Wingra Family Medical Center opened on part of the former dairy site near the intersection of Fish Hatchery Road and South Park Street.
"We haven't seen as much investment as we would have suspected," Stouder said. "A lot of (city) plans don't come to fruition for three to five years. It occurs at the initiation of the property owner."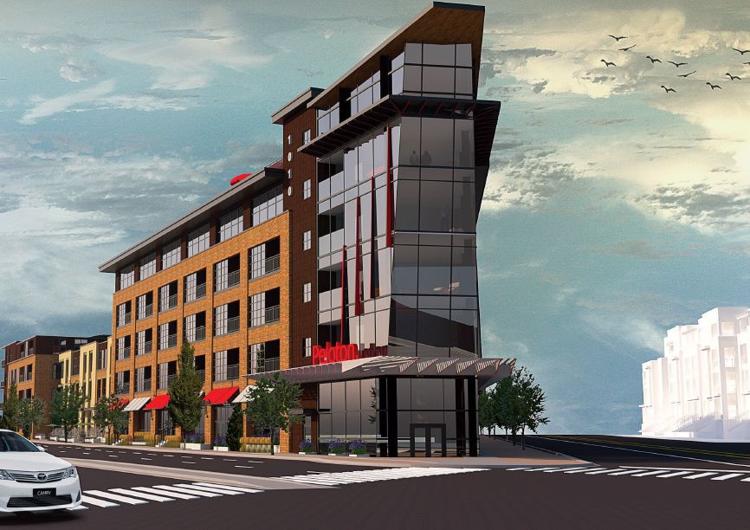 A two-year saga
Wall, who's built mixed-use projects throughout the metro area, envisioned one at the northern tip of the triangle, but first opened the 67-unit Wingra Point apartments on a former parking lot across Fish Hatchery Road in 2014.
A year later, he offered plans for tip of the intersection, starting a two-year saga in which he's tried to pursue approvals while satisfying competing demands from the city and neighbors and that's only now nearing resolution.
In coming weeks, the city will make final decisions on Wall's Peloton Residences featuring a six-story, glass-sheathed prow at the corner with 157 apartments, about 12,000 square feet of commercial space, and 159 underground parking spaces.
"Terrence Wall has outdone himself in reaching out to us," Rothburd said, adding that the developer tried to address neighborhood demands but ultimately bent to city officials and committees.
The experience leaves Wall with a bittersweet taste and concern about what bodes for others intent on redeveloping in the triangle.
"These kind of delays add a lot of costs to a project," he said. "There are just too many cooks in the kitchen. It's just gotten out of control. We don't experience that in other communities."
To improve the process, Wall recommends the city use tax incremental financing (TIF) support to help affordability, exercise restraint on multiple and sometimes conflicting demands by staff and committees, and not require the most expensive exterior finishes.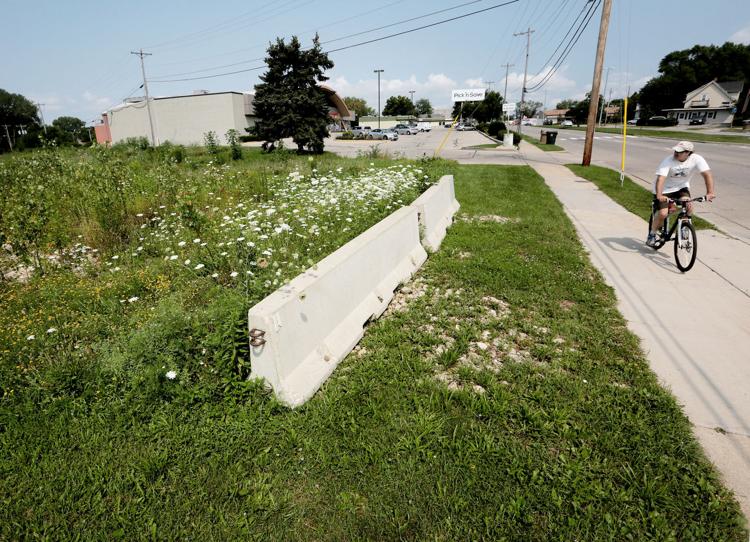 A part of the discussion
As Wall nears final approvals, the other possibilities are emerging, the challenges of building locations, height, density, roads, parking, potential land swapping looming like a Rubik's Cube.
The neighborhood, which is becoming more engaged in city planning as projects come forward in and near the triangle, wants to be involved.
"We need to be part of the discussion and we want to be part of the planning process," Rothburd said.
The association, which has no president, seems unified on some issues — the need for involvement, keeping a grocery store, better east-west connections for cars, pedestrians and bikes, more services and community space.
But there's disagreement and tension over height and density.
"Some people, like me, think density is good," said Jim Kreft, a member of the neighborhood's planning and economic development committee. "Others don't share that vision."
Rothburd said, "By and large, we're for less density than what the city has discussed so far."
Development will be guided by Wingra BUILD, the South Madison Neighborhood Plan and the city's comprehensive plan. Stouder said she expects variety, with zoning and a special design district allowing buildings of two to six stories along South Park Street and two to four stories expected along Fish Hatchery Road.
The key, she said, is engagement of developers and residents to create cohesive land use throughout the triangle, adding, "We don't want to see this move forward in a piecemeal way."
What may help is a willingness among major property owners to communicate and maybe even cooperate on sticky issues, said Ald. Sara Eskrich, 13th District. "All of the property owners seem willing to have a conversation together," she said. "I think there's a lot of opportunity there."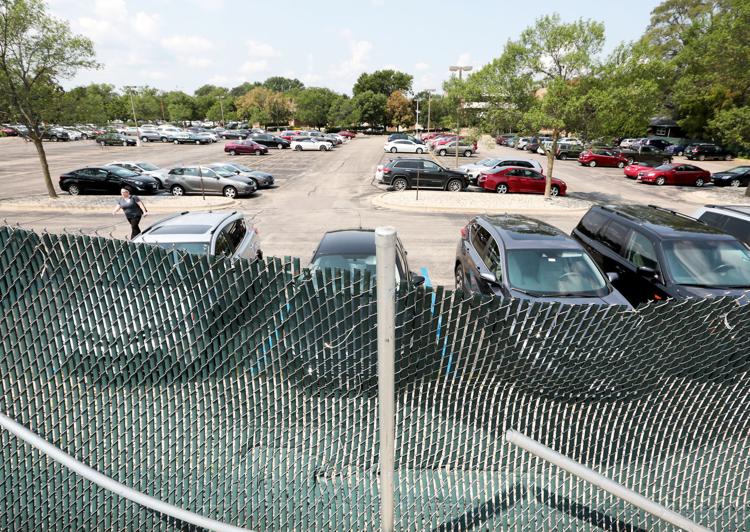 'An amazing place'
SSM, which with 13 acres is the triangle's largest property owner, is just starting to figure out how and where to build its new clinic while keeping open its existing facility — built in 1961 with additions in the 1970s and 1980s — until the new structure is ready, said Brandon King, director of facilities management.
The health care giant owns 15 residential buildings on the north side of its property and months ago informed tenants the structures would be razed. It also has multiple parking lots with a total of 776 spaces surrounding its existing building. SSM envisions the new facilities, perhaps three to five stories tall, will present a better face to Fish Hatchery Road and intends to shape plans and move through city review processes in the next year.
"It's going to be a challenge," King said. "It's not like we're building in the middle of a cornfield. There's a lot of stuff to be worked through."
Welton Enterprises, which owns the 26,000-square-foot Pick 'n Save building and property, is still considering options, business development manager Paul Molinaro said.
"We don't have any definite plans," he said, adding that there's a need to keep a grocery store in the mix. "It will likely depend on what happens with surrounding properties. We see this as a great long-term redevelopment opportunity."
The city is now preparing a request for proposals from developers for the vacant 3.5-acre site next to the grocery, which once held the now-demolished Truman Olson Army Reserve Center.
No final decisions have been made, but the city is likely to create an east-west street connection through the site from Cedar Street to Fish Hatchery Road, with a strong possibility for housing on the property, Stouder said.
The Madison Labor Temple Association intends to stay at its location but is considering concepts that would replace its 1958 building with a new facility closer to South Park Street and new development at the corner of the street and West Wingra Drive, said Dave Poklinkowski, the organization's vice president.
"We're paying very close attention to everything that is going on around us," he said.
The goal for the triangle, Eskrich said, "is to make it a microcosm of what we value in our city as a whole, so it's an amazing place."