After closing to in-person service for 15 months due to COVID-19, Madison reopened its public libraries to overjoyed visitors Monday while the library system considers long-term changes based on lessons learned during the pandemic.
Nowhere, perhaps, were patrons and staff more elated than at the new Pinney Library branch, 516 Cottage Grove Road, which had been open only a few days before the pandemic forced its closure.
"I've waited so long to get the new library, because I knew it was going to be bigger and better with more books and everything, and since it was built right before everything was shut down, I didn't really get a chance to look around at all," said Camryn Marthaoer, a high school junior preparing to graduate early and start at Grand Canyon University in the fall. "So just being able to come back and just see everything is really awesome."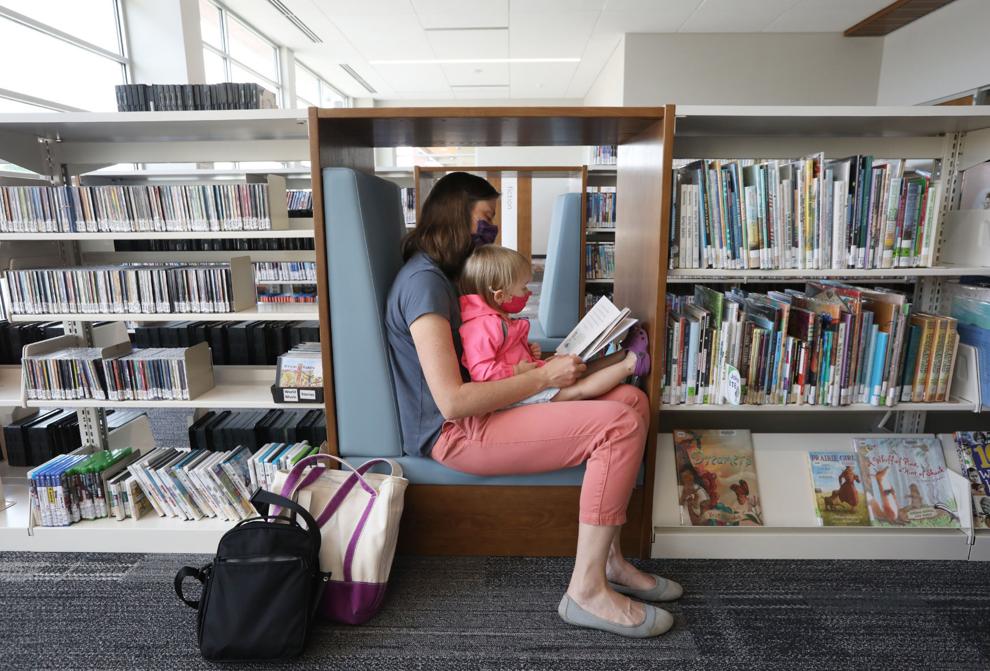 On May 6, the Library Board voted to reopen the Central Library and branches Monday with expanded services to include in-person browsing, self-service holds and checkout, and access to basic desk services. The libraries are now at 50% occupancy with masks and social distancing still required. Soon, the library will announce a transition plan and timeline for what service will look like when the current public health order expires June 2.
Jane Jorgenson, supervisor of the Pinney and Hawthorne libraries, said the new Pinney Library went from 5,000 people in its first four days last year to no public visitors for over a year.
"It just was hard over this last year not seeing people, not seeing all our regulars who we know we can say 'hi' to when they come in, who are our neighbors in our community as well," she said. "So that has been the biggest part of it, just that feeling of community again back in the space."
Marvin Becker, a first-grader who came to the opening day with his mother and brother, was thrilled to play in the outdoor space, read his new books and get his own library card. "I got my first library card today, and it came with my own holder thing," he said.
Central Library Public Services Manager Michael Spelman was stationed at the library entrance, greeting people and offering free masks. It was not his usual role, but he said he enjoyed getting to interact with patrons again.
"People are just really excited to be here," he said. "I've had several people ask me about computer access for applying to jobs and making copies of resumes, things like that — so a variety of people using the library for things that are really impactful and important."
As the pandemic took effect, the library devised ways to deliver services, purchasing more online books, launching an online library card and curbside service, eliminating fines, allowing customers in to use computers, offering Zoom training sessions and online programs, hosting the Wisconsin Book Festival online and using its "Dream Bus" to deliver books to families at more than a dozen sites.
"Various partnerships allowed us to serve as a location for blood drives, voting, municipal court appointments and delivery of books to child care providers," library spokesperson Tana Elias said. "We learned we can innovate quickly when we need to." 
Kate Hulbert, who brought her son Sam to the Pinney Library, was excited to return after months of checking out books curbside and going to libraries outside of Madison.
"There's so many books," she said. "It seems like the collection really grew, and the space is so beautiful, especially this outdoor area. ... It's just so beautiful and welcoming."
David Presberry, of Madison, has been using the library system's appointment-based computer access throughout the pandemic to look for work. He said those appointments not only gave him access to a desktop, they also offered a space to concentrate away from home. Though he could still use the computers by appointment, Presberry said he's thankful to have the library fully open again.
"It was nice to come in here and just be able to go on the computer without having to set all that up," Presberry said at the Central Library. "It was a little late in coming, but I'm glad they finally did it."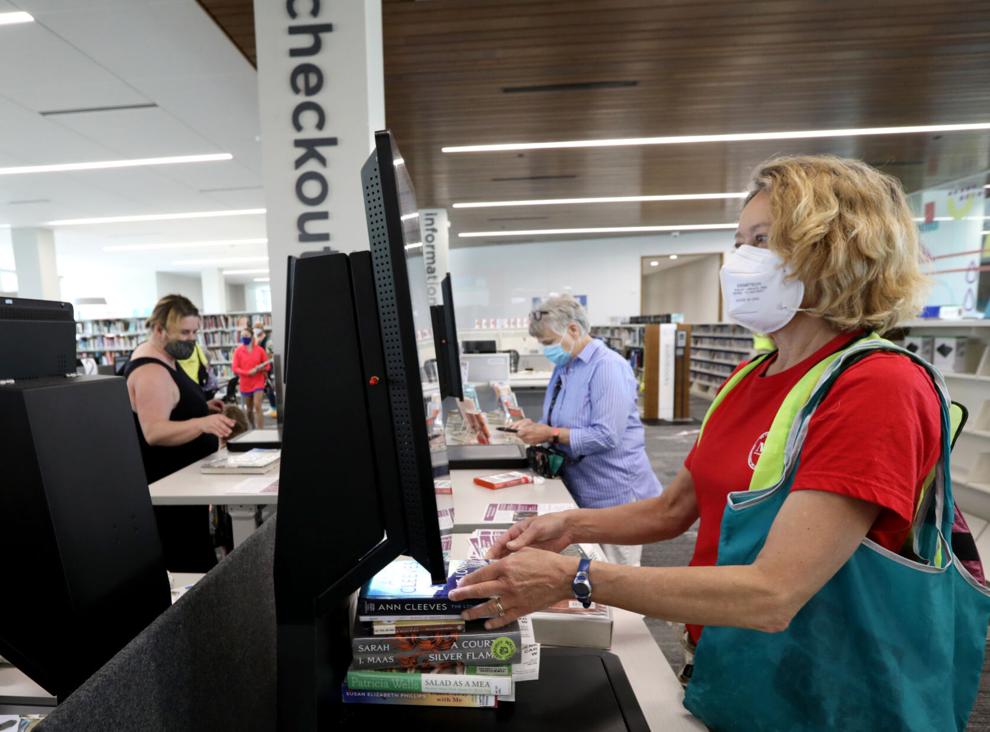 A budget decrease for 2021, based on revenue losses at the city due to the pandemic, means a reduction in hours and staff at some libraries, Elias said. 
Liz Amundson, who's been a Madison librarian for 25 years and works at the Central Library, said for an extrovert like her, the last year has been "painful and tragic."
She had no reservations about the reopening.
"There are some staff that are nervous, and I think we're supportive of each other and where we're at. But I'm vaccinated, and this place is big," she said. "Many of us really enjoy one-on-one interaction with Madisonians, taxpayers, our customers. So it's been hard and I'm so thrilled to be open."
The system has seen visits and use decline slowly in the last decade, and sharply in the last year, Elias said.
"While we are still well-used — checking out nearly 1.9 million items in 2020 — we expect that it will take time for us to rebuild our connections with the public after being mostly closed for the last 15 months. And we think it will take time for everyone to feel comfortable coming to the library, safely, again," she said.
"Our staff interact with many people every day and I think we all learned that wearing masks, even without a pandemic, might be a good idea during cold and flu season," Elias said.
The system, she said, spent the last year looking deeply at several things, including service data, organizational structure, community engagement and programming efforts, and how policies and procedures may have made the libraries unwelcoming to nonwhite patrons.
"One of the silver linings that's come of this for us is that we started a Racial Equity Change Team and they've been guiding us through the updating of many of our policies and procedures," she said. "We are learning so much from this work — how we can be a better ally as an organization, how we can better support our staff of color, how we can change our policies to treat everyone equitably. "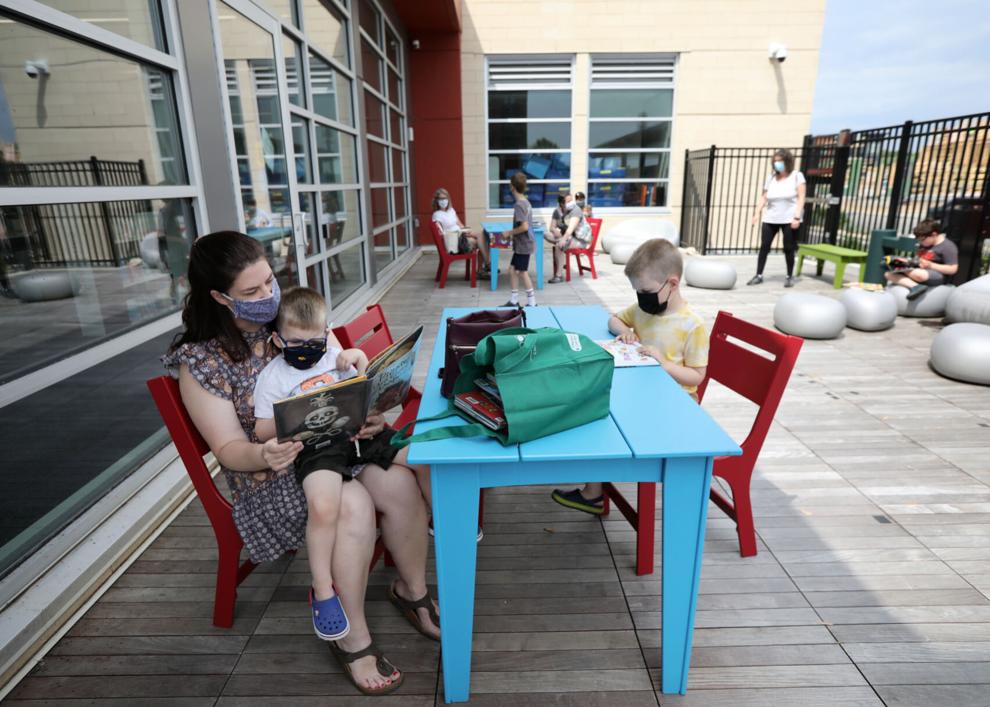 "It feels great" to see how happy people were to use the libraries again, Library Director Gregory P. Mickells said, recalling how one patron held her books in the air as she was leaving Ashman Library. "We had plenty of space at most locations even with a cap on the number of visitors, but we anticipate that it will take some time for the public to realize they can come back into our buildings." 
State Journal reporters Molly DeVore and Erin Gretzinger contributed to this report.
[Editor's note: This story has been updated to correct the spelling of David Presberry's last name.]
---