MILWAUKEE — Former President Barack Obama urged Wisconsinites to vote Democratic at a Friday rally and slammed his presidential successor, Donald Trump, for stoking incivility and telling lies in the months leading up to the Nov. 6 election.
He told attendees that the "character of the country is on the ballot" in this midterm election and that the "only check on this behavior is you and your vote."
Obama arrived at North Division High School in one of Milwaukee's most impoverished neighborhoods to shore up support for a slate of Democratic candidates including U.S. Sen. Tammy Baldwin, gubernatorial candidate Tony Evers, 1st U.S. House District candidate Randy Bryce, attorney general candidate Josh Kaul and state treasurer candidate Sarah Godlewski.
His rally comes two days after President Donald Trump mobilized his own base of rural voters in Mosinee for Republican Gov. Scott Walker and state Sen. Leah Vukmir, who is challenging Baldwin.
Obama did not directly mention the bombs sent to him and other prominent Democrats earlier this week — or Trump by name — but he scoffed at the president's call for civility.
"I'm hoping you think it's wrong to spend years, months, vilifying people, questioning their patriotism, calling them enemy of the people … and then suddenly you're concerned about civility," Obama said. "Please."
About 3,500 people crammed into the North Division High School gym. Another 600 watched the rally from an overflow room, according to Milwaukee Fire Department Capt. Jordan Ponder.
Nanette Davis, 54, was one of many African-Americans standing in the crowd as Obama delivered a roughly 40-minute speech. She said Obama improved housing and health insurance for Milwaukee residents like herself. She voted in the 2016 election, but said many others in her community didn't.
Nearly 60,000 fewer votes were cast in 2016 than in 2012, and Trump won Wisconsin by about 23,000 votes. Some political scientists and Democratic party strategists attributed the lower turnout in part to the newly activated voter ID requirement.
"That's how Donald Trump got the seat," Davis said. "He's trying to take (Obama's policies) away from us."
Davis said she is speaking to her entire block, urging them to the polls.
Obama encouraged the crowds to do the same, hammering Walker for political ads claiming he will protect Wisconsinites with pre-existing conditions despite joining a lawsuit aimed at overturning the Affordable Care Act, which protects patients with pre-existing conditions.
"That's some kind of chutzpah," Obama said of Walker's ads. "But let's also call it what it is: It's a lie."
"While Tony talks, we will commit to always covering people with pre-existing conditions in Wisconsin," Walker tweeted.
You have free articles remaining.
Register for more free articles
Stay logged in to skip the surveys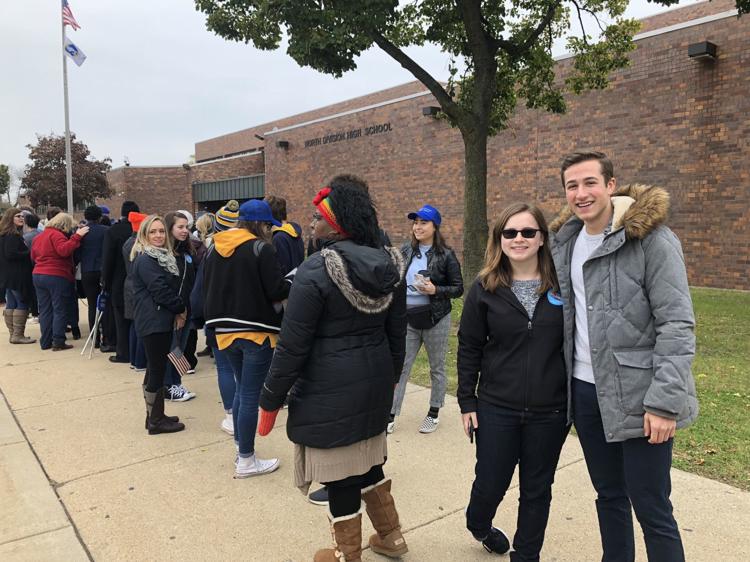 Democratic supporters like UW-Madison student Mark Koehler, 21, agreed with Obama, questioning both Walker and Vukmir's sincerity in offering those protections.
"It's a false promise," Koehler said. "Leah Vukmir, you look at her votes, and she's with the insurance company on the issues."
Obama admitted that all politicians exaggerate, tout and downplay issues at times.
"What we have not seen before is politicians just blatantly, baldly, shamelessly lying," he said to a fired-up crowd that intermittently yelled out "I love you's" to the former president.
"Making stuff up, calling up down, calling black white," Obama continued. "That's what your governor is doing with these ads. That's what Republicans are doing all over the country."
Along with health care, many Democratic supporters standing in line before the rally began said education was the other top issues facing Wisconsin.
Oregon resident MaryJo Biechler-Latimer, 73, said the next Wisconsin governor needs to corral costs without sacrificing quality education.
"It's a great institution," Biechler-Latimer said of UW-Madison, where she worked as an academic adviser before retiring. "And we have to keep it that way."
Evers, who has served as state superintendent of instruction since 2009, vowed to restore the state funding two-thirds of the cost of K-12 education, a commitment that hasn't been met since the early 2000s. A few weeks after Evers' announcement, Walker promised to do the same.
"Let me ask you this: Do you trust Scott Walker?" he asked the crowd. "Actions speak louder than words, folks."
Obama pointed to one of Trump's latest promises, a 10 percent middle-class tax cut before the election, as all talk. The U.S. Congress will not be in session before Nov. 6.
Evers has proposed the same tax cut on a statewide level. He also promised to fix roads, accept federal money for a Medicaid expansion under Obamacare, which Walker turned down, respect teachers and bring science back to the state.
"Teachers are not the enemy!" Evers told the crowd.
Obama said the GOP clamps onto divisive issues before elections, such as a caravan of Central American refugees traveling toward the United States, and implored rally-goers to stop falling for the fear-mongering.
"There's something at stake in this election that goes beyond this party," he said. "What's at stake is a politics that is decent and honest and lawful."