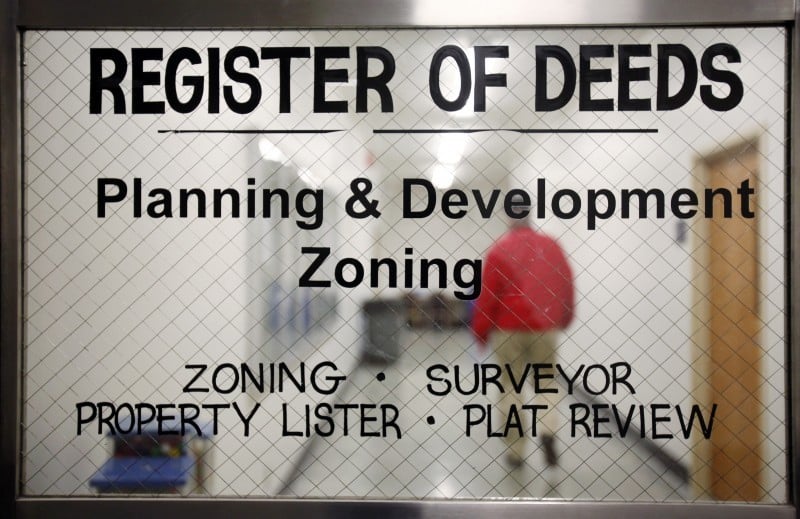 It used to be that if you wanted to find out who owned your mortgage, you could go to the office of your local register of deeds, the final authority on questions of property ownership.
But when banks set up their own private registration system to help them bundle and resell mortgages in a whirlwind of securities exchanges, the land offices of record had no hope of keeping up.
And when some banks later foreclosed on many of those properties, often cutting corners or worse — creating phony documents — it left register of deeds offices across Wisconsin awash in forged and fraudulent documents.
That's a "serious problem" for registrars charged with maintaining property records, said Brown County Register of Deeds Cathy Williquette Lindsay, who heads a committee studying foreclosure fraud on behalf of the Wisconsin Register of Deeds Association.
"It's troubling to know that in each of our offices, are thousands — and I mean thousands — of fraudulent documents," Williquette Lindsay said.
Registrars' offices across Wisconsin are littered with paperwork signed and sworn to by fictitious people, including "Linda Green," a handle commonly used by "robo-signers" — workers who signed off on foreclosure documents without verifying them.
"Not only did 'Linda Green' not sign it," Williquette Lindsay said, "but somebody fraudulently notorized it."
Across the country, officials tasked with keeping track of property ownership are increasingly alarmed about the prevalence of forged signatures and fraudulent affidavits among their records.
Last month, five major banks agreed to pay $25 billion to compensate homeowners and states for the fraudulent activity and to halt abusive practices, although they have admitted no wrongdoing.
In separate legal actions, several local governments and three states — Massachusetts, New York and Delaware — have sued the major banks and the private record-keeping service they employ, the Mortgage Electronic Registration System (MERS), alleging they have flooded the courts and registrars' offices with inaccurate, fraudulent and forged documents.
John O'Brien, head of the Southern Essex District Registry of Deeds in Massachusetts, was among the first to raise the alarm about potential foreclosure fraud in November 2010. Last year, O'Brien's office commissioned a study of 473 mortgages issued to and from JP Morgan Chase Bank, Wells Fargo Bank and Bank of America during 2010.
The review found just 16 percent of the records in the Essex County office assigning ownership of the mortgages were valid. The rest had been back-dated, robo-signed or had other problems, including broken chains of title.
Kevin Harvey, the county's first assistant register, said O'Brien's office has asked 80 financial institutions to file affidavits verifying that the records they have previously submitted were legitimate.
"Guess how many banks have signed the affidavit?" Harvey asked. "None."
You have free articles remaining.
At the heart of the controversy is MERS, founded about 15 years ago by the large banks and now used by roughly 3,000 mortgage-related entities. MERS was to be a central storehouse that streamlined the process of registering and transferring loans secured by property, which previously had been the exclusive purview of county registrars' offices.
But the private registration system has also created chaos, uncertainty and injected fraud into the nation's property records, New York Attorney General Eric Schneiderman charged in a lawsuit against MERS on Feb. 3.
The lawsuit alleges the system effectively eliminated the public's ability to track property transactions by registering properties in the name of MERS rather than the bank that owns the mortgage. That allows member institutions to move loans quickly and multiple times without having to record each move with the local registrar's office.
The lawsuit claims the MERS system has led to a loss of $2 billion in fees nationally from local registrars' offices. And some of the information MERS does have, the lawsuit alleges, is "unreliable and inaccurate."
The Reston, Va.-based company said it is following the law and has become an important part of the mortgage industry.
"MERS does not hide ownership or undermine the integrity of land records," the company said in response to Schneiderman's suit. "Any mortgage holder registered in the MERS System can easily access information related to their mortgage on our website or through a toll-free number."
The company added that federal law already requires that consumers be notified when the owner or servicer of their loan changes.
"County land records were not intended to identify the servicer of a mortgage or the current note holder," the company said, "they are intended to provide notice to purchasers of property that there is a lien on the property and when that lien was perfected."
But Williquette Lindsay said very little information is made available to homeowners by MERS. Property owners visiting their local register of deeds offices to find out who owns their mortgage to prepare for a bankruptcy or defend against foreclosure often leave empty-handed, she said.
"They want to know who is their lender of record, and we can't tell them," Williquette Lindsay said.
When Nevada began requiring transfers of mortgage ownership be recorded in the local recorder's office in October, foreclosures in that state dropped sharply.
Schneiderman's suit described MERS as a "bizarre" and "complex" entity that has few employees but which has designated at least 20,000 people working for its member institutions to sign documents on its behalf.
In some cases, MERS-designated officials sign documents "assigning" mortgages from MERS — which actually is only a registration system and owns no mortgages at all — to their own companies or clients to prove ownership in foreclosure actions, Schneiderman said.
Madison attorney Briane Pagel said he has been unable to get any information out of MERS to help his clients fighting foreclosure.
"We have a property recording system that dates back to the Middle Ages," he said, "and MERS has just about destroyed it."