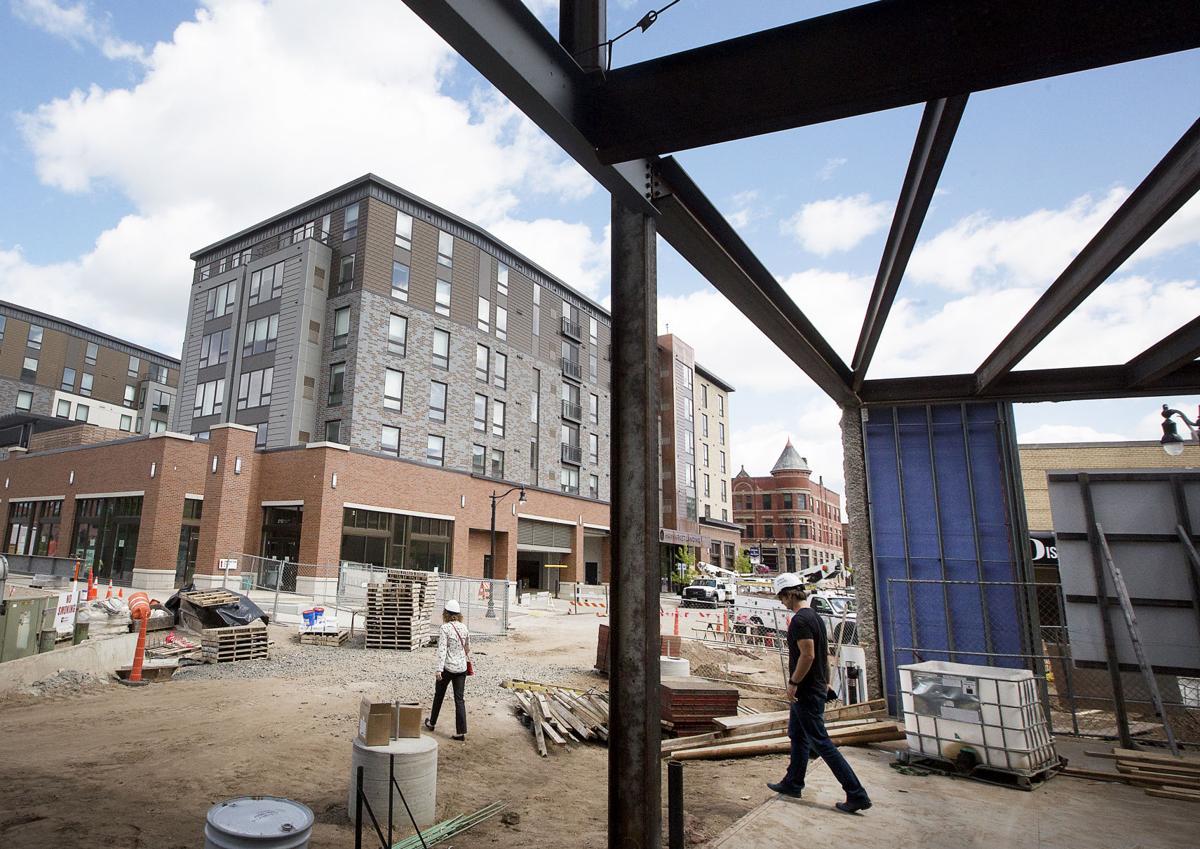 The $10 billion Foxconn factory in Racine County could be "imperiled" by a lawsuit challenging an economic development project in Eau Claire, according to the state Department of Justice.
At issue is whether local economic incentives can result in cash payments to a private developer or company — which in the Eau Claire case include $1.5 million, but in the Foxconn case total $100 million.
The state is seeking to intervene in support of the Eau Claire project in a lawsuit brought by the conservative Wisconsin Institute for Law and Liberty on behalf of local taxpayers who say Eau Claire abused Wisconsin's tax incremental financing (TIF) law.
The case, Voters with Facts v. City of Eau Claire, is now before the state Supreme Court after both the district court and an appellate court ruled in favor of the city.
In a court filing this week, state Solicitor General Misha Tseytlin warned that the plaintiffs in the Eau Claire case seek to invalidate "a common feature" of Wisconsin's TIF law: "cash grants paid to developers to help finance projects that promote economic development."
"If this Court were to accept Plaintiffs' unprecedented attack on these grants, this would imperil numerous projects critical to Wisconsin's economic growth, including the Village of Mount Pleasant's recent agreement with Foxconn Technology Group," Tseytlin wrote.
Tseytlin wrote that the cash grants have been a feature of TIF development in Wisconsin since the law was enacted in 1975 and "have never been thought to be constitutionally suspect."
TIF districts are typically blighted, industrial or mixed commercial/residential areas designated by a municipality as undevelopable without some form of public assistance. The municipality issues bonds to pay for infrastructure or part of the development. The bonds are repaid over a set number of years with property taxes generated by the increased value of the property.
Eau Claire amended two downtown TIF districts for the $45 million public-private Confluence Project, which includes a performing arts center and classroom space for UW-Eau Claire, plus retail space and apartments.
The TIFs provide $21.5 million toward development costs and a parking ramp, plus $1.5 million paid to the developer, a partnership between Commonweal Development Corp., Market & Johnson and Blugold Real Estate, which is connected to the UW-Eau Claire Foundation. The state also contributed $15 million with backing from Gov. Scott Walker.
Rick Esenberg, the lawyer for the plaintiffs in the Eau Claire lawsuit, is arguing that the $1.5 million direct payment plus half of the redevelopment payment are an illegal property tax rebate for the property owner, which would violate the state Constitution's requirement that property taxes be assessed in a uniform manner, known as the uniformity clause.
Esenberg said it's possible the argument could also apply to Foxconn, though he hasn't studied the Foxconn project in depth. He said the lawsuit isn't challenging the use of TIF districts, but is more narrowly focused on the cash payment to developers.
"If the uniformity clause prohibits payment to a taxpayer, and we think it does, then if you want to do the Foxconn deal you've got to do it without making a payment to a taxpayer out of a TIF district," Esenberg said.
13,000 jobs hoped
In the Foxconn case, the village of Mount Pleasant approved a nearly 4,000-acre industrial TIF district to generate $764 million in financing for a 20-million-square-foot campus that will include Foxconn's $10 billion liquid crystal display flat screen factory. Foxconn is eligible for up to $100 million in direct cash payments tied to creating as many as 13,000 jobs.
In addition to the TIF funding, Foxconn is also receiving $3 billion in state tax credits, the largest public subsidy to a company in state history and the largest for a foreign company in U.S. history. It will take the state 25 years to recover the cost of that investment.
Though the Foxconn payment to the company is 67 times larger than the payment to the Confluence Project developer, it represents a smaller percentage of the overall project cost — 1 percent versus 3.3 percent.
Foxconn didn't respond to requests for comment. Attempts to reach Mount Pleasant officials were unsuccessful Thursday.
The Eau Claire lawsuit wouldn't likely have an impact on the city of Madison, which uses TIF districts, but unlike many other municipalities in the state doesn't offer cash payments to developers, TIF coordinator Joe Gromacki said. Instead the city evaluates whether the costs are verifiable, beyond what a normal project would pay and if the developer is unable to attract enough private investment.
"We look at it from how much cash can a developer put into it," Gromacki said. "We take that very seriously."
Get Government & Politics updates in your inbox!
Stay up-to-date on the latest in local and national government and political topics with our newsletter.