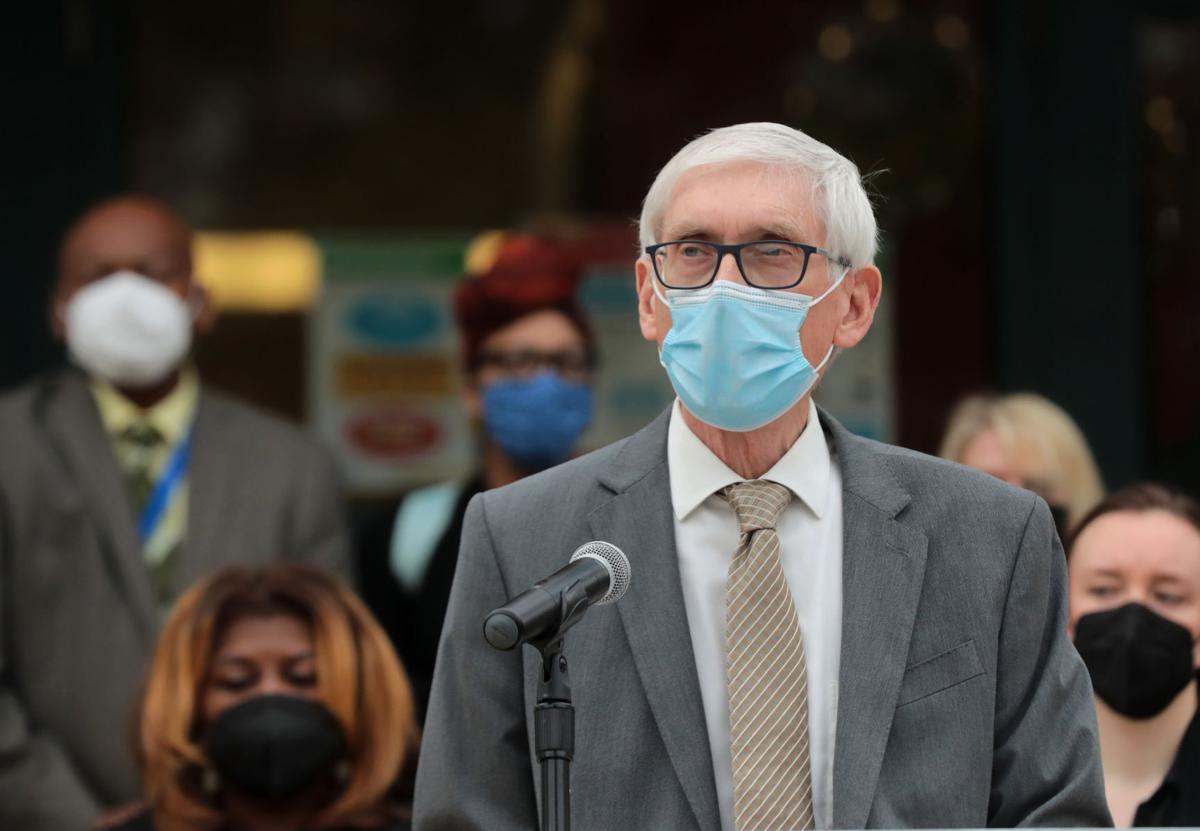 When Wisconsin Democrats open their laptops to stream the party's annual convention online on Saturday, they'll meet at what some consider a zenith, at least compared with recent history.
Democrats are coming off a presidential win that represents yet another statewide victory. They secured the governor's office in 2018. They're one liberal-leaning justice away from controlling the Wisconsin Supreme Court.
A newfound fundraising prowess has resulted in Wisconsin Democrats raising twice as much money as Republicans in 2020, an effort party leaders attribute to popular concern about former President Donald Trump paired with a revamped structure.
"The Democratic Party is in a position of unprecedented strength," said party chairperson Ben Wikler, who compared Wisconsin's current Democratic Party to the success of the state's Republican Party in the early years of former Republican Gov. Scott Walker.
But as the party tunes in remotely this weekend to hear from its leaders — including President Joe Biden, Speaker of the House Nancy Pelosi and Senate Majority Leader Chuck Schumer — Wisconsin's swing state status looms large over the 2022 elections, which historically tend to spell bad news for the party in power.
And Democrats may suffer from not having former President Donald Trump, who arguably drove up turnout for both Republicans and Democrats, on the ballot.
Strategists on both sides agree Democrats may have something to celebrate this weekend, but the question is whether Democrats will be able to maintain their gains due to the state's newfound status as the center of the political universe.
"The position the state Democratic Party has worked itself into is one of the strongest they've had in a time," said Republican strategist Brandon Scholz. "To maintain that position means that a lot is going to have to be done to replicate what got Democrats there two years ago."
Gov. Tony Evers is set to deliver a speech Saturday saying "we're going to spend every day for the next 521 days working to win every inch and elect Democrats up and down the ballot in this state."
Fundraising
Wisconsin Democrats in the presidential election proved they are a fundraising force, and strategists say both parties are now able to hold their own when it comes to raising money.
Democrats say the Trump years helped Wisconsin Democrats garner a greater number of small donors, as well as snag more high-dollar whales who may have been turned off by the former president.
Fundraising numbers last year illustrate the point: For the first time in 12 years, the Democratic Party of Wisconsin outraised its Republican counterpart, by a margin of $14 million. The Wisconsin Democracy Campaign, a group that tracks campaign spending, reported the state Democratic Party raised more than $23.6 million in 2020, nearly 2½ times the $9.8 million raised by the Wisconsin Republican Party.
Political observers cite several factors favoring Democrats: national interest in the state as a swing state; having a Democrat in the governor's office; and maintaining and growing an innovative staff.
Melissa Baldauff, a former Evers aide, said Evers has proven to be a "prolific" behind-the-scenes fundraiser. Others, such as U.S. Sen. Tammy Baldwin, D-Madison, credit Wikler with harnessing creative fundraising techniques, such as convening the cast of "The Princess Bride."
"Ben Wikler is an amazing leader, and the team that he's assembled has really built an organization that should be a model for all other state parties across the country," Baldwin said in an interview.
The Democratic fundraising machine hasn't gone unnoticed by Republicans.
"The Democratic Party is better funded than the Republican Party in Wisconsin. Stop right there," said former Republican Assembly Speaker Scott Jensen. "And that is a great asset for them going into the next set of elections."
But not everyone is a fan of their success.
"It's a very insidious trend that we're seeing here in Wisconsin, where people who are immensely wealthy are able to give just unlimited amounts of money to the political parties," said Matt Rothschild, executive director of the Wisconsin Democracy Campaign, which tracks political spending.
State Sen. Kelda Roys, D-Madison, who challenged Evers in the 2018 primaries, takes a practical view of the increase in political spending, and said to win elections, Democrats have to play the game.
"Our democracy is under attack, and if we want to win elections, we have to play by the rules that exist today," Roys said.
Other factors
Democrats say there are other reasons to be optimistic about 2022 and beyond, despite what could be the sobering reality of midterm elections.
Democrats are hoping they'll be able to run on a good economy and a waning COVID-19 pandemic, as well the American Rescue Plan, and reimagining a future with better jobs, higher wages and more economic stability for the middle class. Evers' budget proposal included a litany of popular measures.
And Wisconsin Democrats' messaging heading into 2022 appears to be built on what they perceive as Republican Party weaknesses: GOP efforts to block Democratic measures at every turn; Republican agnosticism toward COVID-19 mitigation efforts; and a U.S. senator — Ron Johnson, R-Oshkosh — they view as out of touch with Wisconsinites.
When asked about the most likely way Republicans would win statewide in 2022, most Democrats this week cited outside, structural factors, such as gerrymandering and other rule changes benefiting Republicans.
Republican Party chairperson Andrew Hitt characterized that as wrong on its face, pointing to the statewide wins of Johnson and former Gov. Scott Walker, as well as that of former U.S. Rep. Sean Duffy in 2010, under the previous decade's political maps.
For some Democrats, beneath talk of the next election is a sense of desperation rooted in a fear of what may happen to American democracy if they don't win the midterms and presidential election in 2024.
"The Democratic Party is the party of sanity and is the party of competence and the party of truth," said Democratic strategist Patrick Guarasci. "We are facing off against those who would discard all of our values that we hold dear just to win the next election."
Wikler knocked the Republican Party for, in his view, issuing "primal scream after primal scream" after its November presidential election loss: conducting loyalty purges and investigating the presidential election despite no evidence of widespread fraud.
Republicans dispute such claims, saying Wikler is just taking cues from Washington.
"In Wisconsin, we have a very strong party that's united, and no doubt there were struggles after the 2020 election," Hitt said. "There always are after you lose a tough race, especially one that is so close in a state that is so critical."
Challenges ahead
Democrats aren't without significant challenges as they look toward 2022, when both the governor's mansion and a U.S. Senate seat will be up for grabs.
First and foremost is the cold reality of the midterm effect: historically, things typically go well for the party not in the White House.
"While we have a tremendous degree of unity and strength in the Democratic Party at this moment, we also have to recognize it's going to be a very hard fought election," Wikler said. "No matter how unpopular Ron Johnson gets, no matter how much tremendous success our governor has, we have to be ready to take on a Republican backlash."
Wikler and other Democrats say they fear the state's political maps, which favor Republicans, continue to be a threat.
"The Republican Party isn't just trying to win elections. It's trying to tilt the playing field," Wikler said.
Roys said Democrats need to match the "ruthless" behavior of Republicans with more activism.
No Democrat, however, is disputing Wisconsin's status as a close state, and Wikler said the party will need to be meet that challenge during the next few years by organizing across geography and race. While Trump won't be on the ballot in 2022 to rally Democrats, Wikler said the same could be said for Republicans, for whom Trump was also a powerful motivating factor. He said he expects the Republican embrace of Trumpism to continue driving Democrats to vote.
But GOP strategists said fundraising prowess can't make up for a lack of quality candidates. They point to what they view as the failures of the Evers' administration to deliver unemployment benefits on time, to respond to the COVID-19 pandemic and to keep schools open.
"His only record of accomplishment is he's really good at blaming Republicans," Hitt said.
Evers, who is likely to run for reelection, faced a decline in popularity in 2020. An October Marquette Law School poll showed 50% of respondents approving of the governor and 43% disapproving, down from 65% approval and 29% disapproval in March.
Plus, not everyone in the Democratic Party is happy with its direction.
Terry Rose, a Kenosha attorney and former chairperson of the Kenosha County Democrats, said he fears Democrats are trending too far toward socialism and allowing themselves to be influenced by the most progressive members of the party. He also said not enough is being done to promote economic development across the state, and he criticized the governor's handling of the riots in Kenosha last summer.
"I hold him responsible for the destruction," Rose said. "He sent the National Guard in here too late."
Bill Hogseth, former chairperson of the Dunn County Democrats, said the party needs to do more to address its declining support in rural areas, particularly in northern Wisconsin.