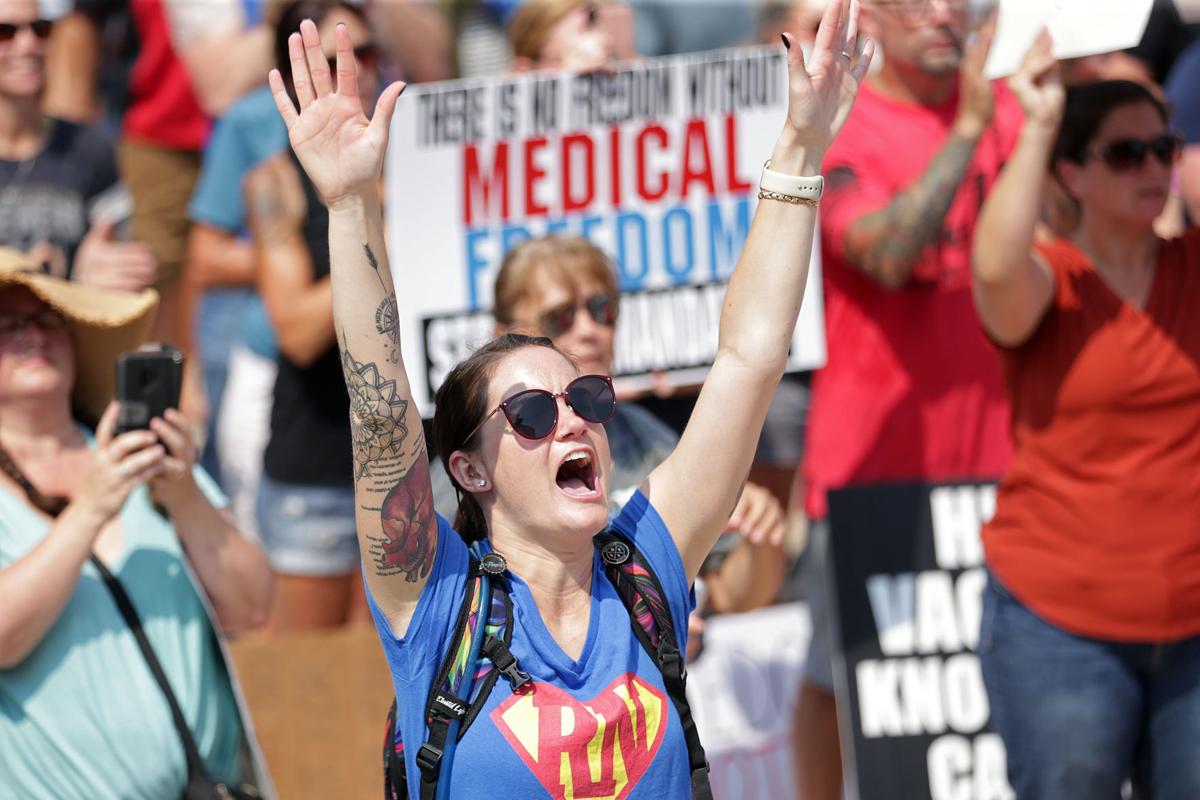 Roughly 150 protesters against vaccine mandates by health care employers rallied Tuesday around the Capitol Square in Downtown Madison with "Don't Tread on Me" Gadsden flags and signs likening COVID-19 vaccines to genocide and tyranny.
Speakers included elected state representatives and public office hopefuls — including a Republican candidate for governor — lobbyists and people who said they were health care workers. Most offered up misinformation and falsehoods about the mRNA technology used in some vaccines, such as by stating there will be a "tsunami of cardiovascular disease" due to vaccine-related blood clots.
In fact, scientists have determined blood clots to be an extremely rare side effect of some COVID-19 vaccines. Patients who contract COVID-19, though, are eight to 10 times more at risk of developing blood clots than those who received a vaccine, according to a University of Oxford study.
Some protesters held signs that said vaccines are "made with aborted fetus cells." Neither Pfizer nor Moderna used fetal cells in the development or production of their vaccines, while the Johnson & Johnson vaccine was developed using cells derived from fetuses that were aborted decades ago.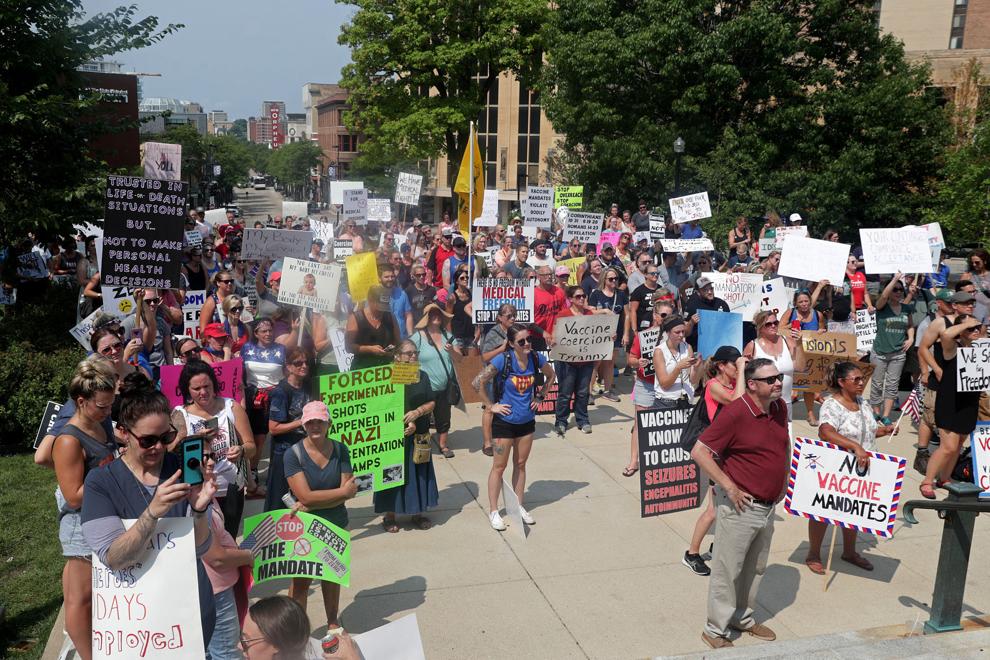 Other signs read "When do I get my (barcode)?" and "natural immunity," a reference to the belief that the body's immune system can effectively fight off COVID-19 on its own. COVID-19 vaccines train the body's immune system to create proteins that fight the virus, without making the body severely ill. Vaccines have been shown to reduce the likelihood of transmission and severity of COVID-19.
Some speakers used the term "plandemic," likely referencing a documentary by the same name that asserts a series of falsehoods about the COVID-19 pandemic.
COVID-19 has killed more than 617,000 people in the United States in the last 18 months, including more than 8,300 in Wisconsin. Vaccine hesitancy nationwide has fueled the spread of the delta variant, which has fueled a surge in new cases, including some among the vaccinated.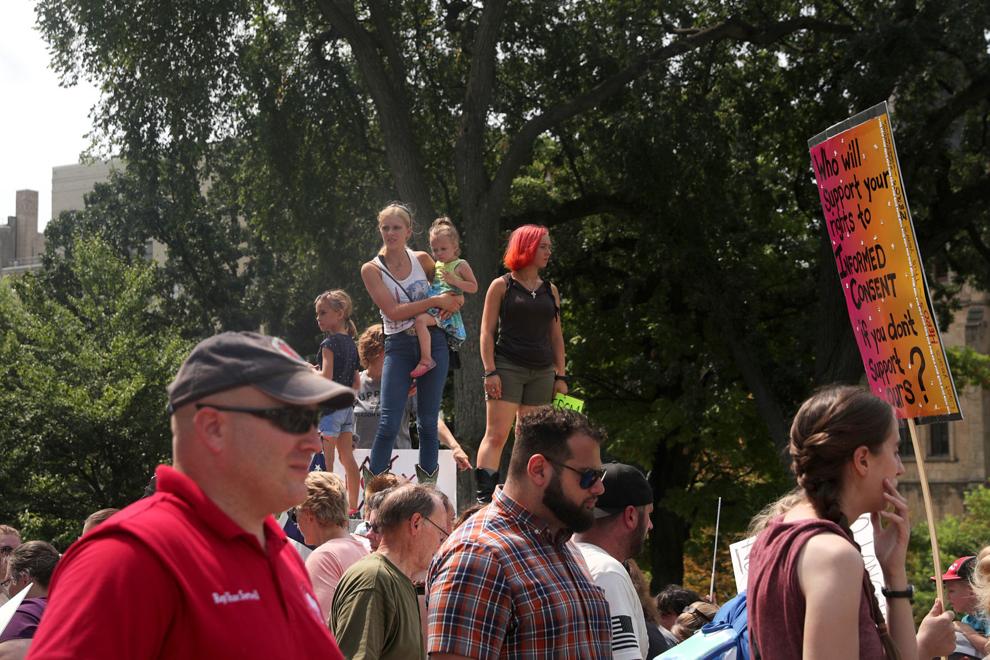 Taylor Falesnik, the event organizer and a Waukesha County resident who said she is a health care employee whose employer is mandating vaccination, said the event was meant to be about "freedom of choice." She declined to share the name of her employer.
"My sole purpose and the intention of this protest is to end the vaccine mandate," she said. "We just don't think something that's not FDA-approved or has studies for long-term effects should be mandated as a condition for employment."
Both vaccinated and unvaccinated people were in the crowd at the rally, she said.
Bill Easton, a lone counterprotester, stood on the edge of the group, wearing a mask and holding a sign that read "Trust science, not Facebook moms."
"It's just depressing," Easton said. "It's a bunch of people who I really wish had the best interest of their neighbors and their friends at heart and they don't. It's become political to the point that it's kind of scary."
Local providers
Madison hospitals, which recently announced COVID-19 vaccine mandates for employees, said the vast majority of workers were vaccinated before the mandates were established and understand why the shots are important.
At UW Health, 90% of employees were fully vaccinated before its mandate was adopted last week requiring immunizations by Nov. 1, said spokesperson Emily Kumlien.
"Our UW Health team understands how important vaccinations are to providing safe care and for ending this long pandemic," she said.
At UnityPoint Health-Meriter, 80% of staff were inoculated before its mandate, announced last week, also with a deadline of Nov. 1.
"As health providers, we care for the most vulnerable in our community and we must do everything we can to keep them safe," said spokesperson Leah Huibregtse.
In late June, SSM Health, owner of St. Mary's Hospital, became the first health system with a presence in Wisconsin to announce a vaccine mandate, effective in late September. As of Tuesday, 81% of employees were fully vaccinated, spokesperson Kim Sveum said.
"The majority of our SSM Health employees overwhelmingly support the vaccine mandate," she said. "However, we recognize there are some employees who oppose the mandate and we respect their rights to peacefully participate in protest."
Meanwhile, other types of providers, including nursing homes and assisted-living facilities, are also implementing mandates. Capitol Lakes, in Downtown Madison, announced a COVID-19 vaccine requirement in June. It went into effect last week and 99% of staff are vaccinated, said Tim Conroy, executive director.
Resistance urged
Wisconsin state Senate Republican leaders have urged health care workers to "stand up" against vaccine mandates.
Senate President Chris Kapenga, R-Delafield, on Friday said that he's had conversations with health care workers opposed to the mandates, after more than a dozen health systems serving parts of Wisconsin have required their workers to be fully vaccinated against the virus.
"I want to encourage the groups that are forming to stick to your principles and don't give in," Kapenga said in a statement. "Based on what I am seeing, it will be impossible for the hospital systems to function without you. You are still our heroes even though the executives have made the choice to turn their backs on you."
Gov. Tony Evers spokesperson Britt Cudaback called Kapenga's statement "absolutely irresponsible" in a tweet on Friday.
Wisconsin activated a field hospital last fall because our hospitals and healthcare infrastructure were overwhelmed by COVID-19 cases. This is dangerous and reckless rhetoric at a time when our state is seeing alarming case trends. Absolutely irresponsible. https://t.co/XGfyV1Xz1A

— Britt Cudaback (@BrittCudaback) August 6, 2021
"This is dangerous and reckless rhetoric at a time when our state is seeing alarming case trends," she said.
A conservative lobbying organization, Wisconsin United for Freedom, released an open letter to President Joe Biden and Evers ahead of the event that said they represent nearly 4,000 health care workers across the state in opposition to vaccine mandates, vaccine passports, policies that include "segregation and discrimination" based on vaccine status, and private medical information such as vaccine status being exposed.
---