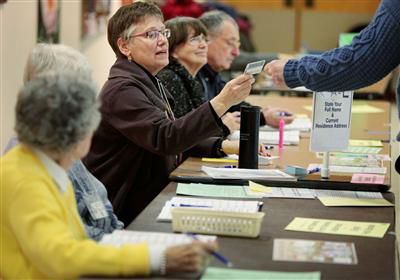 At least 590 people in Wisconsin cast provisional ballots in last week's election because they didn't present a valid photo ID, the Wisconsin Elections Commission said Monday.
So far municipal clerks have reported issuing 717 provisional ballots in last week's presidential election, the biggest election so far that the photo ID requirement was in place.
Most went to people who didn't have a valid ID at the polling place.
It's the first indication of how many people showed up at the polls and couldn't meet the state's hotly disputed photo ID requirement. The number could increase as more clerks report their provisional ballot numbers to the Wisconsin Elections Commission.
In 2012, when the photo ID requirement was on hold by court order, there were 132 provisional ballots cast — largely because a voter lacked the correct proof of residency. In the April presidential primary, when the photo ID was in effect, there were 434 provisional ballots cast, of which 343 were for people without a valid ID.
UW-Madison political science professor Ken Mayer, who is studying the effect of Wisconsin's voter ID law on election participation, called the number of provisional ballots cast evidence of "hard disenfranchisement" and "many times greater than the number of fraudulent ballots cast through voter impersonation."
"These are people who will be unable to vote because of the voter ID requirement," Mayer said. "We can argue about whether that number is big or large, but what that number should be is zero."
The provisional ballot allows voters who don't have an ID when they come to the polls to fill out a ballot, but it's only counted if they can provide the ID to their local clerk by the Friday after Election Day.
It's not yet known how many of those ballots were ultimately counted. In the spring, 63 percent of the provisional ballots were rejected. In 2012, 58 percent were rejected.
Republicans have pushed the voter ID law as a way to prevent voter impersonation. Democrats say the laws are really intended to discourage low-income, student and older voters from voting.
There were more than 2.94 million votes cast in last week's presidential election, making the number of provisional ballots a tiny fraction of the overall total. The statewide presidential election was decided by about 27,000 votes, so the provisional ballots alone wouldn't have changed the outcome.
Both Dane County Clerk Scott McDonell and City of Milwaukee Election Commission executive director Neil Albrecht said they believe the number of voters affected by photo ID is much higher and includes those who didn't come to the polls at all or left once asked for an ID.
"I hear repeatedly from our election workers that once the process is explained, and voters become aware that their ballots will not be counted on Election Day, most voters leave," Albrecht said. "For anyone to allege that these numbers in any way represent the (full) impact of photo ID on voting in the city of Milwaukee or in the state of Wisconsin would be an inaccuracy."
Gov. Scott Walker called the idea that voter ID suppressed voter turnout "a load of crap" in a radio interview last week.
Walker spokesman Tom Evenson said Monday provisional ballots were created as a safeguard for voters who show up on Election Day without proper ID and noted the state instituted overnight mailing to ensure those voters get temporary receipts to provide in time for their vote to count.
"We have made voting easy while ensuring it is hard to cheat," Evenson said.
The total number of provisional ballots could grow as more municipalities report their numbers to the Elections Commission. Voters who cast provisional ballots were allowed to provide the necessary ID or residency documentation by last Friday.
About half of the state's 1,854 municipalities have not reported their provisional ballot numbers yet, elections commission spokesman Reid Magney said. Of those that have reported, 165 municipalities, including Madison and Milwaukee, have reported having one or more provisional ballots.