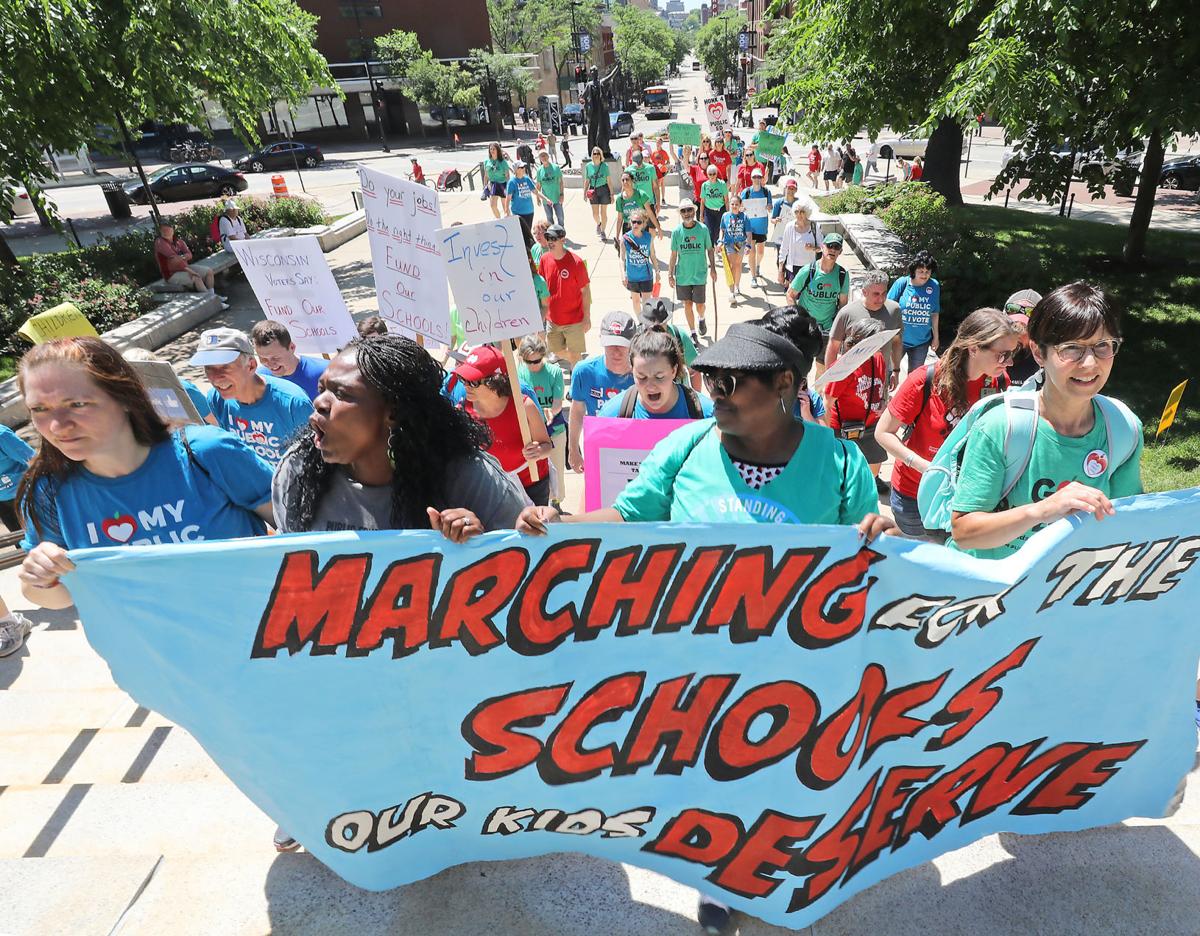 On a largely party-line vote, the Republican-controlled state Assembly on Tuesday approved an $81 billion, two-year spending plan with last-minute changes to increase funding for district attorneys and allow carmaker Tesla to sell directly to consumers.
The changes could appease a handful of skeptical conservatives in the Senate, which is also controlled by Republicans and where one more "no" vote could sink the budget in that chamber.
Senators take up the plan Wednesday. If passed, it would then go to Democratic Gov. Tony Evers, who has broad authority to make changes.
Assembly Speaker Robin Vos, R-Rochester, indicated little concern over the budget's prospects in the Senate, where Republicans have a 19-14 advantage.
"I have to trust Sen. Fitzgerald to work his own process," Vos said of the majority leader.
Earlier on Tuesday, Vos said the goal of the last-minute changes was to lower property taxes and make it more difficult for Evers to use his partial-veto pen to make potentially sweeping alterations.
"The vast majority of what's inside the amendment is our effort to line-item-veto-proof it as much as possible," Vos told reporters.
The budget passed the chamber with three Republicans — Reps. Rick Gundrum of Slinger, Timothy Ramthun of Campbellsport and Janel Brandtjen of Menomonee Falls — joining all Democrats in opposition.
The GOP amendment replaces wording such as "shall not" or "may not" with "cannot," which would prevent Evers from deleting "not" to significantly change the intention of the language. Wisconsin governors have the authority to delete individual words from the budget the Legislature passes to bend it to their liking.
The revisions include lowering the property tax burden on a roughly $174,000, median-valued home by expanding the lottery and gaming tax credit. Under the original GOP plan, tax bills on such a home would be $2,927 in the first year, a 2% increase, and $2,975 in the second year, a 1.6% increase. The property tax increase was the same under both the Evers and Republican budgets.
Under the amended plan, the average tax bill would increase by $1 less in the first year and by $4 less in the second year.
The proposed change comes after two Senate Republicans — Sens. Steve Nass, of Whitewater, and David Craig, of Big Bend — vowed to vote "no" on the budget in part because they believed it spends too much.
A Nass spokesman on Tuesday said the senator still intends to vote "no." Craig did not respond to a request for comment.
Republicans in the Senate can only afford to lose two votes and still pass their budget, assuming no Democrats vote for the plan, and Sen. Chris Kapenga, R-Delafield, hasn't said whether he'll back the plan.
Kapenga could be swayed by Assembly Republicans' budget amendment Tuesday to allow electric vehicle manufacturer Tesla to sell its cars directly to consumers. The Milwaukee Journal Sentinel on Tuesday reported that Kapenga sells Tesla parts and salvaged electric vehicles. He told the Journal Sentinel he isn't sure whether he'll vote in favor of the budget. He said he makes no money from the car business, and that it's purely a hobby.
Tesla has long called for the change, arguing it needs to sell directly to consumers through its own dealerships because franchise dealers aren't prepared to teach consumers how to properly use electric cars.
Kapenga previously co-sponsored legislation that would have allowed Tesla to sell cars in the state.
Another change would clarify that a committee tasked with studying a mileage-based driver fee would need approval from the full Legislature and governor to implement any plan it recommends. The change would also clarify that the transportation committee would be tasked with studying tolling in addition to a mileage-based driver fee, which could refer to systems that charge drivers based on the number of miles they travel.
Republicans also proposed directing $5 million more in transportation funding to towns, and making $3.6 million in additional funding available for district attorney offices to hire an additional 35 prosecutors and $3.5 million more for district attorney pay increases.
Republicans additionally included a provision that would allow the Wisconsin Center convention building in Milwaukee to issue $300 million in bonding authority, backed up by state taxpayers, for improvements or expansion to the facility.
The Republican budget, which spends $37.4 billion in Wisconsin taxpayer money, attempts to fund some of Evers' state priorities in health care, transportation and education, while significantly diverging from him on some of his bigger asks, notably by not taking federal dollars to expand Medicaid.
"We are in an era of divided government," said Rep. John Nygren, R-Marinette, budget committee co-chairman. "Neither side will get 100% of what they want."
Democrats, however, lambasted the budget as one that leaves federal health care money on the table and falls short of spending enough to sustainably fund public education and transportation.
"It's again another example of Republican legislators choosing politics over the people of this state," said Rep. Chris Taylor, D-Madison.
On Medicaid, Evers had argued expanding the program would have saved the state $324 million in taxpayer money over the biennium and brought in $1.6 billion in additional federal money to increase spending on health care.
But the budget does provide significant funding increases for transportation and public education, some of the areas Evers highlighted. It also provides a middle-class tax cut, although smaller than the one Evers proposed.
Republicans have proposed $484 million in new funding to put toward the state's road system, similar to the amount Evers proposed, although the two budgets diverge on how they come up with the money.
The Republican plan would increase title fees from $69.50 to $164.50. Republicans would also raise annual vehicle registration fees from $75 to $85.
Evers, on the other hand, wanted to increase the gas tax by 8 cents per gallon and index it to inflation while repealing the minimum markup on motor fuel. The administration estimated the plan would lead to a monthly increase of $3 for the average driver.
Evers, the former state schools superintendent, campaigned on boosting state spending for public education, and called for $1.4 billion in new funding for K-12 schools over the budget cycle — including $600 million for special education. Republicans offered a smaller boost of $500 million, $97 million of which would go toward special education.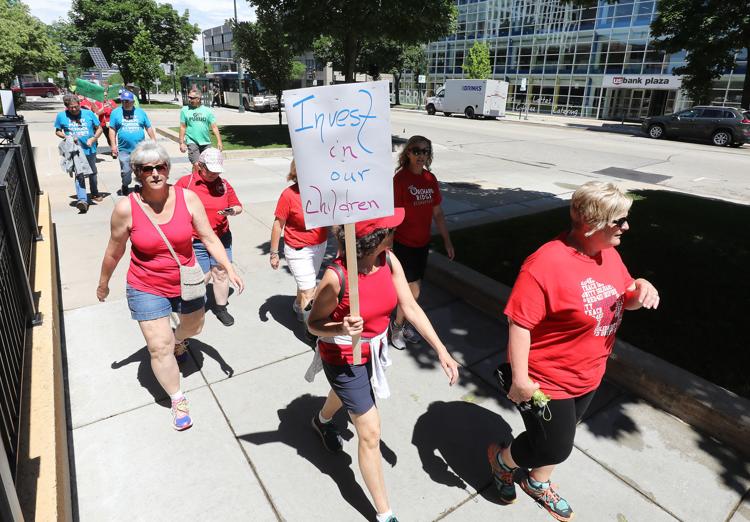 A few hundred public education supporters rallied outside the Capitol for Evers' proposal Tuesday, some of them having made a four-day, 60-mile trek from the Palmyra-Eagle School District.
Tara LeRoy, a parent of two students in Palmyra-Eagle, said a failed referendum in April to increase the district's operating revenue has the School Board taking steps to dissolve the 769-student district.
"We have an amazing five-star elementary school in our district and it will close because of inadequate funding," she said. "We're not dissolving because we are failing. We're not dissolving because we've mismanaged funds and been wasteful. You can't waste or mismanage what you don't have."
The GOP budget also falls short of Evers' proposal for the UW System. UW System campuses over the next two years would gain about $45 million under the GOP plan, about half of what Evers and System officials wanted.
The Republican plan includes an income tax rate cut, which would benefit all income earners. Evers had called for an income tax credit targeted at those making less than $150,000, and funding it through tax increases on manufacturers and by closing corporate tax loopholes.
Get Government & Politics updates in your inbox!
Stay up-to-date on the latest in local and national government and political topics with our newsletter.