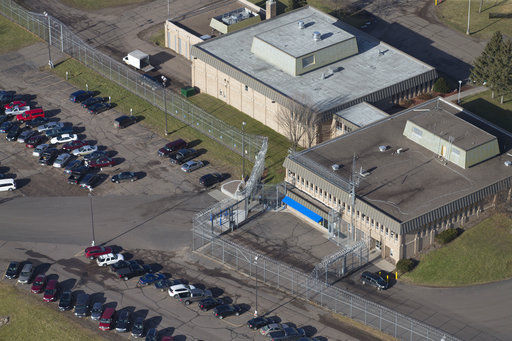 Assembly lawmakers plan to introduce an overhaul this week of the state's juvenile corrections system that would close the state's troubled youth prison in Irma by 2020 and put county governments in charge of new facilities around the state.
Under the bipartisan proposal, the state Department of Corrections would still oversee the state's most serious juvenile offenders — or youth who commit crimes such as armed robbery, sexual assault and homicide — in new facilities. Those who commit less-serious offenses would be under the supervision of their local county government in secure "residential care centers."
Currently, both types of offenders are housed in the Lincoln Hills School for Boys and Copper Lake School for Girls in Irma and are under the supervision of the DOC.
The Assembly bill would differ from Gov. Scott Walker's plan to shutter Lincoln Hills by giving counties control over where less-serious offenders are housed, and allows counties to build new facilities with state funds.
Walker has called for the creation of six new facilities around the state, including one at Madison's Mendota Juvenile Treatment Center for females.
The Assembly proposal, which will be discussed at a Tuesday press conference, also calls for the creation of a committee to give the DOC recommendations by this fall on where to put new facilities for the most-serious offenders, whether by constructing new prisons or renovating existing buildings to create secure facilities, according to a draft of the bill scheduled to be released this week.
The committee would include officials from the DOC, Department of Children and Families, Department of Health Services, Department of Public Instruction, the state Public Defender's office and the state courts director's office, as well as three Assembly lawmakers and three senators.
Walker's appointments to the committee would be two circuit court judges, two district attorneys, two representatives from law enforcement agencies, one representative of a nonprofit focusing on juvenile justice, one representative of a national organization that focuses on eliminating race-based discrimination, one representative from a nonprofit focusing on best practices for holding juvenile offenders in secure custody, and one representative of the county with the highest percentage of juveniles in DOC custody.
Under the proposal, county governments would be able to apply for grants from the state to cover 95 percent of construction costs. Counties could use state and federal funding for basic care and supervision of juvenile inmates.
Counties will have until July 1, 2020, to ensure they have enough space for their juvenile offenders, and have the option to partner with other counties to build new facilities or to contract with another county. The facilities must be able to house at least 24 inmates, according to the bill draft.
If offenders' behavior presents "a serious problem," the county may place them in a different facility that offers "more appropriate care or services" without a new court hearing, according to the bill draft.
You have free articles remaining.
Vote next week?
Assembly Corrections Committee chairman Michael Schraa, R-Oshkosh, said his committee plans to hold a public hearing and vote on the bill this week. He said the full Assembly may vote on the measure next week.
Amy Hasenberg, a spokeswoman for Walker, said Walker's staff has been in contact with Assembly Speaker Robin Vos "as he developed the plan and we look forward to seeing it presented in full."
A spokesman for Senate Majority Leader Scott Fitzgerald did not respond to a request for comment.
Walker last week told county officials at an event hosted by the Wisconsin Counties Association that they may be given more control over the prisons, but the plan would only work if all 72 counties were on board. Kyle Christianson, a lobbyist for the association, said the group is in the process of reviewing the latest draft of the Assembly proposal and is obtaining feedback from county officials around the state.
The committee created under the Assembly plan would be required to favor the use of existing facilities for a new youth prison or prisons under DOC supervision. The committee also would be tasked with crafting rules that govern services and programs for juvenile offenders.
DOC spokesman Tristan Cook said the department is still reviewing the Assembly proposal.
"We remain committed to the governor's vision for juvenile corrections," he said.
Timeline accelerated
Last fall, Rep. Evan Goyke, D-Milwaukee, who is involved in the drafting of the current Assembly plan, released a proposal to close the Irma facility and open smaller facilities around the state. Soon after, Walker said he would include funding for his plan in the 2019-21 state budget, should he be re-elected in November.
Walker accelerated his timetable after Democrats and some Republicans questioned why the plan to close the youth prison — which has been plagued for years by allegations of inmate abuse and unsafe working conditions for staff — should wait at least two years. He then called on lawmakers to act this year.
Under the Assembly plan, the Irma facility would not necessarily be converted into a new type of prison immediately. DOC would be required to submit to the Legislature's budget-writing committee a report on the feasibility of converting the youth prison into a substance-abuse treatment facility.
Lawmakers must approve facility-construction grant applications from counties no later than July 1, 2019, according to the bill.