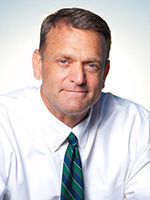 A sweeping Republican proposal to fund transportation and cut taxes would flatten income tax rates, lower the gas tax and raise new funding for roads by applying the sales tax to gasoline.
The goal of the plan, which is subject to change, is to hold gas prices steady by lowering the state's 9.18 percent minimum markup on gas prices, according to Rep. John Macco, R-Ledgeview, chairman of the Assembly Ways and Means Committee.
That means more money for the transportation fund could come from the bottom lines of companies that benefit from higher retail gas prices under the minimum markup law — both large national retailers and locally owned stores. Critics, however, say the money could also end up coming from consumers at the pump.
"If we do it right, the price at the pump will be exactly the same," Macco said.
One of the goals of the proposal is to cut borrowing in Gov. Scott Walker's 2017-19 budget plan from $500 million to $200 million.
In addition to the transportation funding changes, the plan also includes the first steps in eventually creating a 4 percent flat income tax over the next 11 years, Macco said. He declined to offer specifics.
Rep. Dale Kooyenga, R-Brookfield, the architect of the plan, declined to comment before it is presented to the Assembly Republican caucus on Thursday.
Macco, who has been briefed on the plan, agreed to discuss some of the details after the Milwaukee Journal Sentinel published an outline Tuesday citing unnamed sources.
Under the current thinking, the gas tax would be reduced by 4 to 7 cents per gallon, Macco said. It is currently 30.9 cents per gallon. Also the minimum markup on gasoline — currently 9.18 percent — would be reduced so as to bring gas prices down another 7 cents, Macco said.
The Depression-era Unfair Sales Act prohibits retailers from selling merchandise at less than cost and also sets a minimum price for tobacco, alcohol and gasoline.
The gas price reductions would be offset by applying the 5 percent state sales tax and any local sales tax to gasoline, which currently costs $2.26 in Madison.
Asked about Kooyenga's proposal after Tuesday's Assembly session, Rep. John Nygren, who co-chairs the Legislature's budget-writing committee, said only that the plan will be "revenue-neutral," a term that typically means a proposal's net impact to state revenues is zero when accounting for all tax and fee changes.
Walker offered a similar proposal during the 2014 gubernatorial election. He has discussed the Assembly transportation proposal with Kooyenga, but didn't want to divulge details Tuesday because it is in flux.
"If people are talking about cutting the gas tax as a way of reforming the system as opposed to raising revenue, I think that's certainly something worth looking at if it's a reduction in the gas tax," Walker said.
Walker has sparred openly with Assembly Speaker Robin Vos, R-Rochester, about how to resolve a nearly $1 billion shortfall in the transportation fund in the upcoming biennium.
Walker has proposed borrowing, delaying projects and using general fund taxes to pay for transportation, but he has said he will veto a gas tax increase. Vos has called for leaving all options on the table, including raising the gas tax as a long-term solution.
Democrats have called for indexing the gas tax to inflation, a way of raising money to pay for road projects that was eliminated in the 2005-07 budget.
Macco noted by applying the sales tax to gasoline, the amount of revenue the state receives will increase as gas prices increase, though it would also decrease as gas prices decrease. Part of the reason transportation funding has stagnated is cars are becoming more fuel-efficient and people are buying less gasoline.
Brandon Scholz, executive director of the Wisconsin Grocers Association, panned the proposal, saying the minimum markup law doesn't increase prices as much as opponents say it does. The result will be retailers passing on the cost of the sales tax increase to consumers, he said.
"This is a tax increase. This is not a tax decrease," Scholz said. "It's kind of a smoke-and-mirrors gig."
Sen. Jon Erpenbach, D-Middleton, a member of the Joint Finance Committee, said he sees nothing in the proposal that he likes. "They're taking the road crisis that we have to justify a policy of a flat tax," Erpenbach said. "It's not going to work."
Erpenbach said Republicans need to focus on the transportation funding issue on its own instead of tying it to a tax overhaul or other areas of the budget. He said they're offering an unnecessarily complex proposal to solve something that could be fixed with a 5-cent increase on the gas tax.
Todd Berry, president of the Wisconsin Taxpayers Alliance, said the proposal is a commentary on how far Assembly Republicans have to go to persuade Walker to support increased revenue for roads, especially when he previously said he would support a gas tax increase if there was an offsetting tax cut.
"It is truly amazing and amusing the number of hoops they have to jump through to effectively raise the gas tax and index it," Berry said. "You can't fault them for the creativity or the cleverness of it."
— Reporter Mark Sommerhauser contributed to this report.