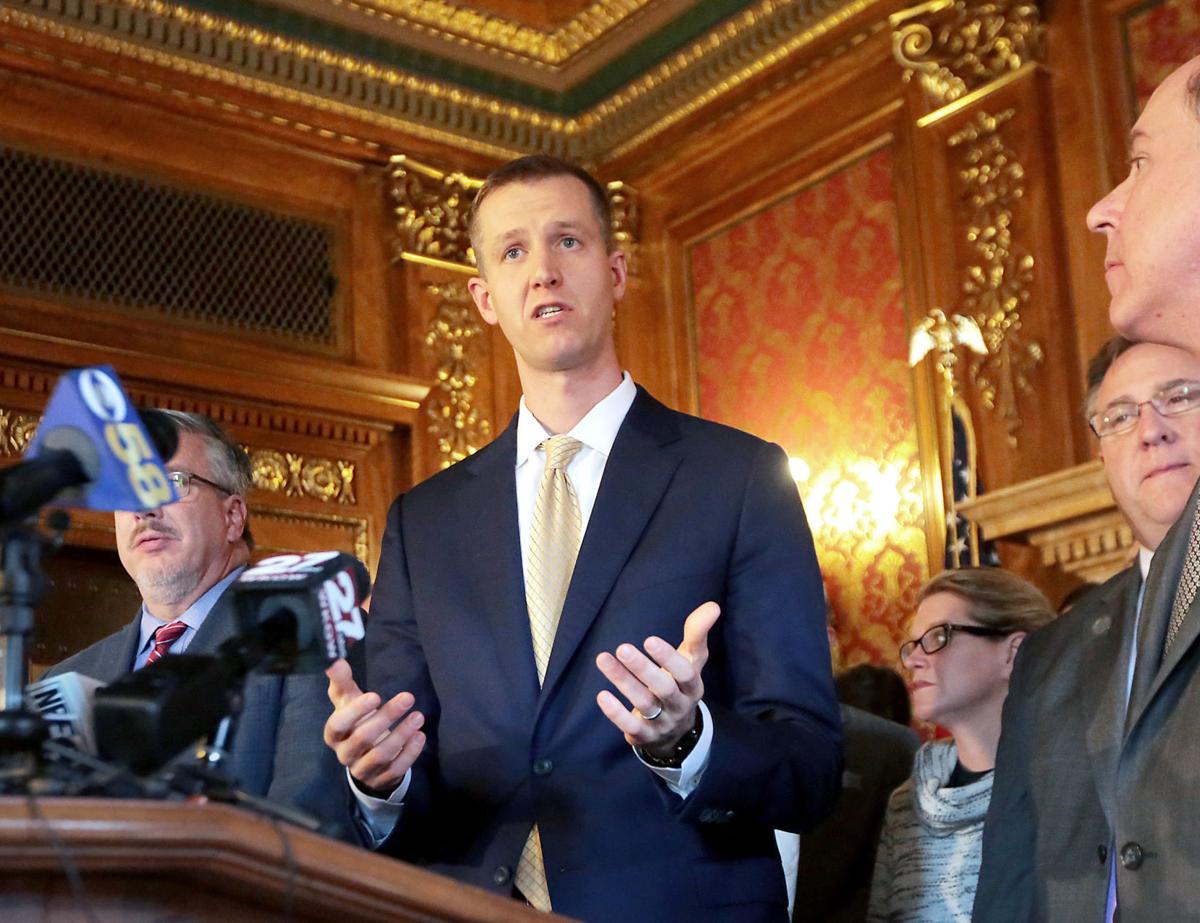 State Assembly Republicans have unveiled a sprawling plan to revamp how fuel sales are taxed, provide a long-term funding infusion for roads and bridges and steer the state toward a flat income tax.
Broad outlines of the plan emerged earlier this week, but new details emerged Thursday. The plan includes major tax cuts for top earners, a new fee on hybrid and electric vehicles and elimination of tax credits aimed at homeowners.
It also would cut the existing per-gallon fuel tax while applying the 5 percent state sales tax to fuel purchases.
Titled "The Road to a Flat Tax," the plan was released by Assembly Speaker Robin Vos and its architect, Rep. Dale Kooyenga, after a press conference at the state Capitol.
Many of its provisions differ sharply from what Gov. Scott Walker laid out in his 2017-19 budget plan, and those differences frame an impending budget battle between statehouse Republicans.
Vos, backed by more than 40 Assembly Republicans, said Thursday that everyone should agree Wisconsin's roads are deteriorating, construction delays are "massive" and repayments on road borrowing eat up more than 20 percent of revenues. This means more money is needed to fix the transportation system, Vos said.
"We cannot repair our roads by borrowing our way into prosperity," Vos said.
Walker spokesman Jack Jablonski said the "complex proposal" was being reviewed.
Senate Majority Leader Scott Fitzgerald, R-Juneau, said in a statement that the plan includes good ideas that he plans to review.
But Sen. Steve Nass, R-Whitewater, blasted the proposal, saying in a release that its proposed income-tax changes "would lead to many middle-class families actually paying more."
Assembly Democrats also hammered the proposed income tax changes as a massive giveaway to the wealthiest Wisconsinites. The plan would eliminate the state's alternative minimum tax for top earners and cut income tax revenues $2.4 billion from current levels by 2030.
Assembly Minority Leader Peter Barca, D-Kenosha, said in a statement that the plan "will not solve the transportation funding problems we have in Wisconsin."
"Instead, it gives tax breaks to the richest and raises certain taxes for thousands of Wisconsin families," Barca said.
Sales tax applied to gas
The plan would apply the 5 percent state sales tax to fuel sales while cutting the 30.9-cent per-gallon fuel tax by 4.8 cents.
Together, those changes net an increase of about $380 million in revenue for roads, bridges and transit over the next two years, according to an estimate from the nonpartisan Legislative Fiscal Bureau.
Most of that would be used to reduce, from $500 million to $200 million, the level of transportation borrowing that Walker proposes for the next two-year budget. It would also eliminate a transfer of funding from the general fund to the transportation fund.
Kooyenga said applying the sales tax to gas would allow revenue to grow with inflation over time. He said he would support a price cap for the tax to avoid the potentially volatile fallout of gas prices spiking and dropping, which happened during the Great Recession.
You have free articles remaining.
The plan would create an annual fee of $30 for hybrid vehicles and $125 for electric vehicles, yielding about $4.8 million over the next two years.
Other parts of the plan would repeal the prevailing, or minimum, wage for workers on state-funded construction projects, give local governments control over roundabout construction and seek federal approval to begin tolling U.S. interstates in Wisconsin. The plan also would replace 180 state Department of Transportation engineer positions with private contractors — a reversal from four years ago when the state hired those positions to save on costs.
The plan also calls for rolling back the state's minimum markup requirement for fuel sales, which Assembly Republicans predict will cause the overall price of fuel to decline, despite the new sales tax on fuel. The current required markup under the Unfair Sales Act is 9.18 percent, which would decline to 3 percent under the plan.
Craig Thompson, director of the Wisconsin Transportation Development Alliance, said he welcomes the proposal's focus on more long-term funding for roads and bridges. But Thompson said the proposal may not prevent delays to large freeway projects, especially in southeast Wisconsin, that Walker proposed in his budget.
Tax code overhaul
The plan would overhaul the state tax code to move, over the long term, toward a 3.95 percent flat income tax. It calls for eliminating a variety of taxes, tax credits and deductions, including the alternative minimum tax, the married couple credit and two credits that lower property taxes.
In the upcoming biennium the number of tax rates would drop from four to three ranging from 3.95 percent to 7.02 percent, with the tax rate on a single person's income above $253,760 continuing to drop each year to 3.95 percent by 2029.
In the next biennium the tax code changes would cost the state $15.4 million in revenue. By 2029 the annual reduction in revenue would near $2.4 billion.
Wisconsin's income tax structure includes four rates ranging from 4 percent to 7.65 percent. For a single person, the first $11,120 of taxable income is taxed at the lowest rate, the next $11,110 is taxed at 5.84 percent, income between $22,230 and $244,750 is taxed at 6.27 percent and higher income is taxed at the top rate.
Walker has proposed cutting the lowest income tax rate to 3.9 percent. In an interview with WTAQ in Green Bay on Wednesday, Walker signaled an interest in creating a flat tax and simplified tax system that could be filed on a postcard.
"That's a worthy debate in the future," Walker said. "I'd love to have not only in Wisconsin, but nationally a flat tax … You don't have to worry about everyone in the world getting a thousand different loopholes and exemptions."
Kooyenga, the architect of the plan, is an accountant who is open to a possible run for U.S. Senate against Tammy Baldwin in 2018.
Transportation conundrum
Walker's budget calls for closing a nearly $1 billion shortfall in the transportation fund with $500 million in borrowing, delaying some major projects and transferring money from the general fund. He also is increasing funding for county and municipal road aid, though local government officials have said it's not enough to address their long-term costs.
The transportation funding issue has been festering for years as cars have become more fuel efficient and the nation's interstate system is due for reconstruction.
Walker opposes raising the gas tax or vehicle registration fees, but said he is open to changing the way transportation is funded, especially if the proposal lowers the gas tax. During the 2014 gubernatorial election he floated a similar idea of replacing the gas tax with a sales tax.
Vos said Thursday that the Assembly GOP plan is a starting point, not an end point, to negotiations.
Kooyenga noted many of the Assembly Republicans at the press conference don't agree with certain provisions in the plan.
"Is this perfect for anybody?" Kooyenga said. "No. But we're Wisconsinites and we get along with our neighbors and we understand that we compromise and we move forward as a team."