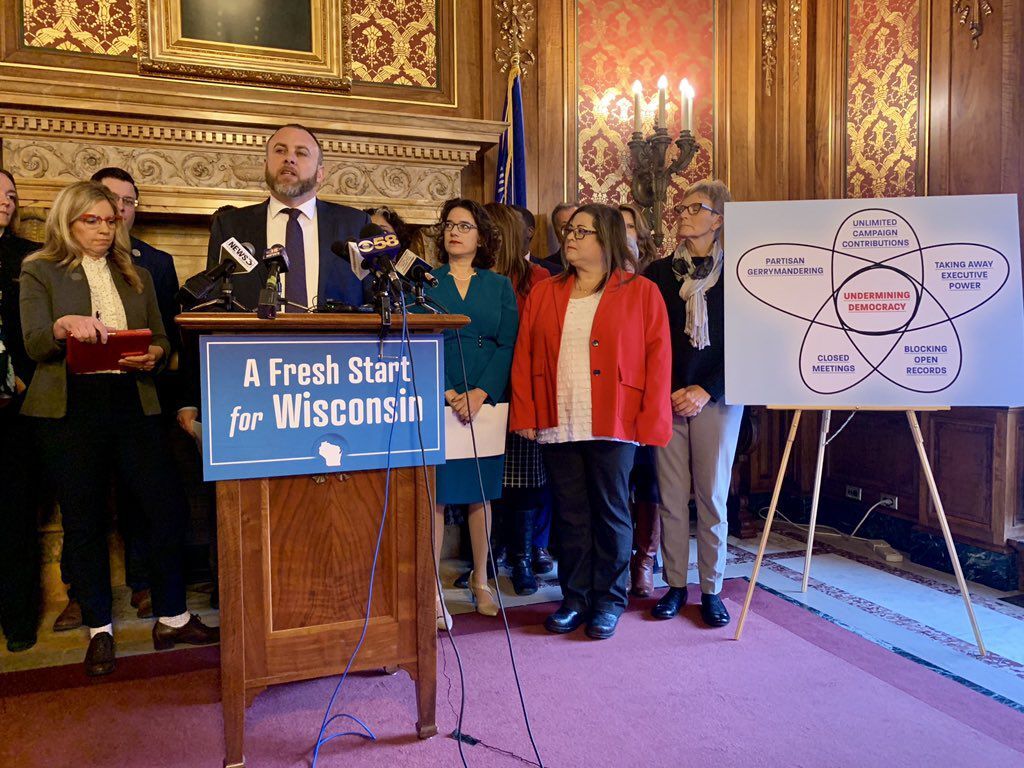 Assembly Democrats are demanding legislators be allowed to attend floor sessions and other meetings remotely as Republicans signal they will require lawmakers to conduct much of their business in person during the upcoming legislative session, even as the coronavirus pandemic persists into 2021.
Assembly Speaker Robin Vos, R-Rochester, indicated on Tuesday that the Assembly may no longer allow remote accommodations, representing a rollback of COVID-19 accommodations allowed during much of the pandemic.
"People all across Wisconsin safely go to work every day and members of the Assembly are capable of doing so as well," he said in a statement. "The Assembly will convene safely as other legislatures across the country have done during the pandemic. Members and staff are being asked to follow CDC guidelines, practice social distancing, wear a mask and wash their hands frequently."
Assembly Minority Leader Gordon Hintz, D-Oshkosh, and other Democratic members told Vos on Tuesday they want the chamber to continue current Assembly accommodations into the next session, such as remote-work options for staff and the ability for lawmakers to join floor sessions and committee hearings and sessions virtually.
Hintz told the State Journal that, following a discussion with Vos, he doesn't believe Republicans will allow for lawmakers to attend session and other meetings remotely, as they have this year.
"We shouldn't have to choose between our jobs and our health," Hintz said.
"We are currently operating in a period of the pandemic where the risk of transmission is exponentially higher than when we first instituted virtual options for the Legislature back in the spring," Hintz and the other Democrats said. "While our responsibility to conduct the work of the Legislature and serve our constituents has never been more important, executing that responsibility absolutely does not need to come with increased risk of contracting and further spreading the virus to those around us."
While Republican lawmakers haven't yet announced their plans for mitigating COVID-19 in the upcoming session, Democrats suggested the current accommodations may be on the way out.
"Changing course and removing the virtual option for meetings is not only a dangerous and unnecessary risk to the health of our members, but to our staff, support agency staff, members of the press that cover our activities, and the public who are attempting to safely engage with their elected government," the Democrats said. "Furthermore, it sends the troubling message that now is a time where precautions we have all been taking to ensure our safety, and the safety of those we care about, can be relaxed or ignored."
Democrats underscored their concern that even with mask wearing, prolonged indoor exposure to a person who has tested positive for COVID-19 increases both the risk of exposure as well as the severity of the infection.
Despite such circumstances, many Republicans and the witnesses they called to testify at a joint hearing on the 2020 election earlier this month did not wear masks.
In their letter, Democrats complained that masks won't be required in the upcoming session. Health experts have long championed mask wearing as one way to help reduce the spread of COVID-19, along with other measures such as social distancing and avoiding gatherings.
Fave 5: Reporter Riley Vetterkind shares his top stories of 2020
It goes without saying this year has been a whirlwind, and it's not even over yet. The COVID-19 pandemic has presented our state and country with one of the foremost crises of the past century.
While some crises in our history managed to unite the nation, the story of this year's crisis is much different. COVID-19 and the response to it have accelerated America's and Wisconsin's deep political divisions and leave our politics in a nearly constant state of disarray.
Here's a look back at some of this year's top stories in state government and politics.