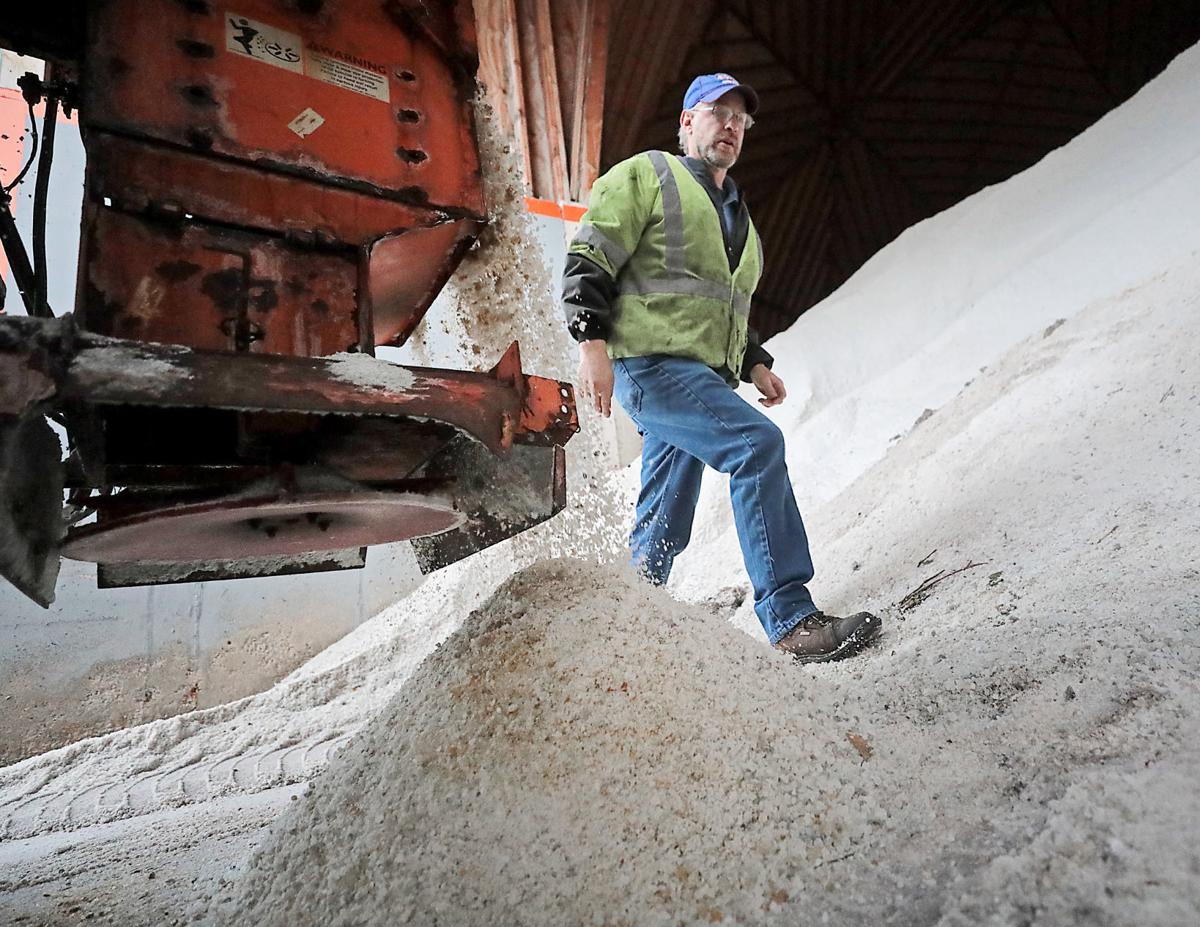 Wisconsin plans to spend close to $108 million to restock state and local governments with about 1.42 million tons of road salt this winter, an increasingly expensive habit that some are trying to change.
The cost of salt, which represents 40% of the state's winter maintenance budget, has grown from less than $30 per ton in 2000 to nearly $78 per ton this year — marking a 167% increase over the last two decades, according to data provided by the state Department of Transportation.
"It's just shooting up … cost is a big thing," said James Hughes, DOT's chief maintenance engineer. "All of that money goes out of our state, out of our economy."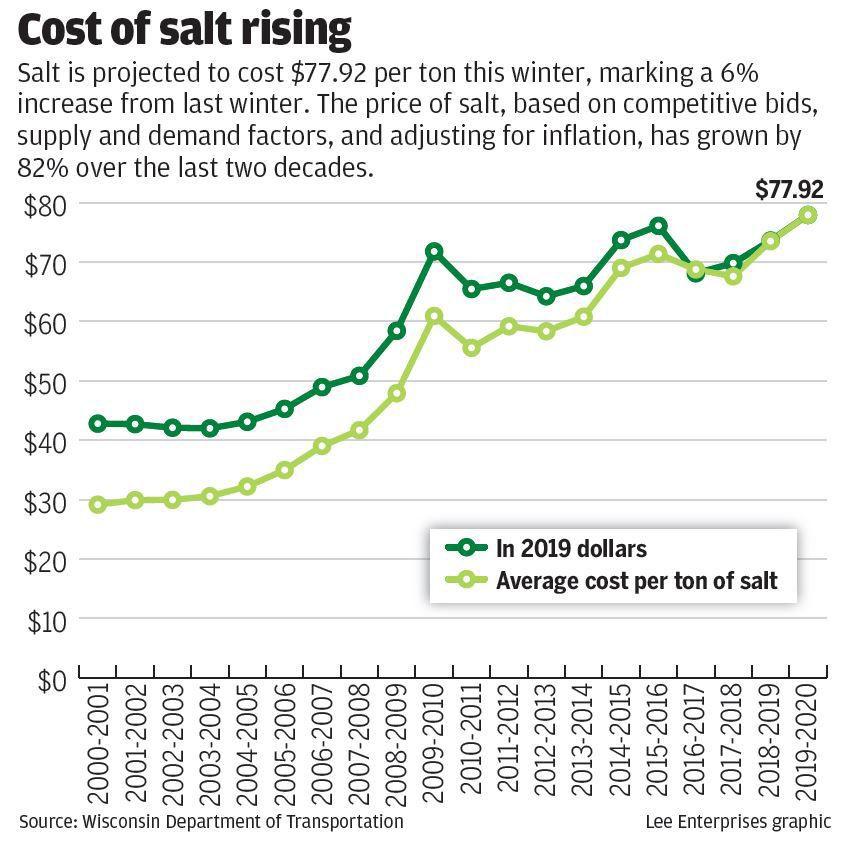 An average of 510,000 tons of salt for winter maintenance activities on the state's highway system over the last five years. For the 2018-19 winter season, the state spent nearly $112 million on winter maintenance. About $44 million, or close to 40%, was spent on materials, largely salt.
In an effort to address the growing cost of salt, Hughes said some county road departments have turned to a liquid application of brine — a mixture of salt and water in most cases — to tackle winter weather. Brine not only is cheaper because it uses less straight salt; it also works faster and is better for the environment, Hughes said.
While the use of brine isn't a new concept, David Hunt, spokesman in the DOT's Division of Transportation System Development, said the DOT is working to educate county officials on the benefits of liquid application to increase its use.
"Brine is something we've used for years in Wisconsin," Hunt said. "It's just in the last few years we've seen an opportunity to accelerate and expand that use and help save on the salt supplies."
Hunt said one challenge has been securing buy-in from county staff, who are responsible for snow maintenance operations across Wisconsin.
"Sometimes with anything new, there's sort of a witchcraft element to it, that we've always done it this way," Hunt said, although he said a growing number of counties have expressed interest in expanding their use of brine.
Hughes said the state implemented brine application programs in a handful of counties, including Jefferson and Marathon, in the last two winter seasons. Using mostly liquid application, Jefferson County has cut its salt use in half and last winter reported saving more than $625,000 on reduced salt use.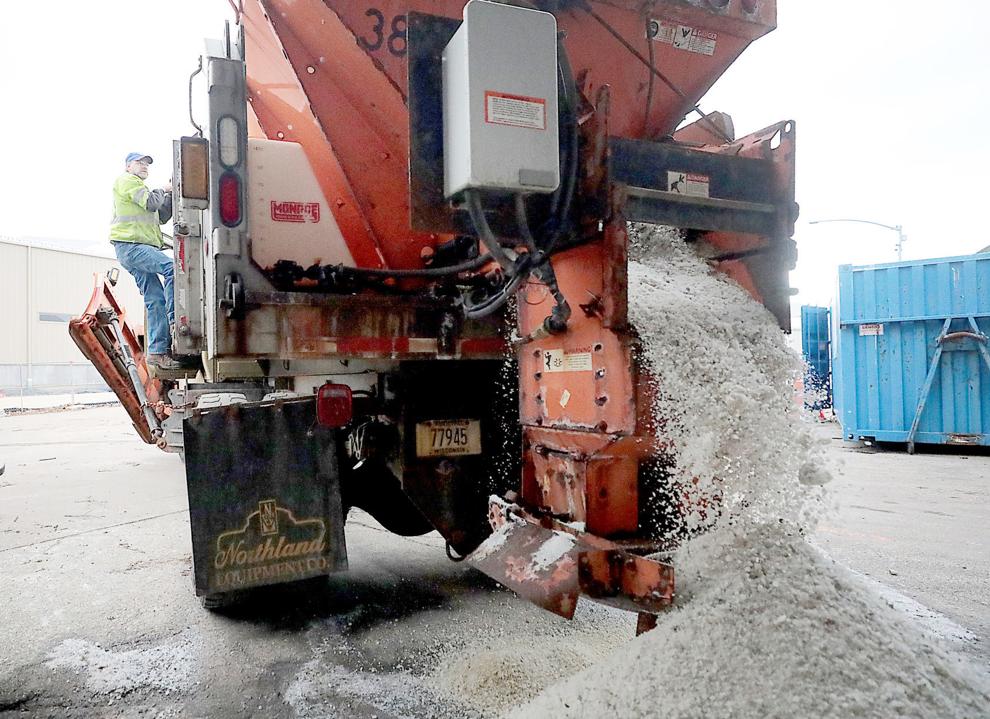 Wisconsin used 9.4 million gallons of brine during the 2018-19 winter, compared to 4 million during the 2015-16 winter season.
The use of brine, combined with education and training, last year saved about 108 million pounds of salt, worth close to $4 million, Hunt said.
In addition to reducing a county's use of salt, Hughes said brine is also more effective at melting snow and ice.
"Liquids you can use in much colder temperatures," Hughes said. "If you're putting granular salt down and it's 15-degree pavement temperature, you might as well back up and dump it in the ditch. It's just not going to help you."
Enviro-hurtful
What's more, Hughes said studies have shown that close to one-third of the granular salt applied to a road bounces off entirely, which is both wasteful and harmful to the environment.
The use of road salt has been connected to increasing levels of sodium and chloride in water sources.
According to WI Salt Wise, a coalition of Dane County organizations including the Dane County Land and Water Resources Department and UW-Madison, salt concentrations in Lake Mendota increase about 1 milligram per liter every year.
Pilot project
As the DOT works with counties to showcase the benefits of brine application, Andrea Bill, traffic safety program manager with UW-Madison's Traffic Operations and Safety, or TOPS, Laboratory said the lab in January began a pilot project comparing the difference in the effectiveness of applying brine and salt on winter roads.
While research, which has focused on four counties, still is preliminary, Bill said the use of brine over salt has shown to provide benefits.
In the study, the use of brine over salt showed a 22% decrease in the average cost of materials per lane mile.
"With brine, we're seeing obviously the cost of salt is going down," Bill said. "We're also seeing the effects on the environment and safety, those are all improving."