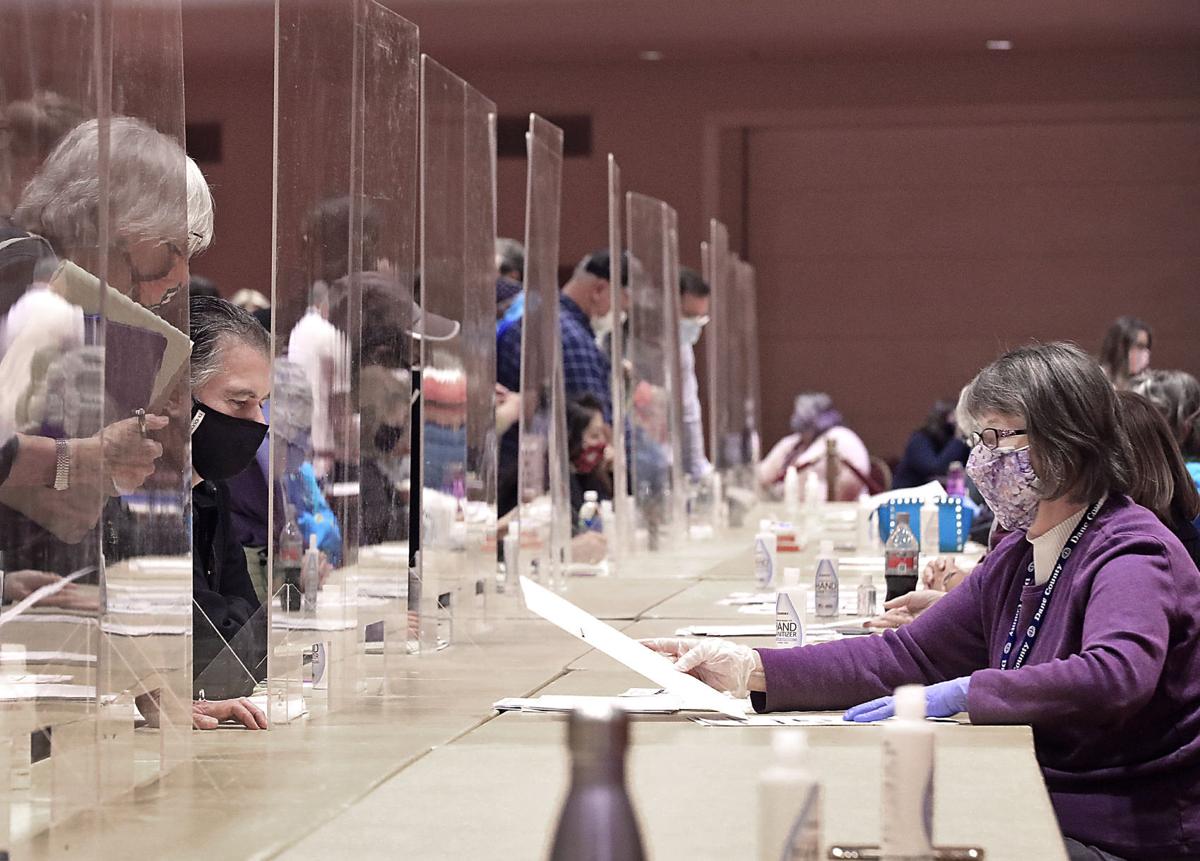 President Donald Trump's campaign followed through with its vow to challenge Wisconsin's recount results on Tuesday, requesting that the Wisconsin Supreme Court throw out about 221,000 ballots in Dane and Milwaukee counties.
The lawsuit asks the court to nullify Gov. Tony Evers' certification of the presidential election result and exclude vast swaths of ballots in Dane and Milwaukee counties accounting for more than a quarter of the votes cast, including in-person absentee ballots without an associated written application, incomplete and altered absentee ballots, indefinitely confined absentee ballots and ballots collected at Madison's Democracy in the Park event.
"The people of Wisconsin deserve election processes with uniform enforcement of the law, plain and simple," said Trump campaign lawyer Jim Troupis, who himself cast a supposedly invalid in-person absentee ballot in Dane County. "Wisconsin cannot allow the over three million legal ballots to be eroded by even a single illegal ballot."
The categories of ballots the Trump campaign says are "illegal," however, have all been deemed legal and valid by municipal, county and state authorities, and are categories of ballots that have been cast without issue in many previous elections. The Trump campaign is brushing that aside, however, and seeking to void those ballots after they've been cast.
All of the practices the campaign rejects have also been used in counties across the state, yet the campaign is focusing only on the two counties with Wisconsin's largest sources of Democratic votes.
In a response filed Tuesday night, lawyers for Evers called the Trump lawsuit "a shocking and outrageous assault on our democracy." They wrote that Trump is taking the case to the wrong court, and by focusing only on two counties, "he has made plain that his intent is not to fairly determine who Wisconsinites voted for to lead our country. He is simply trying to seize Wisconsin's electoral votes, even though he lost the statewide election."
And even if Trump were somehow correct on the law, Evers' attorneys wrote, "that would not justify or allow the sweeping relief he seeks. Voters acted in good faith, believing their votes would count and their will would be done." A court "should not throw out those votes in an after-the-fact attempt to overturn an election."
Also Tuesday night, the Democratic National Committee and Biden's Wisconsin electors filed a motion to intervene in opposition to Trump's lawsuit.
Trump's efforts to overturn President-elect Joe Biden's victory have been fruitless in other states. A lawsuit is the final resort in Wisconsin for Trump, who paid $3 million for recounts in Dane and Milwaukee counties that concluded on Monday and hardly budged the final vote tally.
Also Tuesday, former Trump attorney Sidney Powell filed a lawsuit challenging the results on behalf of William Feehan, a La Crosse man selected to be a Republican presidential elector. However, the lawsuit included as a plaintiff the name of GOP congressional candidate Derrick Van Orden, who said he was not involved; it referred to the "Wisconsin Board of State Canvassers," which does not exist; and it asked the court for 48 hours of security camera footage from the TCF Center, which is in Detroit.
Both liberal and conservative attorneys have said the lawsuits filed by Trump and his allies are unlikely to change the result of the election.
The Trump campaign wants the court to throw out at least 170,140 absentee ballots the campaign believes were improperly counted because they were issued without the elector having first submitted a written application. Those ballots were issued and cast during the two week in-person absentee voting period.
While the campaign contends the ballots didn't have written applications, the signed ballot envelopes for such ballots have been treated as the written application for years, including in 2016.
The campaign is also targeting 5,517 ballots that it said were improperly counted because the ballot envelope certifications were either incomplete or altered by clerks. In Wisconsin, absentee ballots must be returned in an envelope that is signed by the voter and a witness and that includes the home addresses of both.
The bipartisan state elections commission approved guidance years ago that has allowed clerks to fill in missing witness address information if they can find that information by talking to a voter or gathering it on their own.
The campaign is also targeting 28,395 absentee ballots from voters self-certifying as "indefinitely confined" even though the campaign alleges there was reliable information indicating they weren't.
State statute allows a voter to self-certify as indefinitely confined and, in place of having to provide a photo ID, a witness can sign the ballot envelope to verify the voter's status. The designation is for voters "confined because of age, physical illness or infirmity or are disabled for an indefinite period."
WEC guidance states that the indefinitely confined status is for individual voters to make based on their circumstances.
Another major part of the Trump lawsuit is a request to invalidate 17,271 ballots cast at Madison's "Democracy in the Park" events, which the campaign alleges were illegal. The events took place in hundreds of Madison city parks and allowed voters that had already requested and received their absentee ballots to turn them in to city clerk volunteers, who also acted as voter witnesses.
The city of Madison has maintained the event was conducted legally.
Besides the Trump campaign, Trump allies have also filed lawsuits challenging the election result.
One filed last Tuesday by the conservative Wisconsin Voters Alliance asked the Wisconsin Supreme Court to toss out the results of the presidential election and replace the will of the voters with electors appointed by the state's Republican-controlled Legislature.
Another lawsuit filed by a Chippewa County resident called on the Wisconsin Supreme Court to stop certification of the presidential election based on an argument that ballot boxes used to collect absentee ballots are illegal.
Presidential electors for Biden are expected to cast their vote for president on Dec. 14 at the state Capitol.
The Associated Press contributed to this report.