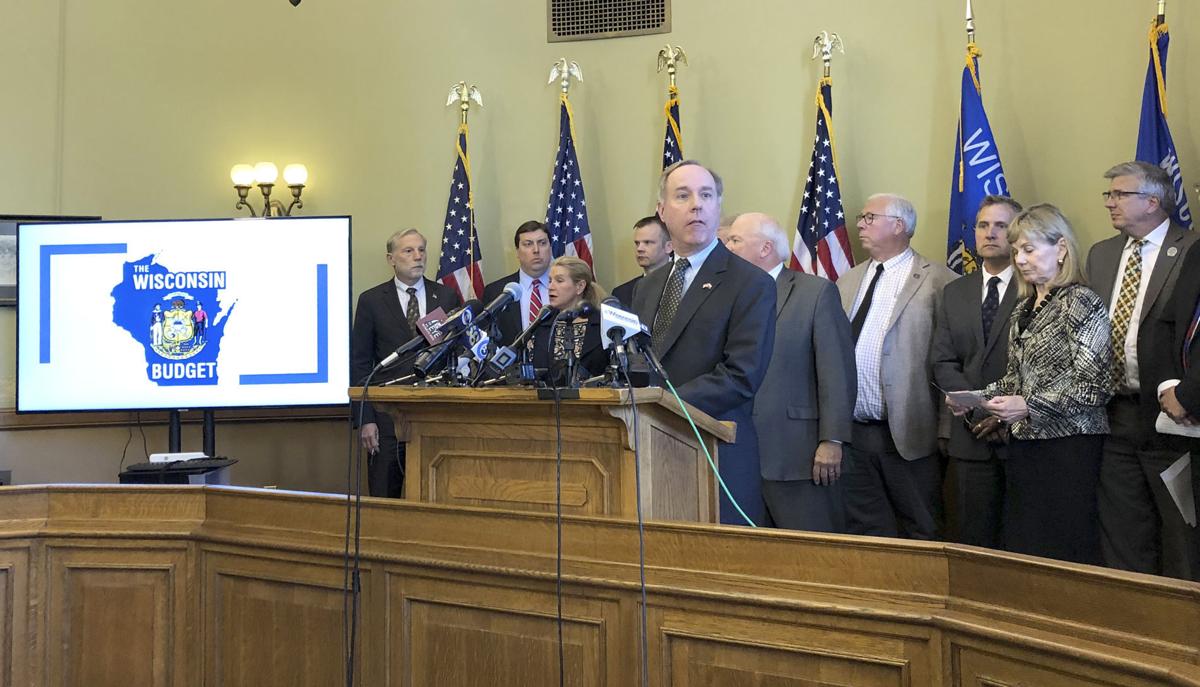 If legislative Republicans this month pass their state spending plan, Democratic Gov. Tony Evers will soon need to decide whether the GOP two-year budget makes enough progress in his areas of emphasis: health care, public education and transportation.
If it doesn't, Evers could be the first governor in state history to send lawmakers back to the drawing board.
But as the governor prepares to mull over a Republican plan that liberals argue doesn't go far enough, Democrats say Evers' influence on the whole process can't be underestimated.
"The fact the Republicans argued the budget on Evers' terms tells you his election has brought successes," Assembly Minority Leader Gordon Hintz, D-Oshkosh, said, adding that funding increases in the GOP budget for transportation and special education, among other investments, probably wouldn't have materialized under former Republican Gov. Scott Walker.
Hintz, however, said the GOP budget falls far short of what Evers proposed. If Republicans manage to hold out on expanding Medicaid, for example, the top Assembly Democrat said the 2019-21 budget will be regarded as a "missed opportunity."
Dueling plans



Republicans hope their budget, which they say makes significant progress on shared priorities with Evers, is enough for him to back down on the threat of a full budget veto.
It now heads to the full Legislature for approval, where Republicans could still make significant changes. After that, it heads to the governor's desk.
According to the Legislative Fiscal Bureau, the Republican budget spends $81.4 billion in total, $37.4 billion of that in taxpayer money. Evers' plan would spend more, a total of $83.8 billion, with $38.4 billion of that from state taxpayers.
Both the GOP's and Evers' transportation plans provide similar levels of revenue, though they differ in how they get there. Evers campaigned on providing a funding fix for the state's road system.
The Republican plan would increase title fees from $69.50 to $164.50. Republicans also plan to raise annual vehicle registration fees from $75 to $85.
Evers, on the other hand, wanted to increase the gas tax by 8 cents per gallon and index it to inflation while repealing the minimum markup on motor fuel. The administration has estimated its plan would lead to a monthly increase of $3 for the average driver.
Evers' proposal to take federal dollars to expand Medicaid is notably missing from the Republican budget plan, but GOP lawmakers on the Joint Finance Committee did approve a $200 million increase in state money for Medicaid without expanding eligibility for the program. The boost is directed toward funding for hospitals, nursing homes, personal care workers and direct caregivers.
Evers said his plan would have saved the state $324 million in 2019-21 and brought in $1.6 billion in additional federal money to increase spending on health care.
On education, one of the governor's marquee priorities, given his background as the former state superintendent, is to provide a significant funding increase for public schools. Evers had proposed an influx of $1.4 billion over two years, which includes a $606 million increase for special education.
The Republican plan increases school funding by $500 million and includes $97 million more for special education. The increase is far less than what Evers asked for, and is also lower than the $635 million Republicans gave schools during the last budget cycle under Walker.
The GOP budget also falls short of Evers' goals for the UW System. UW System campuses over the next two years would gain about $45 million under the GOP plan, about half of what Evers and System officials wanted.
You have free articles remaining.
The GOP plan offers an income tax cut, although it falls short of what the governor envisioned. His budget plan would have cut income taxes for the average recipient by about $217 annually through a new tax credit that would be limited to those making less than $150,000 a year. It would have been funded by raising taxes on large manufacturers and closing other corporate tax loopholes.
The GOP plan employs an income tax rate cut for the bottom two tax rates, which would lower taxes $75 this year and $136 in 2020 for the average filer. The cut would affect a wider swath of taxpayers than Evers' proposal, including those making more than $150,000.
Republicans also approved much of what the governor proposed for large construction projects. GOP lawmakers want to authorize $1.9 billion in borrowing, about half going to upgrades at UW System campuses. Still, it's smaller than Evers' $2.5 billion request.
The road ahead
Democrats say all veto options are still on the table, but that it's very early in the process to make any determination.
The GOP budget could look very different once it clears the Assembly and Senate, where conservative members in that chamber have already expressed skepticism over spending levels. When considering a full veto, Democrats say they also need to look at how the GOP budget could be improved under the governor's partial veto authority.
Republicans say their budget targets the same priorities that Evers' does, and are urging him to sign it to ensure certainty for Wisconsinites.
"Legislative Republicans are showing you can fund the state's top priorities without unsustainable, runaway government spending, without raising taxes and without raising welfare," said Assembly Speaker Robin Vos.
Hintz said a full veto needs to be considered, especially given the Republican budget shelved Evers' Medicaid expansion proposal. But he admits there are inherent risks in that strategy. Republicans, he said, might be willing to "watch the state burn" if Evers vetoes the entire budget in an attempt to seek more funding.
"Is it possible to even negotiate with people who have demonstrated no interest?" Hintz said.
If Evers doesn't attempt a full veto, he still has powerful partial veto authority to vastly change the budget. He is not able to increase spending on his own, however.
Vos, R-Rochester, has said he isn't prepared to accept Evers would veto the entire budget package. If he did, Vos said Republicans wouldn't come back until October, when they'd try a veto override. Republicans don't have the two-thirds majority in either house to circumvent the governor on their own.
If a budget package is vetoed in full, state spending would revert to levels set in the current budget, running the risk of alienating public employees and educators expecting raises and budgetary increases.
"If the Legislature doesn't give him anything more, you're going to have a lot of explaining to do to all the individuals who are expecting things out of the budget," said former Republican Gov. Tommy Thompson, who was once a prolific user of gubernatorial partial veto authority.
Other Republicans argue a full veto by Evers would be foolish.
Former Assembly Speaker Scott Jensen argued the Republican budget has presented Evers with several wins, and vetoing the entire package could risk losing them for good. And Bill McCoshen, who served as Thompson's chief of staff, said Republicans are unlikely to budge in negotiations.
The entire process is additionally complicated by increasing levels of partisanship. UW-Madison political science professor Barry Burden said heavy partisanship increases the chances of a full veto. But he said a partial veto is just as much an option. Under such a scenario, he said the governor and his staff would need to look very closely to determine whether they could piece together enough attractive elements.