Early Monday afternoon, Shyon Corner became the first person to step into a makeshift shower advocates placed at a fast expanding homeless encampment at Reindahl Park on Madison's Far East Side.
In the three weeks since the City Council paused on evicting the homeless from the 90.7-acre park, the encampment has grown from a handful to perhaps 50 people. Clusters of tents spread from the community garden to the concrete shelter near the parking lot. An RV is parked on the grass amid tents and two more RVs are in the lot.
"You just do what you have to do," said Anthony Richardson, who has been living in a car with his wife, Echo, and their dog Ruger for about eight months after losing their jobs and housing in the COVID-19 pandemic. They set up a blue and white tent at the park about a week and a half ago.
"The numbers keep increasing," said Ben Jackson, an outreach worker for nonprofit Porchlight Inc. who works with many homeless living outside. "It's gotten past its ideal size. There are so many people here now. The influx has caused tension to increase and theft is on the rise."
The growing encampment has increased tensions between the campers and their advocates and the city, which is struggling to produce a safe, healthy and humane solution.
Mayor Satya Rhodes-Conway said she remains focused on advancing long-term solutions to homelessness and is willing to work with the council to forge temporary options to support those who wish to remain outdoors "so long as those arrangements are consistent with relevant state and local laws."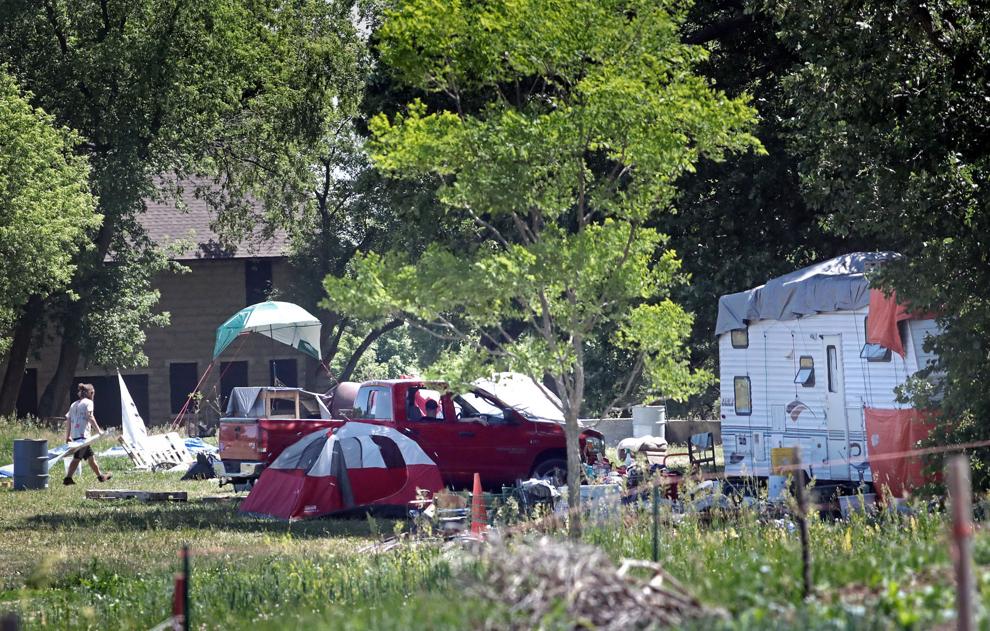 Ald. Gary Halverson, 17th District, who represents the site, voiced sympathy for the plight of the homeless, but said the encampment is violating state and local law, there are health and safety concerns, residents and park users have been harassed, and that the situation is "unacceptable."
On Tuesday, Halverson will introduce a resolution to the council to establish alternate emergency housing to be known as "Hope Village," and ask staff to find a place to locate up to 10 "tiny houses," as well as showering and restroom facilities, and to take other actions to make the shelter a reality.
"This is an untenable situation and it demands action," he said.
One basic need
As the COVID-19 pandemic took hold, the city designated the Starkweather Creek conservation area and Reindahl Park as places for temporary camping — known as "temporary permissible encampments," or TPEs — but homeless people flocked to McPike Park on the Near East Side because of its proximity to Downtown and resources.
At its peak, roughly 40 people were camping at McPike, but it was mostly abandoned at the time of a city order to vacate the site amid a deep cold snap at the end of February.
In early April, the city posted notices that a ban on camping would be enforced and all structures and personal property must be removed from Reindahl, where up to 20 people had been staying, by May 9. Most left, but several refused and city officials didn't force a removal of items.
Next, supporters of the Reindahl campers said the sole TPE at Starkweather Creek is essentially a swamp filled with ticks and mosquitoes and inaccessible to emergency vehicles. The site is dangerous because of drinking and drug use with several fights occurring and emergency-service calls for overdoses, Jackson said.
In the meantime, the number of homeless campers at Reindahl has grown to match, if not exceed, what was seen at McPike.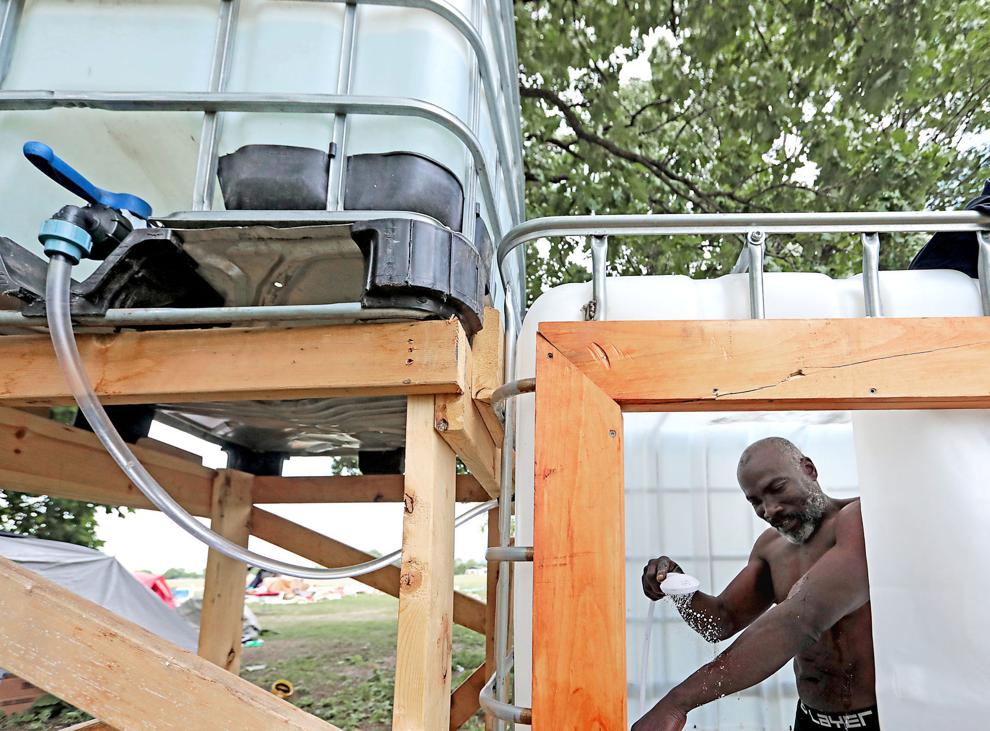 "There is a great attraction in having a place to sleep where you know you won't be ticketed of kicked out by an angry property owner," said Brenda Konkel, a longtime advocate for the city's homeless population.
Encampments, she said, always grow in the summer because family and friends feel less pressure to have people stay with them when it's warmer, people don't want to stay in shelter if they don't have to due to rules, crowding, theft and other issues, and more housing is turning over.
"That tiny piece of stability and ability to think about other things besides that one basic need — a safe place to be — is invaluable," she said.
A foreboding
The encampment, a mishmash of clusters of tents and solitary ones, campfire remnants, chairs, grills, tarps, and much clutter, with a free food tent and other amenities including a group stove and oven, can be peaceful and serene. But conflict can flash in a setting that hosts many suffering from substance abuse issues or mental health challenges, and the environment becomes more dangerous at night.
"It changes day by day," said James DeGray, who lives in the park and has tried to organize campers and clean-ups. He said he's not comfortable staying in the temporary men's homeless shelter because it gives him PTSD, and he can't calm down enough to sleep and doesn't want to go to the encampment at Starkweather Creek because he doesn't feel safe there.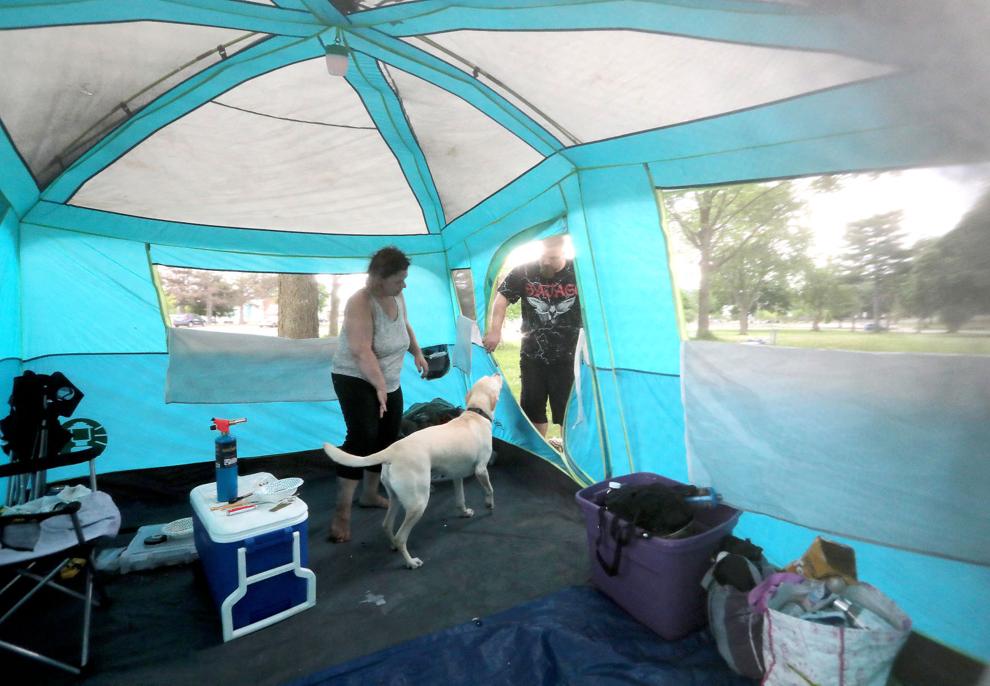 The fast influx of campers has dampened communication and there's "less of a family feeling," he said.
"It's completely different than a year ago," Jackson said. "Then, it was a group of our more hard-core homeless people. It's an influx of people I haven't seen in the past. It's different. During the day is one thing. When you get to nighttime, it's a whole another story."
On Monday, David Orlawski, who has been homeless for four years, was building a fence made out of pallets around his red and cream tent. "I just like being outside with my friends," he said. "I just want people to respect each other. It hasn't been like that. We're sick of getting our stuff stolen. I'm trying to make a little oasis. It doesn't look like much now, but it will."
Richardson said the homeless campers are "good people, for the most part," but he had to relocate his tent away from a large cluster due to theft and other issues. He said he and his wife hope to find work, but that "it's hard to go to an interview when you haven't showered for four days."
Series of problems
Halverson said he's received reports of women being harassed when biking or jogging or at the playground with their children, community garden members being harassed with some campers using their water resources, drug trafficking in the parking lot with the encampment exposed to it, some driving vehicles on the bike path and people parking vehicles, campers and RVs in the lot.
"Many of our gardeners, especially senior and female gardeners, have concerns about being out in the garden by themselves with a large group of people camping nearby," said Mark Wetter, Reindahl community garden coordinator. "We've already had one gardener and her son abruptly abandon their plot after an encounter in the garden with a man from the encampment. There was also a marked increase in thefts from people's plots."
"The current situation at Reindahl Park is not tenable from a health and safety standpoint," North Police District Capt. Brian Austin said. "There are undeniable issues related to sanitation and drug use, as evidenced by the tragic loss of life we have already seen. I would say the encampment is definitely interfering with other uses of the park."
Dane County prosecutors have asked a judge to allow filing of murder charges against two men charged with beating a man there on Sept. 12. There have been two drug overdose deaths there, officials said.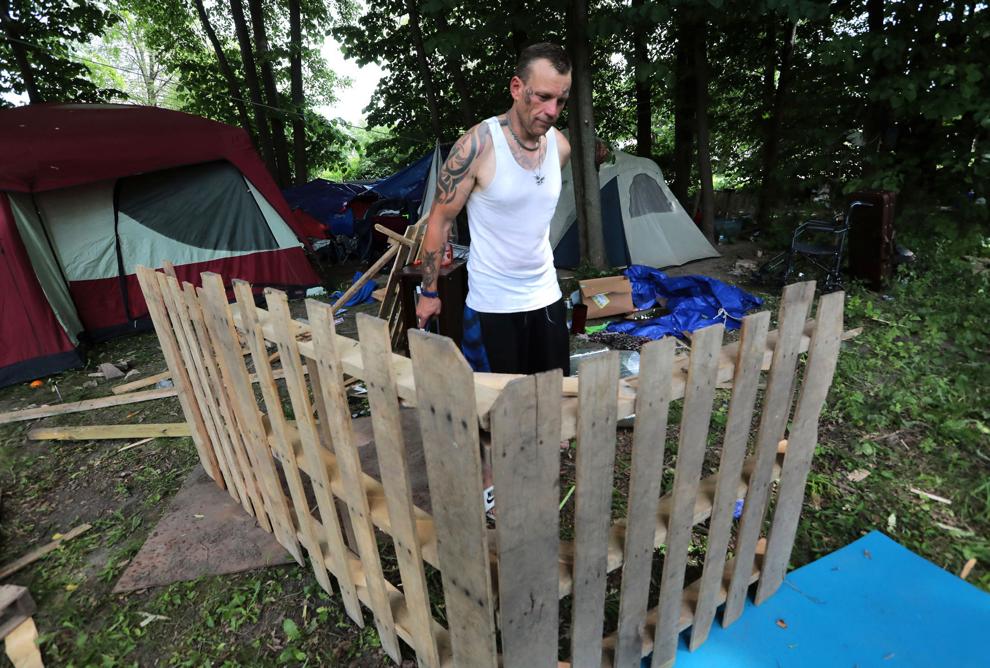 The city is maintaining a portable toilet, handwashing station and trash receptacle, but "the park is not designed to accommodate ongoing human habitation, said Jim O'Keefe, city community development director.
"It is no longer a city-sanctioned location," he said. "Its expanse, coupled with an inability to control its size, creates greater risk that the situation there will deteriorate."
No one solution
The city is scrambling for a solution on multiple fronts.
In early May, Ald. Juliana Bennett, 8th District, introduced a resolution to prevent people from being evicted from Reindahl after the city revoked its TPE status. In mid-May, the council approved a motion preventing the eviction and directing staff to find alternative encampment sites for those living in Reindahl and set new criteria for where camps can be established.
The resolution is under review by city committees, but since the council's vote, Public Health Madison and Dane County orders related to the pandemic have expired.
So now, the TPE Order is largely no longer in effect, no new TPE's may be approved, and the city's camping-related ordinances again may be enforced against people in the encampments, a June 4 memo from the city attorney's office says. Bennett's pending resolution can be pursued as ordinance amendments, it says.
Bennett and Alds. Grant Foster, 15th District, and Yannette Figueroa Cole, 10th District, are now working with members of the community and city staff on how to best accommodate those sleeping outdoors.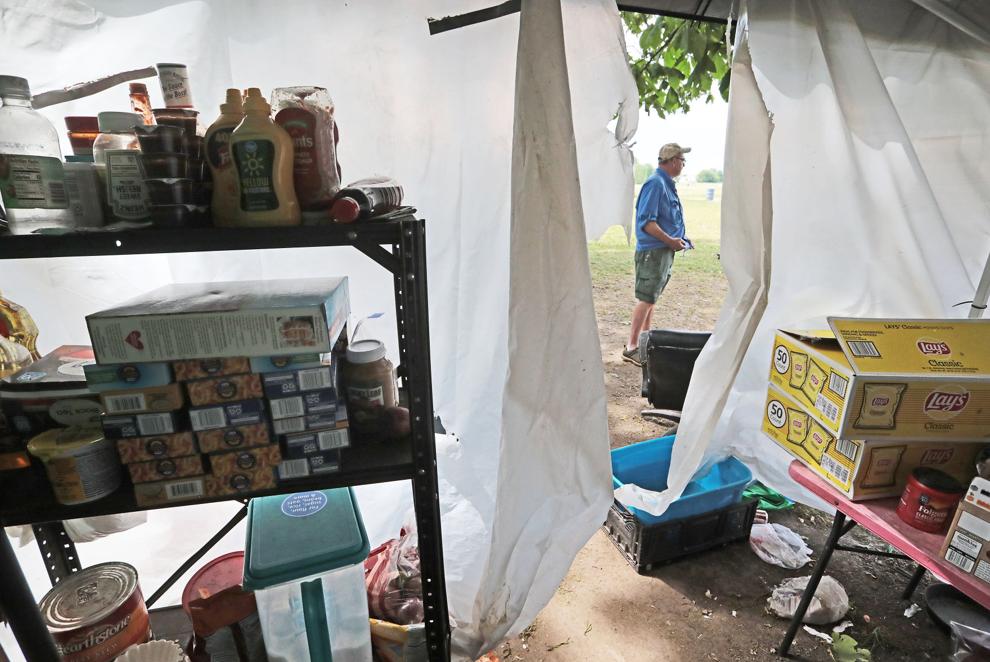 "This will include identifying what kind of support services/framework is needed, possible locations, and any associated ordinance changes and permits that might be needed as well," Foster said.
The city should consider providing a 24/7 water source, electricity, rest rooms showers, regular garbage and recycling services as the population grows, and generous community members must stop dropping off things that aren't needed by campers such as excess food and clothing that go to waste and create a mess, Konkel said.
Halverson's resolution asks staff to determine a site; the cost to acquire up to 10 tiny houses, showering and restroom facilities; what ordinances would be impacted and need updating; service providers; and annual operating costs for presentation to the council's executive committee by Aug. 31.
The city, Konkel said, can deliver funds or land for more tiny house villages and commit to and build a men's shelter. Churches and nonprofits can host car campers, campers and tiny houses. The community can create a "pay to stay" shelter with cheap nightly rents, storage and 24/7 access and build more low-cost housing, she said.
Rhodes-Conway said she's committed to increasing permanent affordable housing options; developing full service emergency shelters; supporting alternative housing, like tiny houses; and using federal funds to connect people to permanent housing.