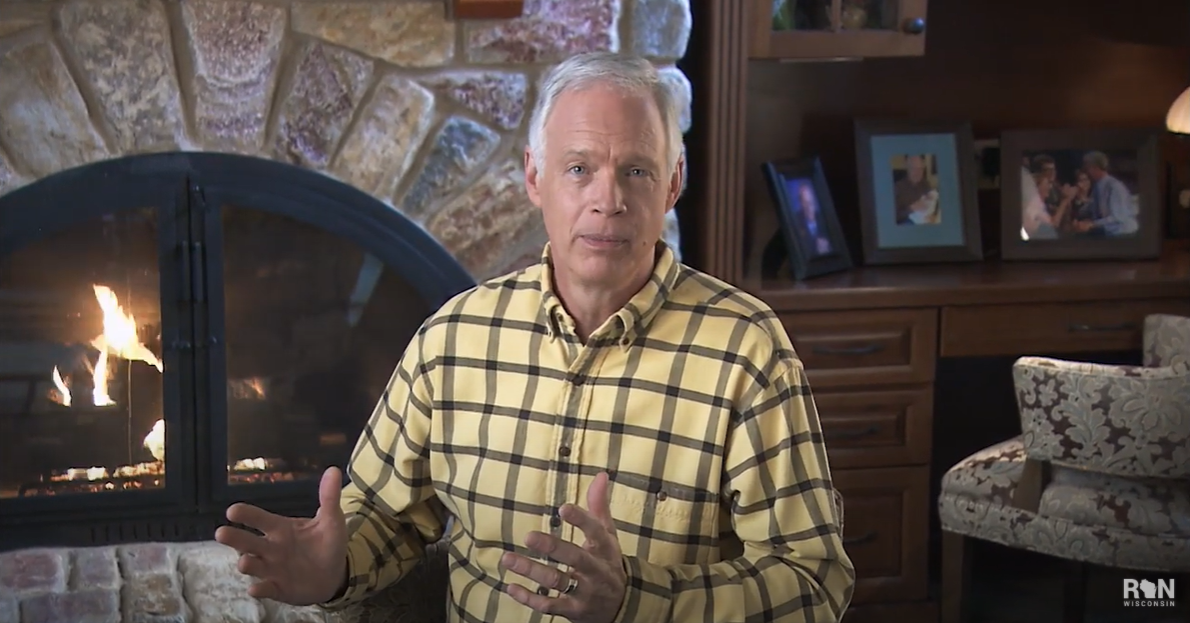 U.S. Sen. Ron Johnson announced Saturday he tested positive for COVID-19, a result that came after he attended a GOP fundraising event in Ozaukee County on Friday while awaiting the results — something federal guidelines advise against.
Johnson, R-Oshkosh, told reporters Saturday he didn't quarantine while awaiting results because he had no symptoms and the test was precautionary. He also said he still does not think the state should require the public to wear face masks, which Democratic Gov. Tony Evers has ordered but Republicans are seeking to overturn in court.
"I'm not in favor of mask mandates, I think that's up to individuals to be responsible," Johnson said. "The jury is out. I think they're helpful, but it's certainly not a panacea, it's not a cure-all."
Johnson's diagnosis came the same day President Donald Trump, first lady Melania Trump, several aides and two other Republican U.S. senators — Thom Tillis, of North Carolina, and Mike Lee, of Utah — announced they had tested positive for the illness, which has infected more than 7 million Americans and killed more than 200,000 nationwide.
Johnson said he received a "precautionary" COVID-19 test before the Republican Party of Ozaukee County's Oktoberfest dinner in Mequon on Friday. On the drive home, Johnson was informed that he had tested positive.
The Centers for Disease Control and Prevention recommends anyone who is tested should isolate at home while they await results and follow the advice of their health care provider.
Johnson said his physician believes he contracted the virus from his chief of staff, but added he doesn't know for certain.
"I still haven't developed any symptoms," Johnson said. "I feel fine. I feel completely normal."
Asked why he didn't self-isolate while he awaited the results of the test, Johnson said he didn't feel that was necessary as he "was going in there symptom-free."
"This was strictly a precautionary test, as I have done multiple times over the last few weeks — going to the White House, going to the Oval Office, being in Air Force One," Johnson said. "This is the exact same thing. I've never quarantined after a test, there's no reason to do so, because I'm not sick. I have no symptoms. I certainly did not anticipate testing positive so there was no reason to quarantine."
Johnson added he "didn't think anybody was in any particular danger" at the event.
Other speakers listed as speakers at the Mequon fundraising event included U.S. Rep. Glenn Grothman, R-Glenbeulah; state Sens. Duey Stroebel, R-Saukville, and Alberta Darling, R-River Hills; and state Reps. Dan Knodl, R-Germantown, and Jim Ott, R-Mequon.
An official with Darling's office said she did not attend the fundraiser.
John Soper, chief of staff for Stroebel, said the state senator was at the event, but had to leave before Johnson arrived and the two were never in the same room.
"Senator Stroebel wishes a speedy recovery to Senator Johnson and trusts those who came into close contact with him will take the proper precautions," Soper said in an email.
Johnson said he wore a mask and only removed it when he spoke at Friday's fundraiser. He said he took precautions to distance from others at the event, which he said he planned to be his last gathering until the U.S. Senate votes to confirm the nomination of Judge Amy Coney Barrett to the U.S. Supreme Court.
"I certainly let people know why I was being so distant," Johnson said. "It's not because I'm a prima donna, but I felt it was very important that stayed in a position where I can take that very important vote."
Senate Republicans have canceled legislative work until Oct. 19, but Senate Majority Leader Mitch McConnell said in a statement Saturday that confirmation hearings for Barrett are still on.
On Friday, state Rep. Scott Allen, R-Village of Waukesha, told the Waukesha Freeman he too had tested positive for COVID-19.
"It started with fatigue and a sore throat for me," he told the Freeman. "I got symptoms and I thought it was best to get a test."
Allen told the Freeman he had the test last weekend and received results Sunday.
On Saturday, U.S. Sen. Tammy Baldwin, D-Madison, tweeted that "given the outbreak in the Senate," she received a COVID-19 test on Friday and tested negative.
"I am sorry to hear that a number of my colleagues have tested positive for #COVID19, including Senator Johnson," Baldwin tweeted. "I wish them all a healthy recovery as they quarantine to protect others and get better."
U.S. Rep. Mike Gallagher, R-Green Bay, said in an email he wished Johnson a "speedy recovery."
Gallagher's spokesman, Jordan Dunn, said Gallagher encourages Wisconsinites to wear masks and follow CDC guidelines. Dunn said the congressman's office follows restrictions on the number of people allowed inside at any one time, and requires daily temperature checks and mask use when staff members are away from their desks.
"The congressman has not come into close contact with any individual who has had the virus and tested negative as recently as yesterday," Dunn said in an email.
The news that Johnson and Allen have tested positive comes one day after GOP leaders in the state Legislature filed a motion in support of a lawsuit seeking to strike down a statewide mask order that Evers extended last month.
Asked about the message such a lawsuit sends, Johnson said he does not support a statewide mask requirement.
Last week, the conservative legal group Wisconsin Institute for Law and Liberty asked the Polk County Circuit Court to halt enforcement of both the public health emergency declaration Evers made on July 30 and extended on Sept. 22, as well as the statewide mask mandate. A hearing on the case is scheduled for Monday.
Johnson said he has self-quarantined on two previous occasions after being exposed to someone who had tested positive. One of those instances occurred on Sept. 14, his office said in a statement.
He stayed in quarantine for 14 days without developing symptoms and tested negative twice during that time. He returned to Washington on Sept. 29 and shortly after was exposed to an individual who has since tested positive.
"Senator Johnson feels healthy and is not experiencing symptoms," his office said. "He will remain isolated until given the all-clear by his doctor."
The statement also said most staff in the senator's Washington office have been working remotely and will go all-online for the immediate future.
The Associated Press contributed to this report.
There's a pre-dawn start
The testing staff arrives to the Badgers' training facility around 4:45 a.m. to start setting up. Starting at 6 a.m., there are scheduled times for players, coaches and staff to provide a sample for the testing process.
They can return to team rooms while awaiting results.
"That portion of the day adds just a tiny bit of time to their schedule," Moll said.
Testing is capped at 170 people
Under Big Ten regulations, the football team each week identifies 170 people who will be tested and can be in close contact as part of practices and games. Those who have tested positive for COVID-19 in the previous 90 days and have recovered aren't subject to testing, Moll said.
The group of 170 is considered to be Tier 1. A Tier 2 group includes other essential game personnel that aren't present on practice days but are required for games. The latter includes officials, team physicians and video staff, and they're tested both on game day and the previous day.
After a short wait, it's a quick test
Once the sample is collected, a reagent is added and the sample is placed on a card. After sitting for 15 minutes, it's inserted into a diagnostic machine that provides a result in about a minute.
The Big Ten said it is using Quidel's Sofia 2 SARS Antigen FIA test system. This video from Quidel shows how it works:
Moll monitors the test results and reports them to the football staff to confirm who can be on the field for that day's practice or game.
There's more testing if the result is positive
A positive rapid test triggers Moll to put the subject into isolation as a polymerase chain reaction test, which is considered more accurate but takes longer, is conducted to confirm the result.
If the PCR test also is positive, the person is put into 10 days of isolation and monitoring before cardiac testing and follow-ups with physicians.
A minimum 21-day absence is required if a positive is confirmed
A confirmed positive test requires a minimum 21-day absence from competition under Big Ten protocols. That could take a football player out from one-third of the nine-game schedule if he tests positive during the season.
"The message that we've tried to encourage our student-athletes to understand is to take every precaution to try to avoid this right now," Moll said.
It's not to be confused with a vaccine
Even with the enhanced testing, Badgers officials are stressing to athletes that they need to avoid situations where they could be infected with the coronavirus or risk a long absence from competition.
"It's important to note, and I know our student-athletes have taken this to heart: In no way, shape or form is there a belief that testing is a vaccine," deputy athletic director Chris McIntosh told the Athletic Board.
"Testing gives us the ability to practice and to compete in an environment that greatly reduces or eliminates the transmission of the disease. But it does not prevent the disease. For that, we need our student-athletes and our staff and our coaches to make responsible decisions."
A 'drastically different' look is ahead for 2020 game days
McIntosh extended the precautionary message to the team's fan base.
"Games in and around Camp Randall this fall are going to look drastically different than what we've all become accustomed to," he said. "There won't be tailgates taking place around our stadium. There won't be Badgerville. The union won't look like Union South normally looks on a game day.
"We would encourage everybody to stay at home and watch the game on television and cheer us on. We'll come back in the fall of '21 in a big way and get back to normal. But we all need to participate in the role that we can to make sure that we have a chance to play. We feel good about our chance right now but there's not a guarantee."
Concerned about COVID-19?
Sign up now to get the most recent coronavirus headlines and other important local and national news sent to your email inbox daily.