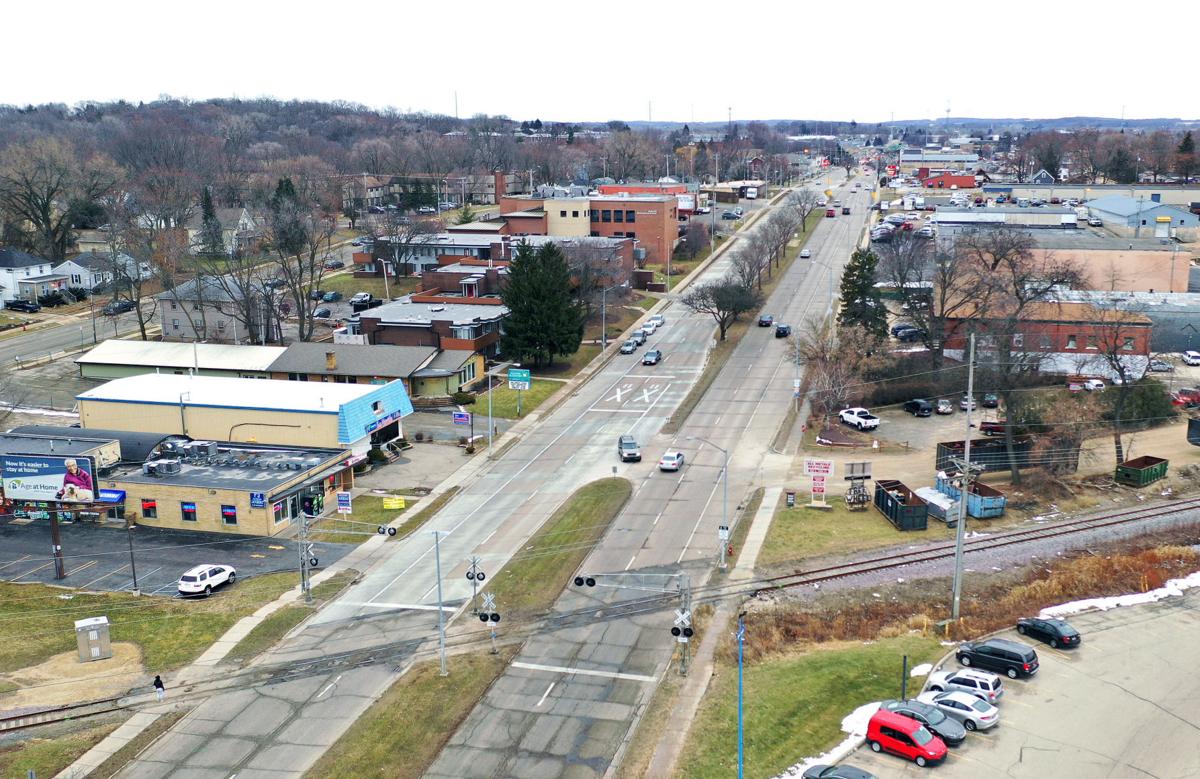 As development pressure mounts, Madison could spend more than $1 million to buy more land to help guide future growth and protect against gentrification and displacement on the fast-evolving South Side.
Mayor Satya Rhodes-Conway and City Council President Sheri Carter, 14th District, are proposing to use $1.2 million from a special city land purchase fund to buy lots from Lutz Properties at 814 and 826 North Ave., just off South Park Street. The funds include $980,000 for acquisition and $200,000 to demolish a structure on one of the lots, which roughly total 1.5 acres.
"Many South Madison residents have already been displaced from an area they've called home for years, and more are at risk for displacement," the mayor said. "This is a big problem that will only get worse without intervention. The purchase of these two properties will allow us to continue addressing displacement in South Madison while focusing on development that is for the community, by the community."
The property at 814 North, assessed for tax purposes at $345,000 for 2020, holds an 8,200-square-foot warehouse. The property at 826 North, assessed at $51,700, is vacant. The purchase price is based on city-ordered appraisals, which often come in higher than assessed values, according to city economic development director Matt Mikolajewski.
A resolution to make the purchases was introduced before the City Council Tuesday and will be referred to committees before council members decide on it.
The proposed purchase follows the city's acquisition in September of a 28,000-square-foot building on a 1.6-acre site at 1810 S. Park, also for $1.2 million, to be held for future redevelopment.
"The city wants to encourage investment in South Madison that avoids displacement of existing residents and businesses," Mikolajewski said. "One way that the city can do this is by purchasing property and assembling it for redevelopment in a manner that supports existing residents and business owners. These properties, coupled with 1810 S. Park St., are part of a larger triangle of parcels bordered by North Avenue, Park Street and the railroad tracks."
The South Park Street property, assessed at $930,000 for 2020, includes 11,393 square feet of office space and 16,655 square feet of warehouse space.
"Unlike many private developers, the city has the capacity to purchase and hold properties for a longer period of time, possibly assembling smaller properties into a single, more developable parcel," Mikolajewski said. "The city is also in a position to work collaboratively with the surrounding neighborhood on when, how and for what purpose the city ultimately desires to sell and develop the properties."
The city created the special "land banking fund" in the 2020 budget, setting aside an initial $1 million last year. The capital budget includes another $3 million for 2021, and the nonbinding, five-year Capital Improvement Plan envisions spending an additional $4.6 million in 2022 and $1 million annually through 2026.
The city used a similar land purchase program to buy properties on the Near East and East sides that led to major investment and redevelopment, but the program has been fallow for years, Mikolajewski said. The city used funds from a tax incremental financing district rather than the land purchase fund to pay for the property at 1810 S. Park, Mikolajewski said, adding, "This is a pattern that we intend to continue: If TIF funding is available, we may use TIF."
As the city makes initial purchases, Alds. Patrick Heck, 2nd District, and Lindsay Lemmer, 3rd District, on Tuesday proposed a policy to guide use of the fund.
The policy prioritizes land in areas undergoing revitalization or that are in the process of gentrifying, which threatens to displace low-income residents and businesses owned by low-income people. It calls for using the money consistent with city zoning and adopted plans and gives the council final approval to make purchases.
---
Dean Mosiman's memorable stories for 2020
In an unthinkable year dominated by COVID-19, I chose as my most memorable stories on struggles with homelessness, gun violence and handling of protests for racial equity, as well as pieces on big projects that will shape the city's future.
Early in the year, just before the COVID took hold, I teamed with photographers to look at the city's "barely humane" shelter system for homeless men in church basements. I've continued to cover how the pandemic forced changes in serving the homeless and the current search for a site for a new men's shelter. Meanwhile, many are addressing the needs, including Occupy Madison's opening of a "tiny hut" village on the East Side in December. 
In 2018, I did a four month project on gun violence in Madison, including a look at root causes and solutions. Tragically, the city experienced a record numbers of shots fired incidents and rise in shooting homicides this summer. The city and Dane County are now investing more in peer support to de-escalate tensions and a public health approach to violence.
The Black Lives Matter protests laid bare strains between many in the community and police. I tried to show how city officials struggle to protect protesters' First Amendment rights while keeping citizens and property safe amid continuing unrest Downtown. 
Amid it all, in an expression of confidence in the local economy, Urban Land Interests offered and the city approved a complex, $125 million redevelopment that involves historic preservation, demolition and new construction on Capitol Square. And it was a joy to detail how the $35 million Madison Youth Arts Center, which will be a diverse hub for children and families, is quietly taking shape on the Near East Side.