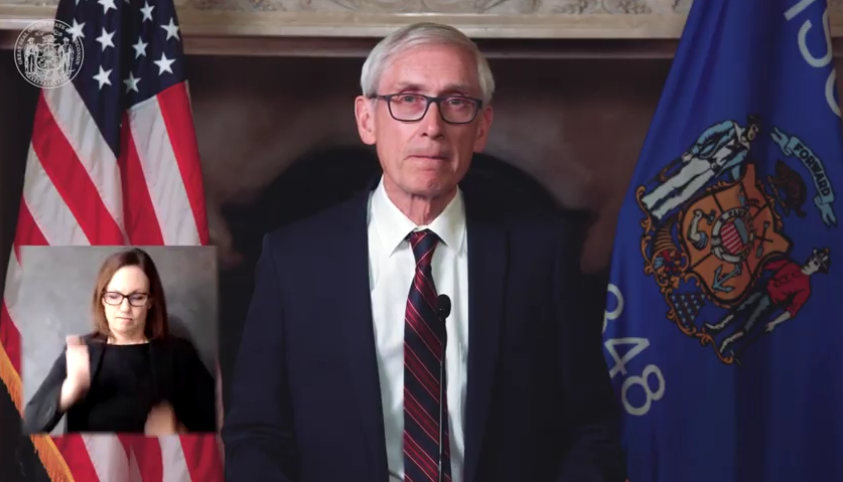 Gov. Tony Evers' 2021-23 biennial budget includes a mix of new proposals focused on COVID-19 recovery efforts, along with a renewed push for liberal wish-list items that some Republicans have already deemed nonstarters.
Evers' $91 billion budget — unveiled Tuesday due to the pandemic in a prerecorded online speech rather than in the traditional Capitol address to the Legislature — includes $1.6 billion in new tax revenue along with about $600 million in tax cuts, a major boost in University of Wisconsin funding and extension of the tuition freeze, and 2% annual raises for state employees. Also, unlike his first budget, it repeals many of the public employee collective bargaining restrictions in the 2011 Act 10 law.
Evers' proposal would raise total spending nearly 10% over current levels, similar to the increase Evers proposed in his first budget. A finalized 2021-23 budget is due by July 1.
"I believe we can pass a budget with bipartisan support," Evers said in his prerecorded speech. "I believe we can pass a budget that will make sure our state can bounce back and (be) better than it was before this pandemic hit. I believe we can pass a budget that will finally realize the future we've dreamed. I know that the Legislature and I can get this done."
The budget is now in the hands of Republicans in the state Legislature, who stripped many of the Democratic governor's proposals out of his last state budget. Democratic lawmakers almost unanimously rejected the GOP-authored 2019-21 budget, but Evers ultimately signed it on time with more than 70 line-item vetoes.
State Republicans watched Evers' budget announcement from the Assembly chamber and largely blasted the governor's proposal.
"This to me looks like it's nothing more than a liberal Democrat from Madison's wish list to his donors and to his potential voters as he seeks re-election," said Assembly Speaker Robin Vos, R-Rochester.
Evers has not said if he plans to run for a second term.
Vos said a decision has not been made on how the Legislature will proceed, but he suspects state Republicans will draft their own budget, as was done two years ago.
"Unfortunately, I assume we will probably have to start from scratch," Vos said, adding that he did agree with Evers' proposal to expand broadband access in the state. Evers is calling for $200 million, or five times the combined spending of the last four budgets on the measure.
Evers called the budget his "Badger Bounceback" agenda to rebuild from the COVID-19 pandemic, which has shuttered businesses across the state and resulted in skyrocketing unemployment.
The proposal would spend $200 million on aid for small businesses through the Wisconsin Economic Development Corp. — a huge increase in funds for the state's public-private jobs agency created under former Gov. Scott Walker and which Evers had campaigned on eliminating. Evers also proposed $100 million in one-time funding to a venture capital program to support entrepreneurs and startups.
Evers' budget also comes with a renewed push for measures he proposed two years ago that Republicans largely ignored, including: raising the state's minimum wage from $7.25 per hour to $10.15 by 2024, with later inflation-based adjustments; accepting federal Medicaid expansion dollars; scaling back a manufacturing tax credit; and repealing the state's "right-to-work" law.
"Tonight I sort of feel like Bill Murray in 'Groundhog Day,'" Senate Majority Leader Devin LeMahieu, R-Oostburg, said. "I don't think the governor has learned his lesson at all."
In his speech, Evers called on the Legislature for bipartisan support.
"Each time a bill fails to pass, each time a compromise ends up in flames, each time legislators lose sight of the people who sent you here, the disappointment, the resentment, and the disparities grow," he said. "We must be unafraid to agree, unwilling to wait, and unabashed about the work we have before us."
Evers also included measures to require background checks for gun purchases and create an "extreme risk" protection that would allow courts to prohibit individuals from possessing firearms if they are deemed a threat to themselves or others. The gun control provisions are similar to what the governor sought more than a year ago but were ultimately ignored by the GOP-led Legislature.
Tax policies
Evers' budget proposal would increase taxes on capital gains for individuals who earn $400,000 or more in a year and $533,000 or more a year for married joint filers.
The budget also would create state tax-preferred savings accounts that first-time homebuyers could subtract from their adjusted gross income — up to $5,000 in contributions for single filers and $10,000 for married joint filers. The proposal is estimated to reduce tax revenue by $4.1 million in fiscal year 2022-23.
Another measure would cut taxes for low-income seniors and individuals with disabilities by increasing the homestead credit's maximum income threshold to $30,000 in tax year 2021 and indexing it to inflation beginning in 2023.
Assembly Minority Leader Gordon Hintz, D-Oshkosh, said Evers' budget "prioritizes the needs of hard-working Wisconsinites and continues to help Wisconsin's families and small businesses bounce back from the COVID-19 pandemic."
"This budget shows what is possible if we truly prioritize Wisconsin people and Wisconsin communities," Hintz said in a statement.
Wisconsin ended the 2020 fiscal year with a positive balance in the general fund — using a standard method of accounting called generally accepted accounting principles, or GAAP — for the first time in at least 30 years. Evers' latest budget proposal would erase that, causing the general fund balance to plunge from more than $921 million in the black at the start of the biennium to more than $938 million in the red by June 30, 2023.
Wisconsin's budget must be balanced by law, but the state uses a different method to keep track of funds that doesn't account for future spending commitments. Past governors have used budgeting gimmicks to push spending into future budgets, creating the GAAP budget deficit.
Transportation
One tax measure not included in Evers' budget is an increase in the fuel tax — a main source of revenue for road, bridge and transit projects.
Evers proposed in his last budget a nearly 10-cent fuel tax increase over two years, but Republicans in the Legislature scrapped the idea, choosing instead to increase vehicle registration fees.
Last week, the nonpartisan Wisconsin Policy Forum reported the state's fuel tax and vehicle registration fees, which make up the bulk of transportation fund revenue, fell short of projections by more than $116 million combined in fiscal 2020, which ended June 30.
Despite no proposed transportation revenue increases, Evers proposes spending more than $565 million in federal and state dollars over the biennium on major highway projects, including $40 million in bonding to begin the I-94 East/West expansion project in Milwaukee County.
All told, the governor's budget would increase state highway rehabilitation funding by $66.6 million, provide $75 million for local multimodal transportation projects and increase state aid for county and municipal projects by 2% in both 2022 and 2023.
Unemployment
The governor has included in his budget $79 million in spending to immediately upgrade the state's antiquated unemployment system, after the Legislature refused to convene in special session earlier this year to begin funding the updates.
Evers' administration has faced mounting criticism from Republicans over the Department of Workforce Development's backlog of claims, which was caused by skyrocketing unemployment as a result of the COVID-19 pandemic.
Other proposals in the governor's budget would increase the maximum weekly unemployment benefit rate from the current $370 to $409 in 2022, with incremental increases as a percentage of the average weekly wage in subsequent years. Evers also looks to eliminate the state's one-week waiting period for unemployment benefits to begin, and repeal the maximum weekly earnings threshold, and work search and drug testing requirements for benefits.
---
Fave 5: State government reporter Mitchell Schmidt shares his top stories of 2020
Choosing my five favorite stories of 2020 seems almost paradoxical.
This year has felt like one exhausting slog of pandemic stories, state Legislature updates and, oh yeah, a presidential election thrown in for good measure. Thanks to a split government, there's been no shortage of politically-charged stories here in Wisconsin and the partisan divide has, maybe unsurprisingly, felt as wide as ever throughout the COVID-19 pandemic.
I don't know if "favorite" is the best way to describe them, but here are a few stories from 2020 that stood out to me:
Back in March, Gov. Tony Evers issued the state's first public health emergency in response to the then-emerging pandemic. At the time, Wisconsin had reported eight total cases of COVID-19.
As the pandemic progressed, positive cases and deaths climbed and state lawmakers battled over the appropriate response. In May, the Wisconsin Supreme Court struck down Evers' stay-at-home order, a decision that still resonates today with the state's coronavirus-related measures.
One story I was particularly excited about before I officially started working for the State Journal was the 2020 Democratic National Convention in Milwaukee. However, like most things this year, the pandemic drastically altered that plan.
Lastly, in November I worked on a story about how GOP-drawn legislative maps once again disproportionately benefited Republicans in state elections. Wisconsin is headed toward another legal battle next year when the next batch of 10-year maps are drawn.
"Tonight I sort of feel like Bill Murray in 'Groundhog Day.' I don't think the governor has learned his lesson at all."

Senate Majority Leader Devin LeMahieu, R-Oostburg