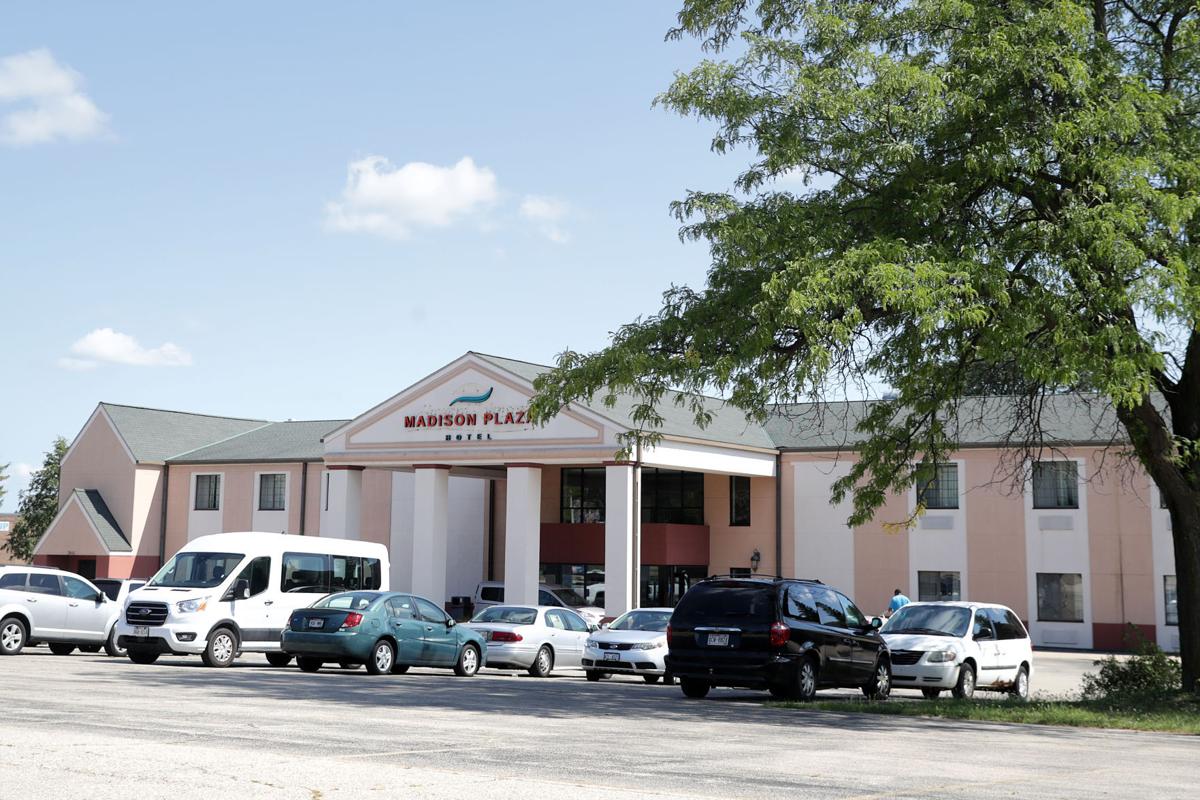 Plans to convert a hotel to low-income housing have been derailed, at least for now, by the building's current use as a site to temporarily shelter homeless people.
That arrangement will continue, with the city paying to house even more people there this winter, even as the owners of the financially struggling facility owe $1.35 million in back taxes.
Since September, Dane County has been renting 100 rooms at the Madison Plaza Hotel, 3841 E. Washington Ave., for homeless adults considered at high risk for severe illness if they contract COVID-19. As part of the arrangement, the county has worked with Focus Counseling of Madison to provide a variety of services and 24/7 staffing on site.
Now, Mayor Satya Rhodes-Conway and Ald. Yannette Figueroa Cole have proposed that the city rent the 35 remaining usable rooms at the two-story hotel, also contracting with Focus Counseling to provide support services and arrange for meals and security. 
The 35 hotel rooms would combine with a new encampment featuring 30 tiny shelters the city is building on the Southeast Side to shelter the approximately 70 people now staying at an unsafe, unsanctioned encampment at Reindahl Park near East Towne. The City Council has approved funding and is expected to consider the hotel plan on Tuesday.
The city plans to pay $87,000 a month for the rooms even though the hotel owner, Chilewood LLC, owes $1.35 million in back taxes and $358,562 in unpaid room taxes.
"We are aware of the owner's tax obligations," city community development director Jim O'Keefe said. "In the short term, we believe the goal of providing safe accommodations for the population we seek to serve there takes precedence.
"This is the city's first foray into hotel sheltering, something Dane County has been doing since the spring of 2020. In taking advantage of the 35 remaining usable rooms at the property, we're able to take advantage of the infrastructure and experience that is already in place rather than having to start over."
O'Keefe said he was confident all back taxes will eventually be recovered. A Chilewood representative could not be reached.
The temporary use of the hotel to shelter the homeless, however, is thwarting a longer-term vision to use the hotel as rental housing for those with lower incomes.
In mid-October, the city awarded $1.85 million from its Affordable Housing Fund to Gorman and Co. and Lutheran Social Services for a $23.4 million proposal to convert the hotel into housing with all 105 of the units to be created for those with lower incomes. The partners were expected to apply for critical federal tax credits administered by the Wisconsin Housing and Economic Development Authority next month.
Any liens on the property would have been resolved in the final sales price.
But Gorman entered an agreement to purchase the property from Chilewood without knowing the hotel would be used as temporary shelter for the homeless after closing and under its ownership, said Ted Matkom, Gorman's Wisconsin market president.
Gorman, uncomfortable making an acquisition under such circumstances — especially because its backup plan if it didn't receive WHEDA tax credits was to upgrade and use the property as a commercial hotel — has now declined the city's $1.85 million award and no longer has an agreement to purchase the property, Matkom said. 
It's not clear how long the property will be used to shelter the homeless, especially if other options don't surface, and Gorman didn't want to be in a position as owner of forcing people onto the street as it met city and state contractual obligations to convert the property to housing, Matkom said.
"It just got too complicated for us," he said.
Depending on the circumstances, Gorman could revisit a project at the site in the future, Matkom said.
"Of course, we're disappointed that Gorman is withdrawing from a project we think has good potential," O'Keefe said. "But whether it's here, or someplace else, whether it's Gorman or another developer, we remain interested in exploring the use of hotel properties to help meet housing needs."
Addressing a need
The city's rental of hotel rooms for temporary shelter and contract for services could run through June and would cost approximately $215,000 per month, which would be paid for with federal American Rescue Plan Act money, the resolution introduced by Rhodes-Conway and Figueroa Cole says.
The funds will flow through Focus Counseling, which will make arrangements and pay Chilewood $87,000 monthly for lodging, and also cover $68,000 for 24/7 on-site staffing; $30,000 for meals and other direct assistance; and $14,000 for administration and startup costs, O'Keefe said.
The payments to Chilewood, $75 a night for each of the 35 available rooms, cover lodging, maintenance, room cleaning and laundry services for bedding and linens, he said.
The county is paying $109 per room per night, with weekly costs of $76,300 for 100 rooms, said Casey Becker, division administrator in the county's Housing Access and Affordability Division.
"At the time the lease was established, the county's main concern was being able to continue non-congregate shelter for vulnerable folks experiencing homelessness with the emergence of the delta variant in the late summer," she said. "Popular summer and fall events were returning to Dane County at the same time we were working to extend non-congregate shelter and there was a severe shortage of available hotel options to host the program."
The county is hoping to use the hotel through the winter of 2022, and County Executive Joe Parisi's budget provides shelter there through next June.
Back taxes owed
The hotel, formerly a Howard Johnson's, was built in 1965 and remodeled in 1998. It is assessed at $5.4 million for 2021, down from $7.25 million the previous year. The hotel experienced a $488,301 loss in 2020 and projects a loss for the current year, city records show.
Dane County began a tax deed process, similar to a foreclosure, in September 2020 to recover unpaid 2017 property taxes, county treasurer Adam Gallagher said. Under state law, the tax deed process can begin when a property is three years delinquent. Chilewood made a $66,756 payment in March 2021, but the amount was not sufficient to cover taxes still owed, he said. 
The county initiated another tax deed process in October, and the County Board could vote to take over ownership of property as soon as February, Gallagher said. Chilewood still owes a total $1.35 million in back taxes for the three parcels that comprise the site, county records show.
Chilewood's current tax bill, which is part of the $1.35 million owed, includes $162,886 in property taxes and $67,840 in outstanding assessments for municipal services such as water, sewer, stormwater and $240 for an elevator inspection.
The city has also filed a complaint in Madison Municipal Court over $358,562 in unpaid room taxes as of Nov. 1. It is set for an initial appearance on Nov. 24.
"There are legal processes in place to ensure the collection of taxes," O'Keefe said. "Those will work themselves out."
The hotel, formerly a Howard Johnson's, was built in 1965 and remodeled in 1998. It is assessed at $5.4 million for 2021, down from $7.25 million the previous year. The hotel experienced a $488,301 loss in 2020 and projects a loss for the current year, city records show.