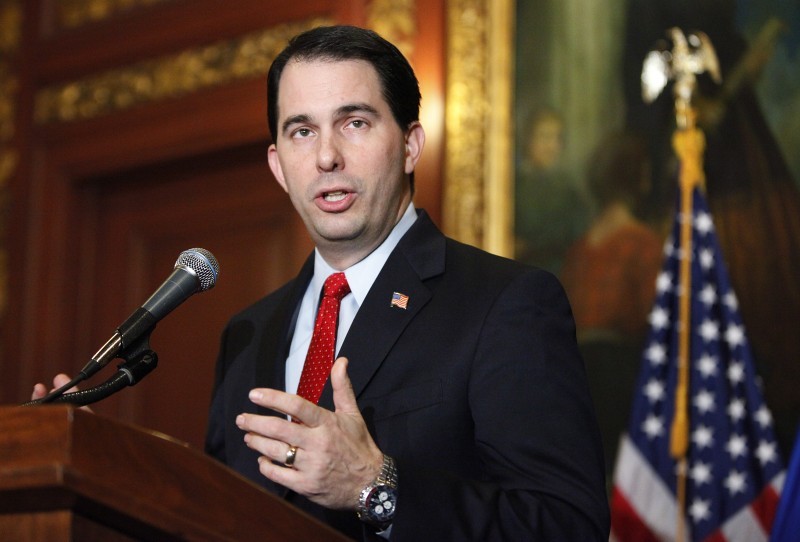 An economic forecast by Gov. Scott Walker's own administration predicts that Wisconsin will fall far short of adding the 250,000 new private-sector jobs by 2015 that the governor promised as a key part of his successful election campaign.
The Department of Revenue report released Friday predicts that by 2014, the state will have added only 136,000 jobs in the private sector compared with 2010. The job growth estimate was down 43,000 from the department's previous report released in June.
Walker promised while he was campaigning that the state would add 250,000 jobs during his four years in office. But like the national economy, growth has been sluggish in Wisconsin this year and job growth is not track to meet Walker's pledge.
Through September, the state had added just 29,300 jobs since Walker took over in January. At that pace, there would be roughly 156,000 new jobs in the state by 2015.
Walker's spokesman, Cullen Werwie, said the report reinforces the need to enact policies that improve the state's overall economic climate.
"We also need to break through the wet blanket of the national economy," Werwie said. "Our plan is to work together to help the private sector create jobs and remain laser focused on continually improving Wisconsin's business climate."
Walker called a special "Back to Work Wisconsin" legislative session last month, in which he urged lawmakers to pass more than two dozen bills he said would improve the economy and get people back to work. It's the second special jobs session he's called this year.
But Democrats have lambasted Walker and Republican legislative leaders for focusing their efforts this week on bills with little or no economic connection, including measures that would restrict insurance coverage for abortions, tie teacher discipline to student standardized test performance, and cap attorney fees.
Republican Senate Majority Leader Scott Fitzgerald said there were positive signs in the report, but Wisconsin can't untie itself from the national economy.
He said Republicans were focused on passing a bill to help a new iron ore mine locate in northern Wisconsin, make more venture capital available for startup businesses, and cut down on regulations and frivolous lawsuits.
"This is exactly why both parties need to focus on jobs, not politics," Fitzgerald said.
Walker's opponents, including the Democratic Party and major unions, plan to start circulating petitions next month to force a recall election in 2012. Their effort is largely fueled by anger over Walker's proposal passed by the Legislature earlier this year eliminating nearly all collective bargaining rights for most public workers.
The Revenue Department report says Wisconsin employment will not return to the peak of 2.9 million jobs seen in 2008 until early 2015. Even if that pans out, that's only about 100,000 more jobs than when Walker took office.
The report predicts the state's economy will see moderate growth in the fall with employment expected to increase 1.1 percent by the end of the year after declining for three consecutive years.
Employment growth is expected to be just 1 percent in 2012.
The report shows that the manufacturing sector, which lost the most jobs during the recession, has not recovered almost a third of them. However, the report predicts that by the end of 2014 there will still be 27,500 fewer manufacturing jobs in the state than there were eight year earlier.
The state's unemployment rate is also not predicted to improve much. It was 7.8 percent in September and the report said it would remain at that level in 2012 before dropping to 7.5 percent in 2013 and 6.8 percent in 2014.