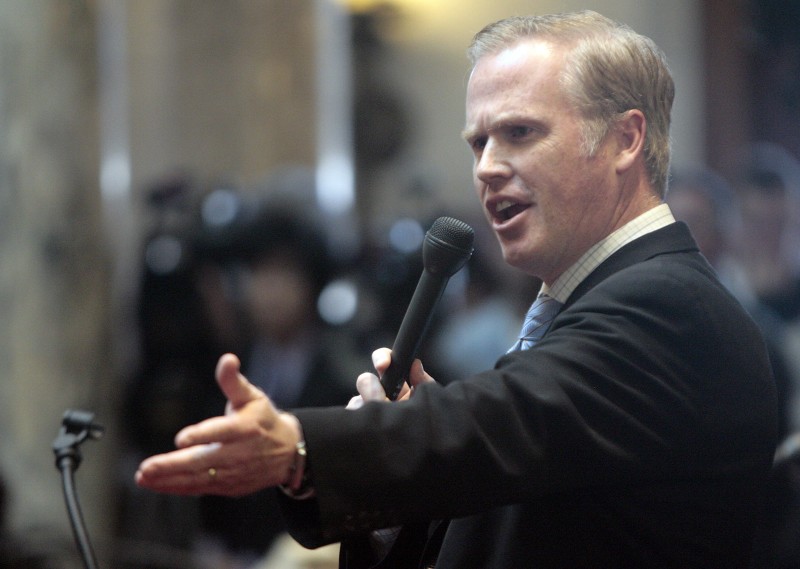 The Republican speaker of the Wisconsin state Assembly, one of the key backers of Gov. Scott Walker's proposal curbing bargaining rights for public unions, announced Tuesday that he is running for the U.S. Senate.
Jeff Fitzgerald said in an interview with The Associated Press that he believes his role in passing that law is his largest asset heading into the race. The proposal drew protests as large as 100,000 people and made Wisconsin the center of a national fight over union rights.
"It's the No. 1 thing I've got going for me. It's fresh in people's minds," Fitzgerald said. "We did it right in Wisconsin. ... There are conservatives who think Wisconsin is ground zero for the movement."
The Wisconsin Senate race, which is open due to the retirement of Democrat Herb Kohl, could help swing the balance of power in the Senate, where Republicans need to pick up four seats to take control.
Democrats have held Kohl's Senate seat since 1957. So far there is only one Democratic candidate, U.S. Rep. Tammy Baldwin from Madison.
Fitzgerald's entry into the race further muddies the Republican field. Former U.S. Health and Human Services Secretary Tommy Thompson, who served 14 years as Wisconsin's governor primarily in the 1990s, is running along with former U.S. Rep. Mark Neumann. Other lesser-known Republicans, state Sen. Frank Lasee and Madison investor Eric Hovde, are considering runs.
Fitzgerald, who was first elected to the Assembly in 2000 and became speaker this year, was at the forefront of the fight over Walker's union bill, which played out during a dramatic 61-hour filibuster in February. Republicans voted to pass the bill in the dark of night, and Democratic lawmakers and protesters shouted "Shame!" at them as they left the floor.
The law, which does away with nearly all collective bargaining rights for most public workers, has since taken effect and been upheld by the state Supreme Court. Federal lawsuits are pending.
Fitzgerald said his work on that measure shows he can deliver on promises.
"I just think I'm very electable because what we set out to do, we accomplished," Fitzgerald said.
Wisconsin Democratic Party Chairman Mike Tate portrayed Fitzgerald has a "willing crony" of Walker. Tate announced Monday that an effort to recall Walker from office would begin in November.
Both Fitzgerald and Neumann are casting themselves as more conservative alternatives to Thompson, who at age 69 hasn't been on the ballot in Wisconsin since 1998. Fitzgerald said he believes his record of recent achievements stands up well against Thompson's, who left elected office a decade ago.
"Tommy Thompson will have to go back and run on whatever record he had back then, but we live in a society of 'what have you done for me lately?'" Fitzgerald said.
Thompson issued a statement calling himself "the best candidate to deliver this much needed victory for Republicans and chart a new course for prosperity for the people of Wisconsin and America."
The national conservative group Club for Growth and conservative South Carolina Sen. Jim DeMint have endorsed Neumann, who served two terms in Congress in the 1990s. Neumann said in a statement that he respects Fitzgerald but his campaign was focused on solving the country's debt crisis, balancing the budget and repealing Obama's health care reforms.
Fitzgerald, who turns 45 on Wednesday, was born in Chicago but his family moved to Wisconsin in 1974 when his father Steve Fitzgerald got a job as chief of police in the village of Hustisford in Dodge County. Steve Fitzgerald was appointed by Walker as the head of the Wisconsin state patrol in February.
Jeff Fitzgerald's brother, Scott Fitzgerald, is majority leader of the Wisconsin Senate.