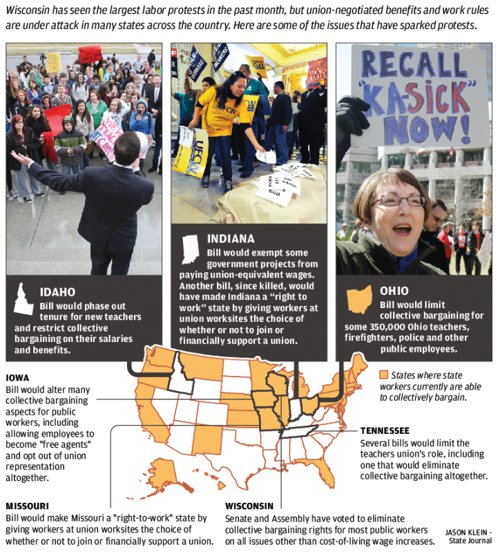 As Wisconsin residents contemplate what the landscape might look like now that state workers apparently have lost most of their collective bargaining rights, another Midwestern state can offer six years of experiences.
Indiana state workers lost their collective bargaining rights in 2005. While the value to taxpayers remains debated, some outcomes are clear.
The move ushered in a period of extensive reorganization, consolidation and privatization of government services — efforts Indiana Republican Gov. Mitch Daniels has said could not have happened so quickly under union contracts.
Meanwhile, union membership plummeted. Prior to 2005, 16,408 Indiana state workers paid union dues out of about 25,000 who were eligible, or 66 percent, according to state and union figures. Today, just 1,409 out of 20,000 eligible workers, or 7 percent, pay dues.
Also, raises are now merit-based, and overall total state employment is down about 6,000 workers to 27,400, mostly through attrition.
In Wisconsin, collective bargaining rights were law and required legislative action to be changed. In Indiana, those rights were created by an executive order in 1989 by then-Gov. Evan Bayh, a Democrat.
That's why Daniels, on his first day in office, could simply rescind them with his own executive order.
In Indiana, only state workers were affected, not teachers or local municipal workers. Wisconsin Republican Gov. Scott Walker's plan, approved by the state Senate and Assembly, eliminates collective bargaining for most of the 175,000 state and local public sector employees, including teachers, on all issues but cost-of-living wage increases.
In Indiana, taxpayers have saved "hundreds of millions of dollars" because Daniels centralized administrative functions, outsourced operations such as food services in prisons, closed facilities and reorganized work functions, said Jane Jankowski, a Daniels spokeswoman.
"These actions were aided by the fact that there was no collective bargaining to slow the process," she said.
On Greta Van Susteren's Fox News show two weeks ago, Daniels, who has been discussed as a possible 2012 presidential candidate, called the elimination of collective bargaining "a profoundly positive event," saying he was freed from arrangements that "basically said you couldn't move a Xerox machine from one room to the other without, you know, the union's permission."
That's a "bald-faced lie," said David Warrick, executive director of the American Federation of State, County and Municipal Employees (AFSCME) in Indiana and Kentucky. He contends there were no requirements in union contracts that would have prohibited Daniels from undertaking any of his initiatives, other than providing unions with a 30-day notice of any government restructuring.
His union represented about 9,000 Indiana state workers before 2005, of which about 15 percent continue to pay union dues, even though the union can offer them only state lobbying and limited representation in the state's complaint procedure, he said.
Union supporters dismiss cost-savings claims as ginned-up numbers, and they say the state lost critical input from frontline employees.
"From the moment Daniels walked in the door, he as much as told us we didn't know anything and that he was going to bring in his own people to show us how it should be done," said Indiana state worker Jenny Scalpelli, a systems analyst in information technology.
Employee collaboration is still sought and welcomed, countered Jankowski. And consumers have benefited from outside viewpoints, said Sam Karnick of Indianapolis, research director at The Heartland Institute, which backs free-market solutions to societal problems.
"Privatization is going to increase efficiency by bringing in competition," he said.
Others say Daniels' approach to cost cutting and employee relations has hurt Indiana, especially in comparisons with Wisconsin.
"Our schools are not as good, our services are not as good, our roads are not as good," said Kenneth Dau-Schmidt, a labor and employment law professor at Indiana University and a former UW-Madison faculty member. "This is a lower-taxes, lower-wages, lower-expectations state."
One Daniels misstep trumpeted by unions has been his attempt to privatize Indiana's welfare eligibility system. About 1,400 state workers became employees of private companies under a deal with IBM, which oversaw a network of subcontractors.
By all accounts, the results were disastrous. The system became plagued with big delays and error rates, and the state and IBM are now in court after the state canceled the contract.
"The IBM failure — we've admitted to that," said Marcus Barlow, spokesman for the Indiana Family and Social Services Administration.
He contends the failure is not an indictment of privatization, just IBM's approach. The state continues to privatize the services using other vendors, and initial results are promising, Barlow said.
Critics draw a different conclusion. "Collective bargaining serves as a check on rash decisions," said Kerry Korpi, director of research and collective bargaining for the national AFSCME .
Be the first to know
Get local news delivered to your inbox!